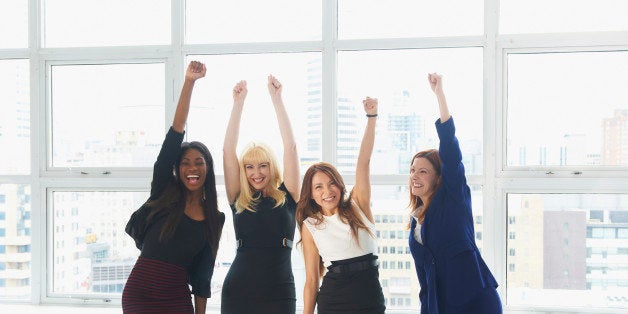 They're fearless. Innovative. Passionate.
They're America's female entrepreneurs, and they've taken the business world by storm:
•According to this Fortune.com article, the number of women-owned businesses grew by a whopping 74% between 1997 and 2015. That's 1.5 times the national average!
•Black females are the fastest growing group of U.S. entrepreneurs; businesses owned by African American women grew 322% since 1997.
•Nearly half (46%) of the privately held companies in the U.S. are now at least half-owned by women.
And that's just the tip of the iceberg! The numbers are impressive, but they don't tell the whole story, like:
•the amazing contributions female entrepreneurs make to our society;
•the tough obstacles they overcome to achieve their success;
•the continual inspiration they provide to other aspiring female executives and business owners.
So today, in honor of National Women's History Month, I'm sharing the stories of two of my favorite women entrepreneurs -- and what I've learned from them.
Oprah Winfrey
You probably know her as a talk-show host, actress, philanthropist, publisher and producer. And you may also know that she's the first African-American billionaire. But do you know her back story?
Oprah Winfrey is a classic example of rags-to-riches entrepreneurial success. Despite being born into extreme poverty to an unmarried teen mother, she was a high school honor student and earned a full scholarship to Tennessee State University. In and of itself, this is a huge accomplishment - but it's just the begin of her amazing success story.
In 1976, Winfrey was hired to host a popular television chat show, People Are Talking. After being recruited by a Chicago TV station to host a morning show, she went on to host a talk show of her own, The Oprah Winfrey Show, which grossed $125 million in its first year. Using the money she earned from this success, Oprah formed Harpo Productions and gained ownership of her TV show from ABC - banking hundreds of millions from its syndication.
Lots of people would've cashed out at this point (and nobody would've blamed them!), but not Oprah. Instead, she used her wealth, influence and status as vehicles for doing good:
•She founded a private charity, The Oprah Winfrey Foundation, to support the education and empowerment of women, children and families in the U.S. and around the world.
•She also started a public charity, Oprah's Angel Network, which raised over $80 million to fund a wide range charitable projects and grants - improving the lives and futures of people around the world.
•And in November 2013, Winfrey received our nation's highest civilian honor, the Presidential Medal of Freedom, from President Barak Obama for her contributions to our country.
What have I learned from her story?
•Don't let your circumstances define you. Despite being a poor, female, black child born to an unwed mother, Oprah achieved more than many of our nation's elite.
•Success isn't just about making money -- it's about helping others. Oprah has given more of her own money to philanthropic causes than any other performer in America. Why? Because it's good karma. In fact, she once said, "The surest way to bring goodness to yourself is to make it your intention to do good for somebody else."
Brownie Wise
Not familiar with her name? Well, you're bound to be familiar with the plastic food-storage empire she created: Tupperware.
Born in rural Georgia, Brownie's parents divorced when she was a child. While traveling the Deep South with her mother, a union rally organizer, she started giving speeches at her mom's rallies and honed her gift as a motivating orator.
Her brief marriage in her 20s ended with a divorce and a son, Jerry. While living with him in suburban Detroit, a Stanley Home Products door-to-door salesman knocked on her door - and changed her life. She scoffed that she could do his job much better, so she took a position selling Stanley products at home parties (which, at the time, was a new and unproven selling method).
Thanks to her natural charisma, Brownie was a wildly successful salesperson. She quickly rose through the ranks of management, but had her hopes of an executive position quashed by Stanley head Frank Beveridge, who told Wise that Stanley's halls were "no place for a woman."
Instead of dousing her fire, Beveridge's comment fueled it.
In the early 1950's Wise learned about Tupperware, a product that at the time was just gathering dust on store shelves. During a sales meeting, she accidentally knocked a container to the ground and was amazed that it bounced (and didn't break!). She was immediately convinced of the product's value, and certain that it was being sold the wrong way.
She left her job with Stanley to throw home parties for Tupperware. In the process, she ignited a revolution:
•Her sales performance was astronomical. In her first year, she'd brought in $150,000 worth of orders and was offered a promotion with the company.
•Once she was promoted, Tupperware sales skyrocketed. Using her home party sales method, wholesale orders exceeded $2 million.
•In addition to the financial success she created, Wise created a new kind of female empowerment -- and shattered the housewife stereotype of the WWII era. Her home parties allowed women to be a meaningful part of the workforce, without threatening their husband's egos or authority.
•Wise knew how to inspire her managers and dealers to believe in themselves, work harder and become even more successful. She was a pioneer in aspiring women's achievement in the workforce.
Unfortunately, Wise's tremendous success was ultimately her downfall. After being named vice president of Tupperware by Earl Tupper (Tupperware's inventor), she was unceremoniously fired. Some say it was because she became high-handed; others claim it's because Tupper was jealous that people largely credited Wise with the company's success.
Regardless, I learned one extremely important lesson from Brownie Wise: trust your instinct! Brownie earned her fame and fortune by making a very bold business decision -- and being unafraid to challenge the status quo. In the process, she gave American women a chance to earn their own money. To leverage their personal networks for their own financial gain. To collaborate with other women in a friendly -- yet competitive -- environment. And to give one another a hand up to the top of the business world.
Related
Popular in the Community