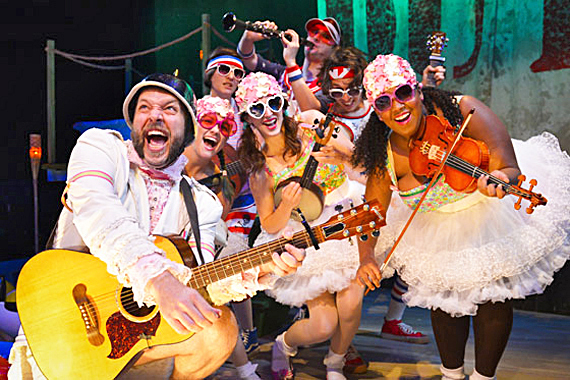 Matt Kahler, as a very modern major general, and friends flaunt the exuberance of Berkeley's Pirates of Penzance
The Hypocrites, a Chicago-based troupe that's esteemed for its unique approaches to classics, obviously knows how to make a reviewer look up and take notice, even with a fussy old operetta like Gilbert and Sullivan's Pirates of Penzance. Just bop him on the head with a beach ball. (It didn't hurt a bit.)
The featherweight assault wasn't at all necessary, though. Dozing is the last thing that's likely to happen to anyone who drops in on this Pirates, which will be prancing, strumming, singing, clowning and hurling beach balls through Dec. 20 in Berkeley Rep's Osher Studio.
Anyone who happens to revere traditional handling of the words by W. S. Gilbert and the music by Arthur Sullivan might choose to flee this goofy adaptation and not even feel self-conscious about doing so. A pre-show announcement invites folks to walk around the flat-floor theater during the 80-minute performance; it also points out, coincidentally, that the on-stage bar is open for business while the cast of 10 is lovingly shredding G&S.
The adaptation by Sean Graney, who also directed, generally follows the original story line, uses many of the familiar melodies and follows its lead in spoofing pretentious frauds in various guises. But Graney and collaborators put their stress on 21st century silliness in place of 19th century satire.
Even before its first word is spoken, the show shimmers with color and energy. Strings of bulbs dangle from the ceiling, bathing the Osher in mid-day light; bright-hued beach balls and other inflatable toys fly and bounce from one corner of the 200-seat theater to the other; performers in gaudy attire -- think red, white and blue, especially -- play guitars, banjos, ukuleles and more while frolicking with their audience, especially kids.
I don't know how Berkeley Rep got out the word that this Pirates would be a winner for youngsters, but lots of folks knew and brought theirs on the night I attended. Not one, it seemed from here, showed the slightest trace of boredom. If you'd like a presumed age range for enjoying the show, I'd guess 8 to 80.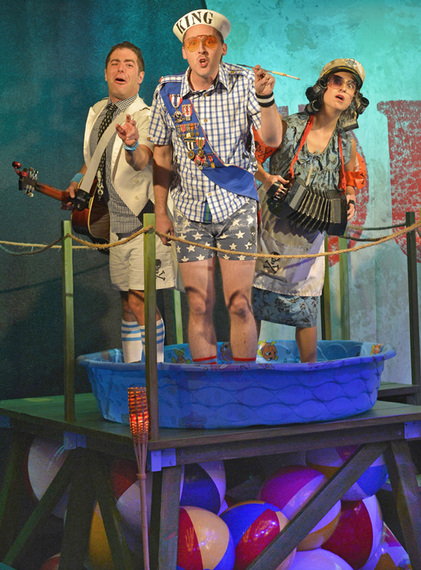 Sailors on a merry vessel: Zeke Sulkes as Frederick, Shawn Pfaustch as the pirate king, Christine Stulik as Ruth
Ah, yes, about the show. The story revolves around a young man, Frederick, who was mistakenly apprenticed to a band of inept British pirates many years earlier, with the proviso that his service would end on his 21st birthday. When that day arrives, complications surface in the form of romance, among other things.
Tugging at Frederick from one direction is his one-time nursemaid, Ruth, who happens to be more than twice his age. From another, there is Mabel, a charming ingenue who shares his love.
Further snags come from the pirates, who find a legalistic way to keep him on board; from Mabel's father, a pompous major general whose family includes about a dozen daughters; and from a troop of police who could have been the inspiration for the Keystone Kops.
Zeke Sulkes makes a robust Frederick, Shawn Pfaustch is the vibrant pirate king and Matt Kahler is the imposing (and amazingly agile) major general. Vocally, dramatically and comedically all hit the right notes. Christine Stulik hits the right notes doubled, flaunting a sleek low register as Ruth and a soaring coloratura as Mabel, and nailing both characters.
In addition to acting, singing and cavorting, all play various instruments, as do the six versatile performers who fill the rest of the mini-operetta's many roles. And they do all that while interacting not only with each other but also with audience members seated around the edge of the free-form stage, on elevated plastic pools and elsewhere. It's grand fun, just about guaranteed to keep a viewer grinning from start to finish.
Among the technical highlights, Heather Gilbert contributed an unusually effective lighting design and Alison Siple did the costumes, skipping from the 19th century to our own with cheery inventiveness.
A suggestion: If you go, especially with kids, plan on arriving early to enjoy the interactive hijinks.
The Hypocrites' Pirates of Penzance runs through Dec. 20 in Berkeley Repertory Theatre's Osher Studio, 2055 Center St., Berkeley. Tickets are $29-$89, from 510-647-2949 or berkeleyrep.org
Calling all HuffPost superfans!
Sign up for membership to become a founding member and help shape HuffPost's next chapter