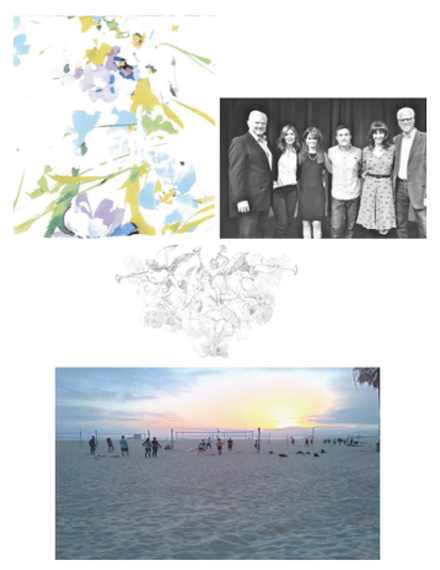 "One can't believe impossible things." "I dare say you haven't had much practice," said the Queen. "When I was your age, I always did it for half-an-hour a day. Why, sometimes I've believed as many as six impossible things before breakfast." - Lewis Carroll, Alice in Wonderland, 1865
Lewis Carroll's children's classic, Alice in Wonderland, turns 150 this year. It has endured the test of time, and that always tells the real story of the human condition and the truth of it all. Fairy tales are the charming stories of reality. They are golden. They are the diamonds.
To me to believe in as many as six impossible things before breakfast time is all about the idea of limitless optimism. It's a life attitude of dreams come true, reach for the stars, don't give up, believing is almost everything and wishes from the heart are worth it. It's including in you being a free spirit, open heart, and a soul with a life force of great possibilities and all laced with happiness and luckiness.
Alice in Wonderland and her journey were in my dream last night and in my life journey today I pay attention to everything, to all the stories, all the people and all the things that are placed in front of me, fall on my lap or sometimes that show up in my dreams.
Around the same time Alice showed up, someone very dear to all of us suddenly moved on, Betty Ford's in service for children happened and Angels at Risk was presented with a gift. Lots of other things happened around that time too, but the most important stuff that I just named all tied in together because it reminded me about believing in the impossible.
It seems that this whole time frame has been a story about faith and a story of faith in goodness. It has been a continuum about faith in life's capacity to respond to goodness that it is boundless, everlasting and never ending.

"This is a place where you can go, that you can feel safe and look inside yourself and discover yourself." - Betty Ford, Former First Lady of the United States and Founder of The Betty Ford Center
The Betty Ford Foundation did an in-service that was really cool. "Through a Child's Eyes," presented by Jerry Moe is a commentary on prevention education for children ages 8-12. It is awesome. Jerry's message of the day to us at AAR sitting in the audience was the safe people map, the celebration, finding the buried treasure, beauty, worth and gifts. We loved all of those parts mostly because they highlight an answer and a solution.
People and experts may call prevention impossible, but we call it revolutionary with a trace of magic. Prevention education could be, or is like, finding your way out of the rabbit hole.
Betty Ford's investment in prevention is obvious and courageous and what some people might call undreamed of. To close the gap of prevention education is to include the middle or the center, and in this case, it is Angels at Risk's in service there. The notion that a community together can complete the circle of the childhood story and that all children and families deserve prevention is very great. The gift is both Angels at Risk and Betty Ford are trying to complete the story, perfect the picture, elevate, expose and give credibility to the entire prevention education platform. From the youngest to the oldest and everything in between, all of us are opening the horizon of new roads.
"In 2007 Jena and Michael King took the risk of faith to believe that we could all prevent harms way for kids and their families through prevention education of drug and alcohol use and abuse. They embraced Angels at Risk and developed the quote and slogan, 'keeping families' futures bright', which states that all children deserve a chance of a healthy life. We at Angels at Risk are very proud to say that we impact thousands of students and parents a year all because of Michael's love, heart, and courage. He was that hero himself who believed always in the impossible." - Passageway AAR speech for TD
This blog is dedicated to him, to Michael King who moved on and who left us much too soon. He is that hero, that philanthropic hero whose love was unparalleled to most and who believed always in impossible things, and always from the heart. His life evidences perfectly the word faith and his is a story of faith in goodness.
It is no secret that Michael will be greatly missed by all, but like every fairy tale and story that lives on for 150 years today and more, like all classics, his legacy life and story will live on forever.
I am a lucky girl to have known him.
As far as believing in six impossible things before breakfast time, I say it's all so possible. Alice showed us, Betty Ford showed us, Angels at Risk is showing us, and Michael King's life evidenced it.
Every single thing is tied together. It's not a separated life. Whether it's Alice down the rabbit hole, or Dorothy and the Yellow Brick Road, E.T. phoning home, or looking for Middle Earth. Or even the purity of true love despite the difference of two totally separate worlds that seem so far apart in Twilight or finally Betty Ford's foundation and Angels at Risk's mission who believes that prevention education is the shift from the heart or a salvation for the mental health world; the light, idealism, optimism and believing in the impossible is all of the true story, the reality, the fairy tale and the fable together.
Popular in the Community