Today's adventure was the city of Ahmedabad, and our first stop was an impressive Jain Temple located in the central city. To enter the temple you must take off your shoes and I wasn't wearing socks, so I chose to stay outside. I enjoyed documenting the contrast between the ancient hand-carved stonework and the new bamboo scaffolding erected around the part of the temple they were renovating. Such creative and sturdy knot-tying!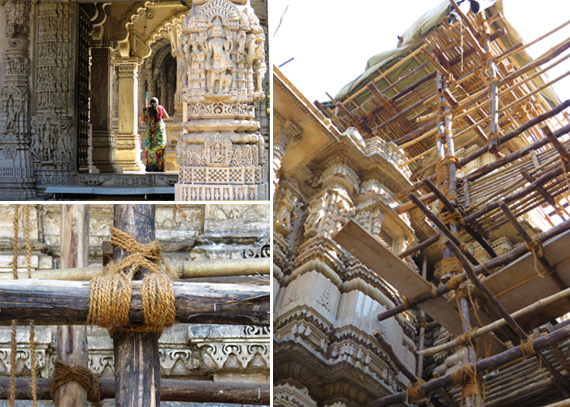 Our next stop was the impressive Adalaj Wav Step Well, a fine example of Indo-Islamic architecture. This four story structure of steps built down into the water table was built in 1499 and served as a "hotel" for weary travelers and merchants who were visiting the area. Anyone could come here to rest, spend the night, or get water. (The water levels go up and down depending on the amount of rain). This place must have been used for some great photo shoots and/or movie sets in the past -- the receding columns and doorways present a compelling and complex visual. So fabulous!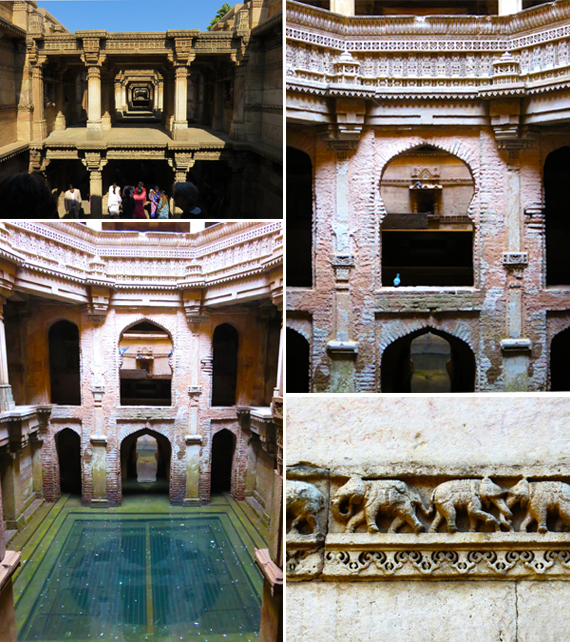 The afternoon was spent at the Shreyas Museum of Folk Arts and Culture of Gujarat. What a lovely and fascinating museum displaying a riot of handmade historical items: clothing, fabrics, tools, implements, and transportation devices used in daily life; all in bright colors with mirrors, embroidery and hand-painting that must have taken months or years to complete. If you're visiting Ahmedabad, this museum is a "must see".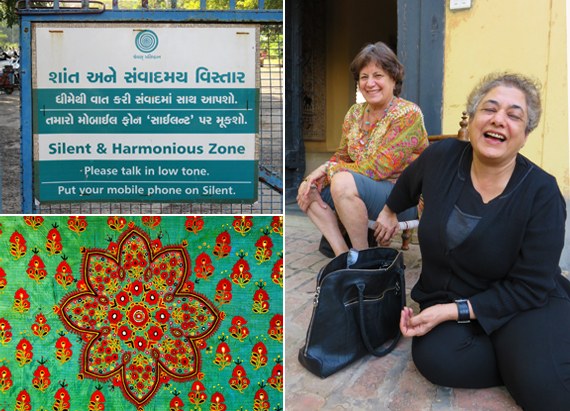 We sat outside the entrance to the museum, enjoying the sun and greenery of the garden and visited with our host, Poonam Kathuria, for an hour or so. She recounted some of the accomplishments her organization SWATI (Society for Women's Action and Training Initiative) has achieved over the last twenty years. From its small beginning as a community-based group (with the big goal of initiating a local movement for women's rights and social change) they have come a long way:
Regarding their primary issue of Violence against Women (VaW), SWATI has systematically built a strong awareness and support at the village level, as well as institutional support mechanisms at the organizational level.
Working with local women's collectives they have developed Mahila Nyaya Panch, (women's justice committees): structured paralegal platforms for handling issues of violence and abuse. Every month they field at least 20 cases and over 200 phone calls for advise and counseling.
The women's collectives known as Mahila Vikas Sangh, (women's development unions) are now autonomously registered bodies and are managed by the women themselves.
Working with local governments and youth they have improved women's safety in rural public spaces.
In the last few years they have focused on influencing policy and effective implementation of laws specifically around the issue of Violence against Women. This has been achieved through research and monitoring studies, as well as pilot Initiatives like the referral hospital in Radhanpur (mentioned in my last blog). This is the first of its kind in a rural area, with the goal of making public health systems responsive to VaW.
As a group of women who have traveled all the way to India to experience this work first hand, we wondered about ways to help Poonam and SWATI continue this meaningful work. This is a discussion we will have moving forward with our "Imagine" group back home.
Poonam had graciously invited us to dinner and once again, we were honored to experience a real family in their home, and not be "just tourists visiting a country". We loved meeting her mother, father, and sister (all professionals), as well as two dear friends who work for NGOs. The discussions about Indian politics, the state of the world and how India fits in, and sharing experiences about our lives, all created a fascinating evening which I will long remember. This, as well as meeting the brave village women, will be one of the memories I will cherish about my visit to India.
One last parting story that was quite amusing was our desire to bring a few bottles of wine and beer to Poonam's home for dinner. Certainly this would not be a challenge for any of us under normal circumstances, but in Gujarat it proved to be quite an ordeal! When we checked into our hotel we asked about buying a bottle of wine (or even getting a glass of wine) and were issued a special permit which we would have to show at one of the few state-owned liquor stores. (Alcohol is banned in the state of Gujurat.) That evening Leonard ventured out to be our hero and get the goods! He relayed the most unbelievable story about his experience! Let's start with the police guarding the doors, then the multiple pieces of paperwork he had to fill out, the number of times he had to show his passport, and finally his promise that this purchase would be consumed over a number of days! Sadly, when we opened the wine, it had turned and was vile! Good thing the Kingfisher beer was tasty, because we didn't want Leonard's efforts to be in vain. I will never take a trip to my local liquor store for granted again!
See you tomorrow for Day Six as our road trip begins and we depart for Jodhpur.
Mary Anne Erickson is an artist who has been documenting the demise of our American roadside culture for over 30 years in paintings and photography. Her work can be seen at www.vanishingroadside.com.