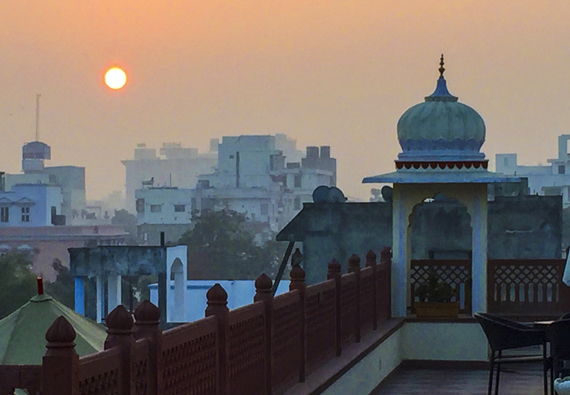 The traffic on our drive today through the streets of Jaipur seemed more controlled and less frantic than other cities we've visited; our guide, Adil, told us this is due to two factors: Jaipur is the capital of Rajasthan, so laws are properly enforced (motorcyclists were all wearing helmets and people stop at red lights and stop signs), and the city was designed on a grid. So although it's a huge city with lots of traffic, things seem to run more smoothly.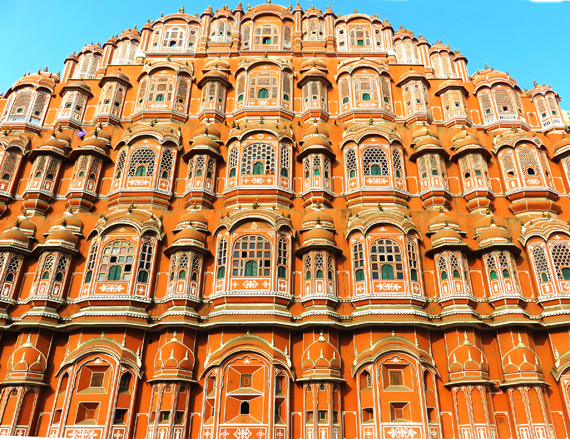 The main attraction this morning was The Amer Fort (also known as "The Amber Fort"). On our way we stopped to snap a few pictures at the Hawa Mahal (otherwise known as "Palace of Winds" or "Palace of the Breeze"). This fascinating "palace" is a five story facade full of peep holes where the royal women would come and watch everyday life and special occasions concealed behind the wall. We nearly lost our lives crossing the street to get a few pictures! If dear Adil hadn't led us like little children in a group, we may never have ventured out into the stream of non-stop traffic. Pedestrians in India have a technique where they just nose their way out into the traffic and bully the cars to stop - I've never seen anything like it!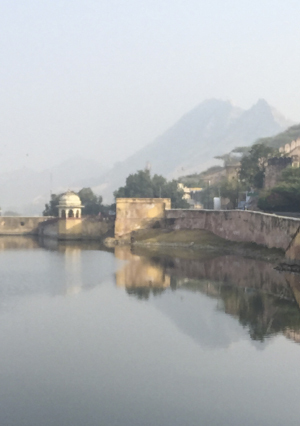 On the way to the fort, Adil told us about the meaning of the word "namaste" which is how everyone greets each other in India. I was really touched by his description. He said that putting your two hands together in a prayer position in front of your heart and greeting another is not just two human beings saying hello, it is two souls connecting to one another. In other words, your soul and my soul are not just the bodies we inhabit, but a much deeper connection (whether we know each other or not). So your soul and my soul are greeting each other and honoring each other. The five fingers of each hand coming together represent the five elements: air, fire, water, earth and sky that live both inside and outside each of us. So now, when I greet each person, I can honestly put my hands together in a gesture of love and respect and say "namaste."
Before we made the steep trek up the hillside (which used to be accessible only on the back of elephants), we stopped for a photo op looking up at this very impressive fort. It's hard to conceive of something this enormous with fortification walls reaching out in all directions (a bit like the Great Wall of China). Adil told us that the fort was the former capitol of the region before 1729 when Jaipur was founded and the city moved. He went on to tell us that this fort and palace are different than the others we've seen in that they don't have the narrow hallways and have much larger courtyards. The most important architectural features evolved from the different backgrounds of the queen (Hindu) and the king (Muslim), so the architecture incorporates elements from both cultures.

Our next stop was off the beaten path and one that was well worth the effort to find, The Anokhi Museum of Block Printing. What a beautiful small museum devoted to preserving the ancient art of block printing on cotton fabric, a signature textile craft in Rajasthan since the 12th Century. There were beautiful displays of some historic fabrics, as well as an exhibit devoted to modern designs created with hand-printed fabrics. There was a demonstration by a craftsman carving the wooden blocks used to make the designs, and another showing how the fabric is printed. Visitors were invited to join in and add ink to make their own section of fabric; Alice and Sylvia got to take home a swatch they actually worked on as Alice proudly showed me.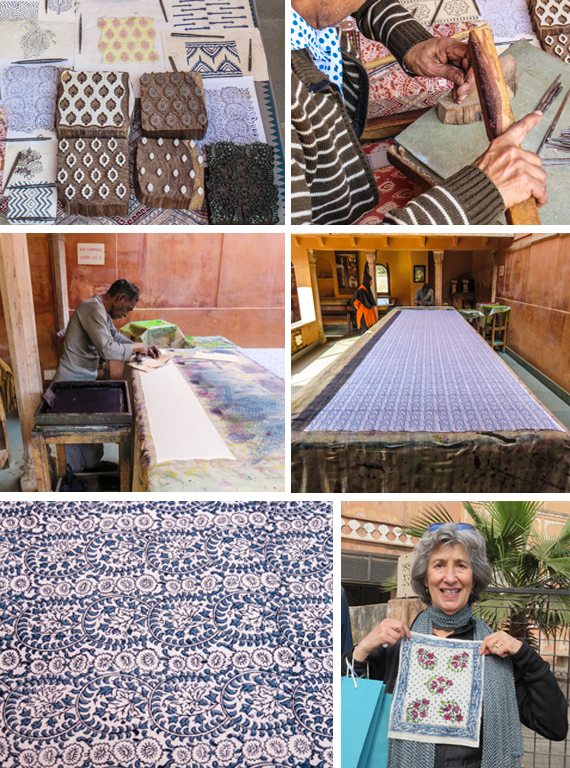 We ate lunch at a "heritage" restaurant very near the lake with a great view of this former palace of the royalty. Unlike other historic palaces, this one sits empty and has not been turned into a hotel yet, due to legal disputes. I wondered what the word "heritage" means and Adil told us this designates hotels and restaurants that have been operating for 100 years or more. Quite an accomplishment.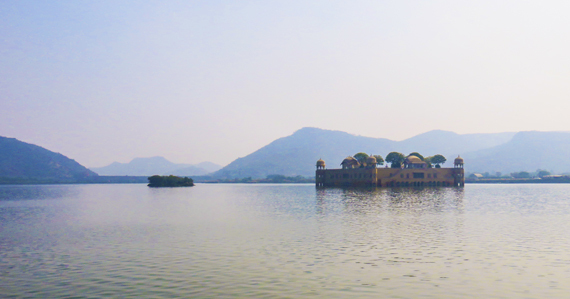 After lunch, we had a big shopping agenda that had to be paired down for lack of time. I wanted to visit the pashmina store highly recommended by my friend, there were jewelry stores to see, and one of the fabulous chains called Anokhi was also a must. Just when you think you've purchased as many scarves as your suitcase will hold, enter a new pashmina shop and you'll discover it's time to break out that extra carry on bag, because "hey, silk scarves take up almost no room"! And guess what? They do accept credit cards, so no worries!
At Akee International, we discovered the true meaning of pashmina: wool that's harvested from the belly of the pashmina goat, from Kashmir. (Any New Yorker that thinks they're buying a $2 pashmina scarf on the street has no clue - they're viscose and polyester!) He proved the difference between real pashmina and the fake stuff by lighting a match to the street scarf fiber and then lighting a match to the real thing. Real pashmina smelled a bit like hair burning, the fake fiber looked like the wick of a candle burning brightly. Needless to say, I bought a baby Pashmina scarf and will wear it with pride as I feel its cozy softness, and remember these special moments in Jaipur.
At the end of the day, we were once again completely exhausted and decided to have dinner at our hotel and lights out early! Tomorrow we will be on the road again, traveling to The Tiger Reserve in Ranthambhore.
Mary Anne Erickson is an artist who has been documenting the demise of the American roadside culture for over 30 years in paintings and photography. Her work can be seen at vanishingroadside.com. She also blogs about great food and entertaining ideas at Bluemountainbistro.com.