Friday January 23, 2015

Our last day in Delhi was poignant. We have so enjoyed our guide Adil Ali, who has made this trip highly educational, entertaining and also politically insightful. We feel like we've made a friend for life! We also agreed that the impressions we've gained from our other gracious hosts, Poonam Kathuria and Hemali Talsania, have given us a meaningful window into the lives of the warm and welcoming Indian people. We were met with big smiles everywhere we went. And between my blonde hair and Leonard's height (he's 6'5") we were also a curiosity to many! I would also be remiss if I didn't give huge kudos to Abbas Slatewala of India Someday, who put our entire itinerary together including the excellent lodgings. If you're planning a trip to India, he's a fantastic resource!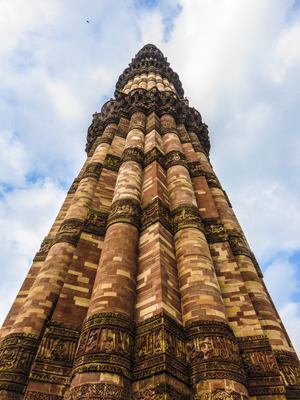 Our last day in Delhi still held some great adventures. The first one was in the oldest part of the city: a monument called "Qutab Minar," an impressive 240-foot tall tower of victory built in 1193 by the Muslim ruler Qutab-ud-din. The first three stories are red sandstone and the fourth and fifth are marble and sandstone. When the Muslims gained power, they demolished the Hindu temples here to build the tower and surrounding buildings. Many of the bricks came from those temples and were just turned upside down and carved over, leaving a strange mix of Hindu and Muslim iconography -- quite amazing!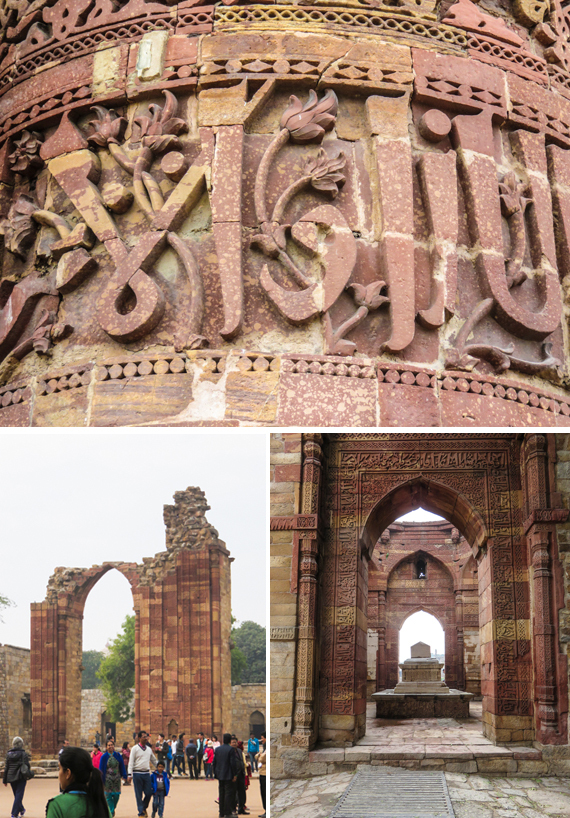 Our next stop was Bu-Halima's Garden and Humayun's Tomb.The history of this site is so complex that unless you're a scholar of ancient history and architecture, restating the details is almost meaningless. What I did find fascinating is that this massive tomb and surrounding gardens were created by a woman (Hamida Banu Begum) for her departed husband Humayun! Even more incredible is that their son was Akbar the Great (who's palace we visited in Agra) and this impressive building was the inspiration for the Taj Mahal.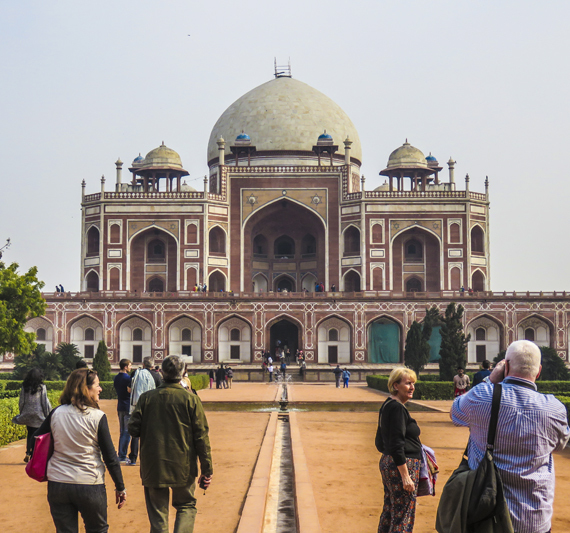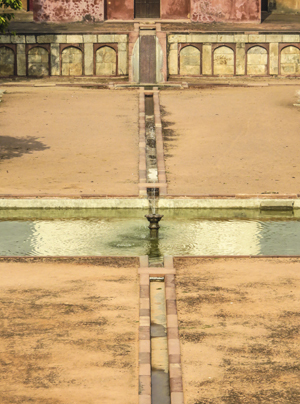 We strolled around the upper terrace surrounding the tomb and marveled at the highly symmetrical gardens and fountains fanning out in each of the four directions to massive entrance gates.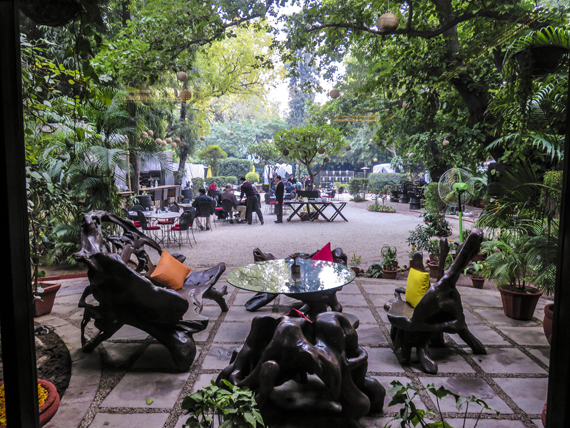 We had at fantastic lunch at a nearby garden restaurant called "Lodi," which I would highly recommend. It was our last meal together in India and so delightful to sit outside under the tall trees and feast on Continental cuisine! (heresy for our last meal, but we were thrilled for the different flavor profiles represented: Italian, Thai, Spanish, and Middle Eastern!) The real kicker was the dessert that Patricia ordered that we all begged spoonfuls of: homemade fig ice cream on almond bread pudding with a warm toffee sauce!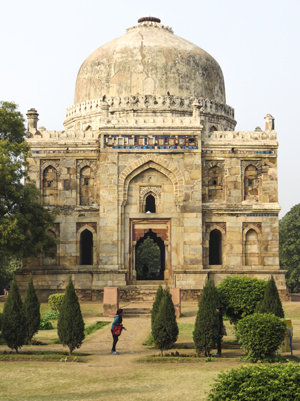 We strolled around the nearby Lodhi Gardens after lunch appreciating the historic tomb in this huge 90 acre park and musing at the lovers picnicing and people sunning themselves. It reminded me a bit of Central Park in New York City, a haven in the middle of an enormous urban environment. Then, we begged Adil to let us have one final shopping expedition at Kahdi Mandir, an Indian department store that we had heard about throughout our journey. We were not disappointed! I ended up finding some fabulous kurtas (long shirts) at insanely low prices. So I'm planning an entirely new wardrobe when the weather warms up in the northeast this spring!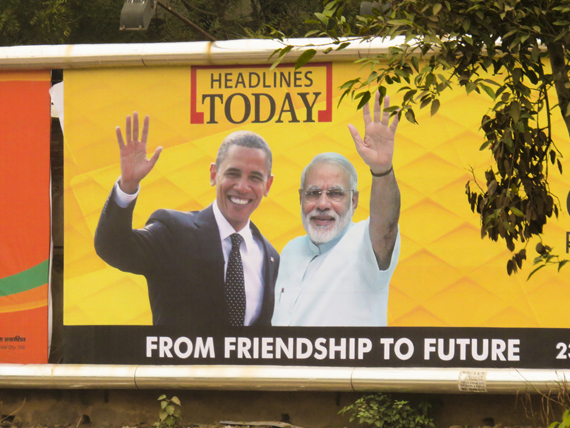 Unfortunately, our flight home wasn't scheduled to leave until 1:30 a.m., so we got to the newly renovated airport by 10:00 p.m. and then shuffled around the massive shopping mall for several hours. President Obama was scheduled to come to town the next day so the security at the airport was very tight with multiple checkpoints and our flight didn't get off the ground until 2:45 a.m. After a very long 15 hour night we arrived at Kennedy Airport in New York City to snow on the ground, but good old American soil looked pretty good to me, sleep deprivation and all. Not to mention the wonderful hugs I received when I got home from my hubby and my black lab Molly!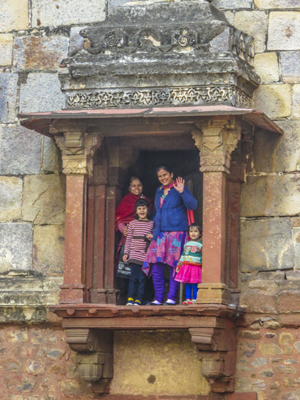 I hope you've enjoyed reading about my Impressions of India as much as I have enjoyed sharing them with you. My favorite photos from this adventure will soon be available for viewing on my website maryanneerickson.com, and I'm planning several photo exhibitions for the upcoming year as well.
Mary Anne Erickson is an artist who has been documenting the demise of the American roadside culture for over 30 years in paintings and photography. Her work can be seen at vanishingroadside.com. She also blogs about great food and entertaining ideas at bluemountainbistro.com/blog.
Related