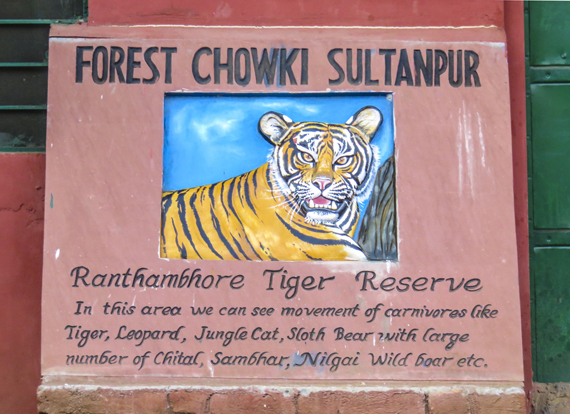 We gathered at 6:15 a.m. in the dining room for Masala tea and cookies, before departing in jeeps for the "jungle." We weren't prepared for the 40 degree temps outside. Good thing I bought that wool Nehru dress jacket in Mumbai, since I had forgotten my windbreaker on the plane.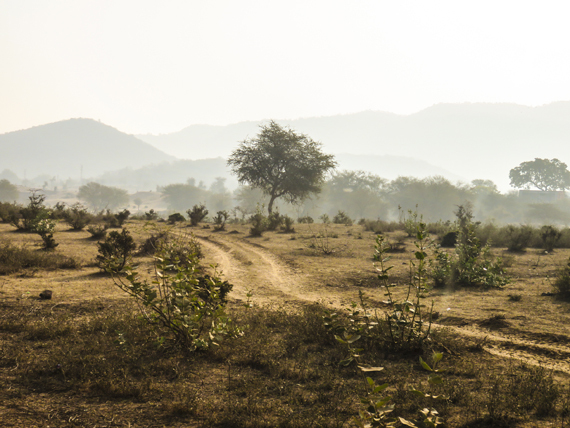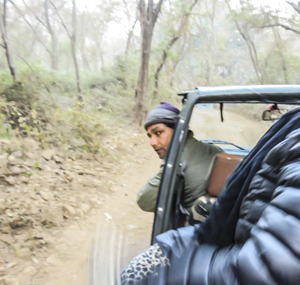 We zoomed away from the hotel in the early morning misty cold in an open-air jeep, all a bit giddy as we held onto the bars so we wouldn't fall out! I've never ridden in a vehicle like this! It was scary! We stopped at the entrance gate to the Ranthambhore National Park and the hawkers were out in force selling gloves and poler fleece hats with tigers emblazoned on them. I was thrilled to get a hat, as I never dreamed it would be this cold in India and didn't pack appropriately. I could barely snap a picture because my hands were numb, but that would be assuming I could focus on anything as the roads we were incredibly bumpy. Thank goodness they stopped occasionally for us to get a good shot, or I wouldn't have had any pictures to show for this adventure!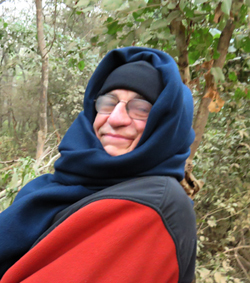 Also wonderful they had brought along a slew of blankets, which we secured around our legs, and Leonard wrapped around his head. We all laughed hysterically when Patricia told him he reminded her of her long departed Bubby!
I loved the vistas and the scrubby forest, but I wouldn't have qualified this as a "jungle" personally. The landscape reminded me a lot of the Sedona area and the southwest in general.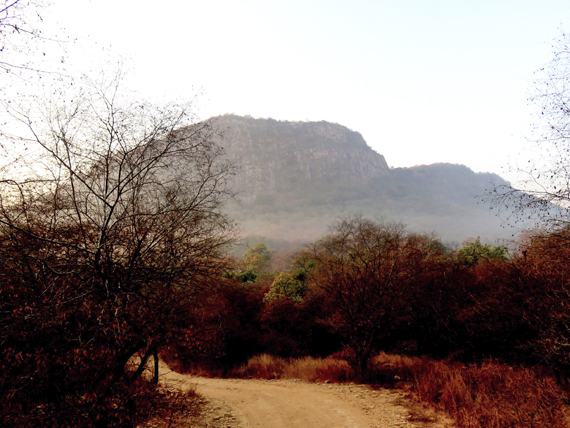 They say the tigers come out in the early morning and late afternoon, so we were hoping we would be one of the lucky ones to experience this amazing encounter. We saw lots of deer (something we are all too familiar with in the Hudson Valley as they destroy our gardens), some beautiful peacocks, lots of exotic birds and some truly memorable vistas as the light began peeking over the mountains -- but a tiger sighting -- no! In fact, no one reported seeing a single tiger this morning, so we were all out of luck.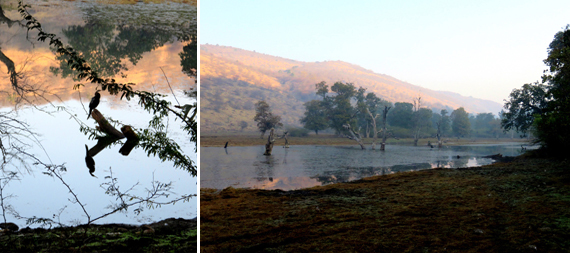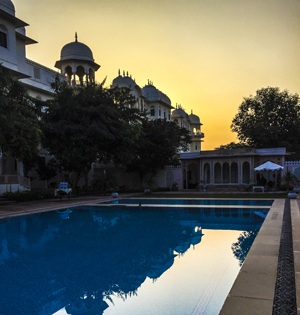 We had the option to go tiger watching again in the afternoon, but the tranquility of the large alluring azure blue pool beckoned, as well as the warm sun and a comfy lounge chair. After all the shuttling around on buses and in hectic traffic, our whole group opted for a leisurely afternoon devoted to relaxation. It turned out that there were no tiger sightings this afternoon either, so we felt good about the decision we had made. That warm sun sure felt great!
We met at 5:30 for a historical discussion with our guide Adil about the origins of the Muslim/Hindu polarization in India. As a history teacher, his knowledge on this subject is impressive and I came away much more enlightened about the origins of these conflicts than I was before.
After dinner we were invited to watch a film in the central courtyard about the tigers in the preserve. They must have wanted to sooth the disappointed hearts of those who did NOT get to see a tiger on their visit! It was a great nature tale that traced the history of the Queen of the Tigers and how her daughter stole her crown and was then deposed by a rogue male! I was so sorry we didn't get to see one of these regal creatures up close and personal. It would have been a great honor.
Tomorrow morning, bright and early, we depart for Agra and are all very excited to see the grand Taj Mahal! Come along for the ride -- and thanks for all your support!
Mary Anne Erickson is an artist who has been documenting the demise of the American roadside culture for over 30 years in paintings and photography. Her work can be seen at vanishingroadside.com. She also blogs about great food and entertaining ideas at bluemountainbistro.com/blog.
Related