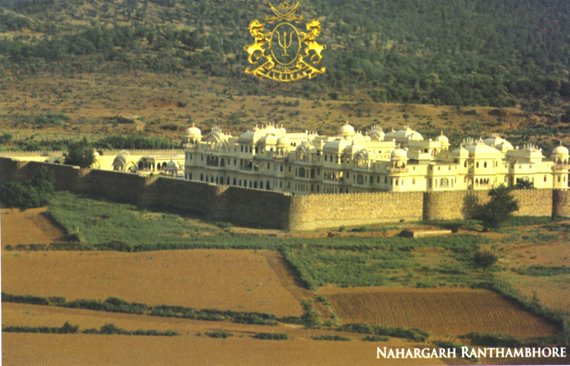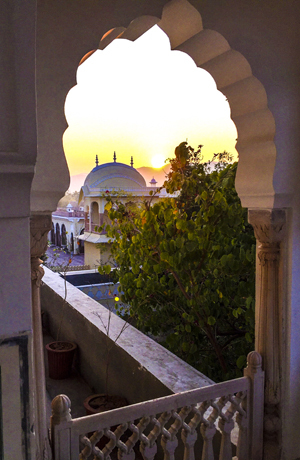 We were sad to leave this paradise of a hotel, Nahargarh Ranthambhore, with the sweetest staff in the world, and their delicious Indian buffets. This sunrise greeted us, as we shut the door to our room, welcoming us into another long days journey. The rough road out of Ranthambhore was intensified by the pain of the stiff neck I awoke with. Long story short, the six hour bus ride to Agra may have been the hardest day so far for me. I hit the wall with India: tired of looking out at rubble-strewn roads, extreme poverty, poor air quality, and oh yes, this is what the nay-sayers meant when they said that India would push all my buttons.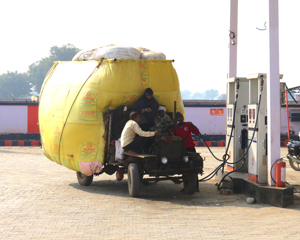 There were, however, some amusing and fascinating sights to take note of on the road today: another one of my favorite "over-stuffed trucks", (you've got to wonder what the heck they've got in there!) Also a few more of the delightful mens and ladies room signs, and lots of beautifully decorated trucks.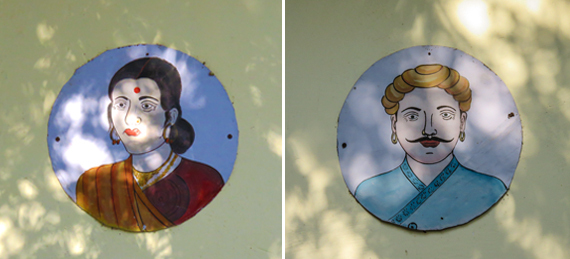 As we neared Agra we stopped at the deserted city called Fatehpur Sikri, the home for 16 years of Akbar the Great (whose grandson built the Taj Mahal, our destination tomorrow). This was the capitol of the Mogul Empire for a very short time because they ran out of water and the people believed there was a curse on the place. (This is true of so many great abandoned cities). Akbar lived here with his three wives: one was a Muslim, one a Christian, and one a Hindu. She was the blessed one who gave him a son, so her quarters (also called a "palace") were the largest and most elegant. The design motifs also cut across all boundaries, integrating graphic symbols from the three different religions. So interesting that this great leader wanted all his people to live together in peace.

Another congested ride into Agra and we arrived at our first modern five-star hotel, The Radisson! We had planned to go to a live show about the Taj Mahal, which would have been fun, but we got in too late and were all cranky and tired at this point. We enjoyed another great meal at the hotel restaurant, a lavish buffet that cost about $15 U.S. We've been amazed at how well we've eaten for incredibly low prices - a big upside to traveling in India.
I was so tired, all I wanted was to go to bed early, which I did. Tomorrow we will finally experience one of the Seven Wonders of the World, The Taj Mahal!
Mary Anne Erickson is an artist who has been documenting the demise of the American roadside culture for over 30 years in paintings and photography. Her work can be seen at vanishingroadside.com. She also blogs about great food and entertaining ideas at bluemountainbistro.com.
Related