Today was the day we've been anticipating for weeks: visiting the Taj Mahal! We stepped outside the hotel lobby and were greeted with extreme cold (for India) and dense fog. Because of the limited visibility, our guide Adil told us we should postpone the main attraction until later in the morning.
So we started with the Agra Fort, a UNESCO World Heritage site, also known as "The Walled City". When Akbar the Great left Fatehpur Sikri, he made this his capital in 1558. Over 4,000 builders worked night and day for eight years to create this vast city. Words fall short describing the enormous, spacious courtyards. And my mind began to spin imagining scenes of thousands of regally-clad people here on horses and elephants, the walls draped with carpets and jewels, gold leaf ornamentation, and all the opulent touches that would have bedecked this magnificent palace.

On the way to the big attraction, we stopped at a shop where men were crafting marble table tops and knick knacks for tourists. What was interesting was the demonstration (you know you're in trouble when they ask you to sit down and watch something, then ask you if you would like tea). There were men hard at work on different aspects of the inlaid marble process: one was carving tiny pieces of gemstones on a very primitive sanding tool; another was etching a design into the marble that the stones would be laid into; and another was polishing a finished piece. Our guide felt this was important to see so we could more fully appreciate the work involved with the vast amount of inlaid gemstones that are part of the Taj Mahal.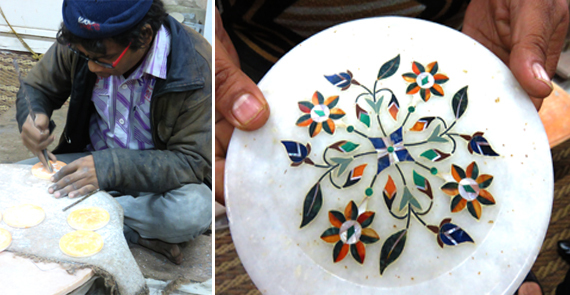 Now we were getting a bit giddy. It's a huge scene at the Taj Mahal, starting with the parking lot jam-packed with tourists from all nations. After disembarking from our van, we were ferried by a tuk tuk to the site, entering only after being patted down and our purses searched for candy, weapons, and anything else they may have thought suspicious including some postcards in my purse! There were several large Japanese and South Korean tour groups in front of us in line, all wearing matching blue vests (for quick identification, I assumed).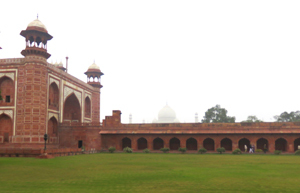 We followed the line of visitors into an enormous courtyard surrounded by huge walls, with a five story "gate" on one side. I could see the very top of the Taj Mahal peeking over the colonnade connected to the massive entry building. As we stood directly in front of the entrance, we could only see a tiny hint of this massive structure through the doorway, shrouded in mist. As we entered the hallway and kept walking, more and more of this enormous temple came into view. Then all of a sudden we popped out into daylight and BOOM, the grand reveal! The Taj Mahal in all its glory!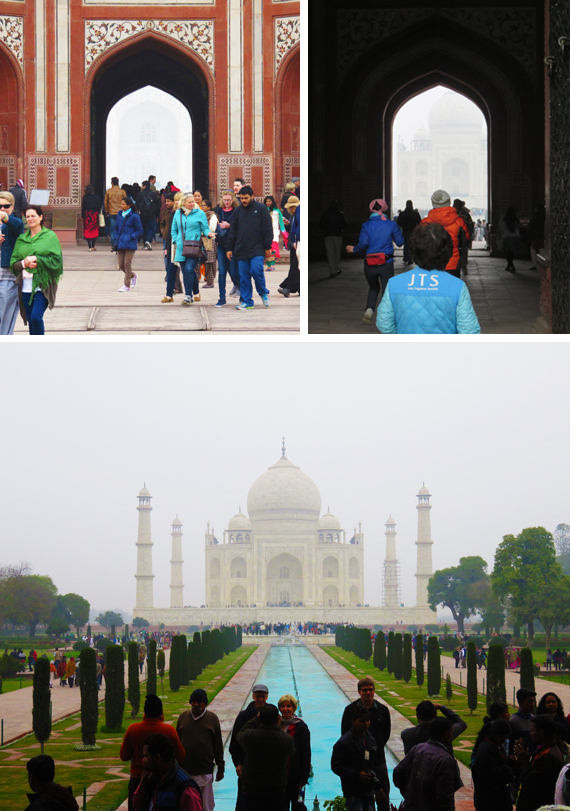 The love story between Shah Jahan (who built the Taj Majal) and his wife Mumtaz Mahal has been touching the hearts of people as long as this monument has been standing. Shah Jahan, originally named Prince Khurram, was born in 1592, the son of Jehangir (the fourth Mughal emperor of India and the grandson of Akbar the Great). In 1607, while strolling through the bazaar, he spied a girl (Arjumand Banu Begum) selling silk and glass beads. After meeting her, he declared to his father that he wanted to marry her, which they did, five years later.
He became the Emperor in 1628 and bestowed her with the title Mumtaz Mahal (meaning "Jewel of the Palace"). Although he had many other wives, she was his favorite and accompanied him everywhere he went including military campaigns. In 1631, on the outskirts of a battle field, she died giving birth to their 14th child. As she was dying, Shah Jahan promised her that he would never remarry and would build her a grand mausoleum over her grave so he would never forget her. When he died in 1666, his body was placed in a tomb next to hers. In the intervening years, this monument to their love has been viewed by millions of people.
The Taj Mahal took over 22 years to build with 22,000 workers and was constructed using materials from all over India and Asia. It is believed over 1,000 elephants were used to transport building materials. The translucent white marble was brought from Rajasthan, the jasper from Punjab, jade and crystal from China. The turquoise was from Tibet and the lapis lazuli from Afghanistan, while the sapphire came from Sri Lanka and the carnelian from Arabia. In all, twenty eight types of precious and semi-precious stones were inlaid into the white marble. I thought back to the demonstration we saw this morning and tried to picture how this all came together.
The main building is extraordinary, but so is the entire site! Every turn of the head reveals another vista worth photographing. Enjoy a few other pictures from today, including the family from Afghanistan that insisted I come get in the middle of their photo. People from all around the world and all walks of life were here to marvel at this incredible man-made wonder of the world.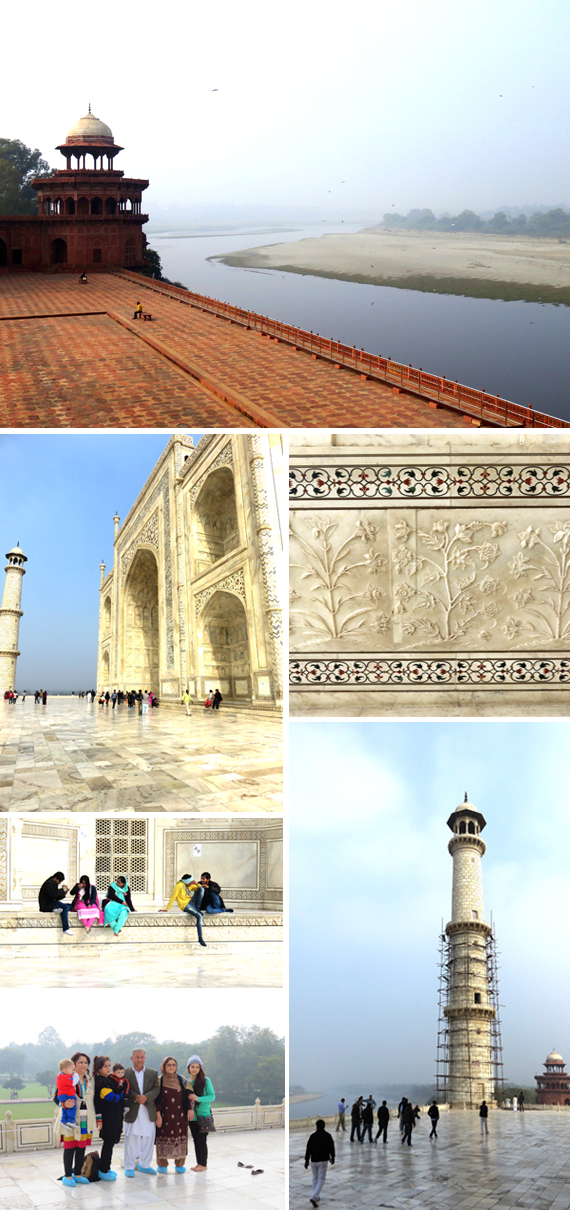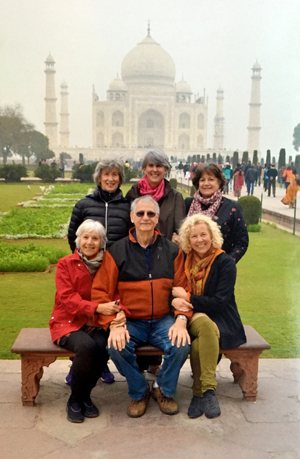 And we were especially happy with our decision to get our pictures taken by a professional photographer (there were many of them on site looking for business!) How great to have this lasting memento of our visit to this grand monument. AND, last but not least, the sun broke out just as we were leaving, so we were able to get a few really great parting shots.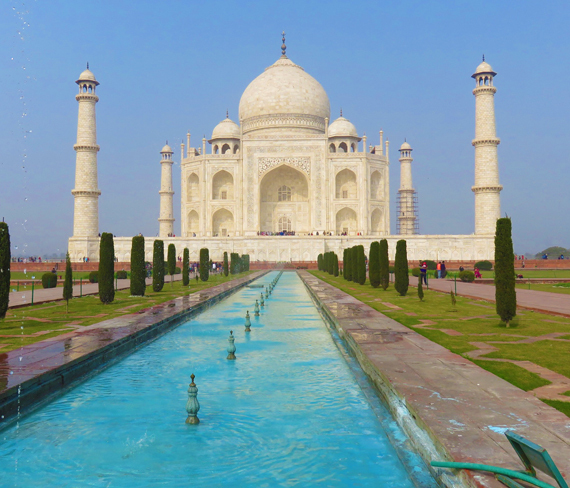 Unfortunately, most exhilarating experiences have to come to an end, and next we were faced with the brutal reality of getting back on our bus for a four hour drive to Delhi. The good news is we were on a six lane super highway that had very few vehicles (we found out later they limit truck traffic during daylight hours). All was smooth sailing until we hit Delhi at rush hour and that took another hour to get to our small family owned hotel. We were all exhausted and ordered dinner in (a rare treat) from a place down the street. We collapsed in our beds soon after as tomorrow we're waking up early to catch a plane to Varanasi.
Our trip is almost over, so stay tuned for our sacred journey to The Ganges and Varanasi.
Mary Anne Erickson is an artist who has been documenting the demise of the American roadside culture for over 30 years in paintings and photography. Her work can be seen at vanishingroadside.com. She also blogs about great food and entertaining ideas at bluemountainbistro.com/blog.
Related