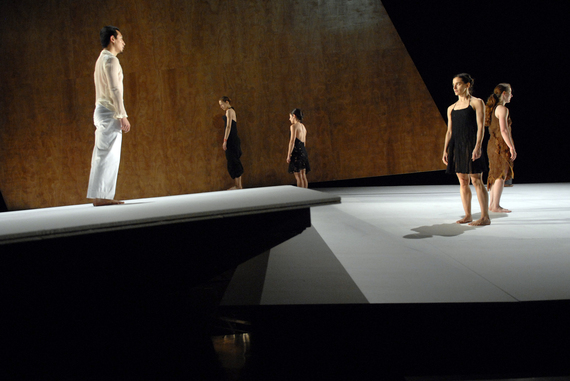 The last time I saw a piece by Sasha Waltz, she set the stage on fire. Literally. The preoccupations of that piece (Gezeiten, or Tides) were apocalyptic compared to those of the whimsical Impromptus, set to a selection of Schubert's heavenly impromptus and art songs -- in a splendid performance by pianist Cristina Marton and mezzo-soprano Ruth Sandhoff, ensconced on stage in close proximity to the dancers at Cal Performances in Berkeley this weekend.
Waltz reportedly aimed for a conversation between dance and music, but there was little sign of give and take. Like a goddess in a simple, stunning white gown, Sandhoff as the stand-in for Schubert stared the dancers down as if from Mount Olympus. One could imagine the thought bubble emerging from her head (in German, with English surtitles): "what attractive but naughty mortals."
Waltz's dancers, archly termed "Guests" in her company name, do not dance to Schubert in the conventional sense. Much of the movement is performed in silence, and the rest is triggered by ideas in the music without being enslaved to it -- which is at times very absorbing. The evening opened in silence, with Xuan Shi and then Juan Kruz Diaz de Garaio Esnaola jumping, twisting and crumpling in the throes of some unknown agony, but at the crisp and bracing notes of the Impromptu in F minor, the gentlemen recovered their equanimity. Similarly, the mesmeric, tai chi quality of a male couple and female couple shifting and balancing each other's bodies in space -- applying weight and counterweight, with minimal use of the hands for support -- is interrupted by the lively Impromptu in E major, whose rapid scales in triplets prompt an orgy of jogging around the stage.
Waltz's sense of humor and sensitivity to the music are much in evidence at these moments, but at others, the draggy, repetitive nature of the movement -- especially during the protracted scenes in which dancers rub a red powder all over their bodies and pour water on themselves to produce streams of blood red liquid that trickle down the raked stage -- sent a few in the audience nodding off... though they snapped to attention as a pair of comely females disrobed.
One of Ballet to the People's pet peeves is the tendency of modern dance choreographers to put women in lingerie, in sheer shifts, or dresses with revealing slits, with underpants showing, whereas men are invariably dressed as if headed to a fashionable art opening. But this being German modern dance, there is always one guy in a Speedo -- which evened up the score a bit, until the pair of women stripped completely.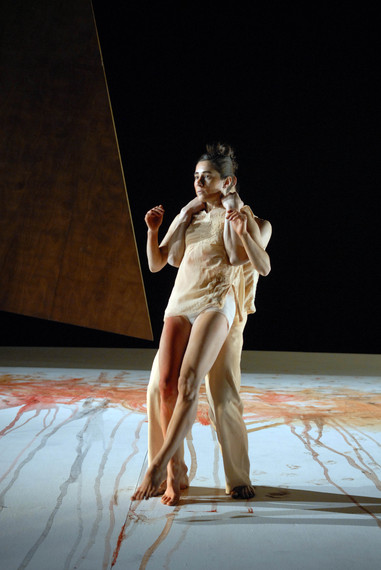 Nothing transpired in the 70 minutes on stage that Pina Bausch hadn't already bestowed on us, but the setting, designed by Thomas Schenk, was breathtaking: two elevated, steeply raked platforms abutting each other, as if an earthquake had riven a fault line through the stage, and a massive golden trapezoid suspended from the ceiling in the background, that swung slowly and ominously from side to side during the latter half of the program. A Japanese soaking tub embedded in one of the platforms incited some nude bathing and frolicking -- the playful dancers oblivious to Goethe's mysterious suffering, as Sandhoff wryly admitted "if these sorrows could be fatal/ to my heart/ ah, I would have died long ago" (which sounds so luscious in German.) Golden shafts of light, brilliantly arranged by Martin Hauk, struck the dancers at angles which gave the pedestrian movement a dreamy, féerique quality.
The knotty duets, both male-female and same-sex, provided the most visually arresting moments of the evening, the grappling and precarious balancing acts revealing undercurrents of insecurity, a preoccupation with primal desires and impulses interspersed with moments of exquisite tenderness.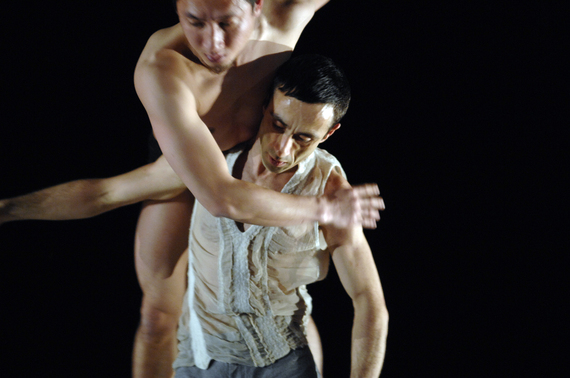 But, ultimately, all that crawling and tumbling and spinning and rolling around in paint and skinny-dipping failed to illuminate the music in the way Balanchine illuminates Stravinsky, Robbins illuminates Chopin, and Mark Morris illuminates Handel. Which is a pity, as Schubert continues to be one of the most misunderstood and elusive composers.
In the expert hands of Marton and Sandhoff, however, the music soared without an assist from Waltz. They brought out that distinctive Shubertian quality of a sadness deeply buried, of heroic acceptance of the tragedy of the human condition.
While Waltz's choreographic strategies echo that of the Judson Church disciples, there is no contest when it comes to visual impact. The conditions under which American postmodern dance survives dictate that American productions, more often than not, are presented in a YMCA. Or, in the case of Anna Halprin's 1957 Hangar, at a construction site at the San Francisco international airport. European financial and moral support for the arts has fertilized the work of Waltz and many others -- even of Americans like John Neumeier, William Forsythe and Mark Morris -- permitting them to take risks and experiment with ambitious artistic collaborations. The visual and aural splendor of Impromptus is a rarity on American soil.
Photos courtesy Cal Performances: Sasha Waltz brought Impromptus, featuring seven dancers and live music by pianist Cristina Marton and mezzo-soprano Ruth Sandhoff, to Zellerbach Hall on Friday and Saturday, October 24 and 25, 2014.
Popular in the Community