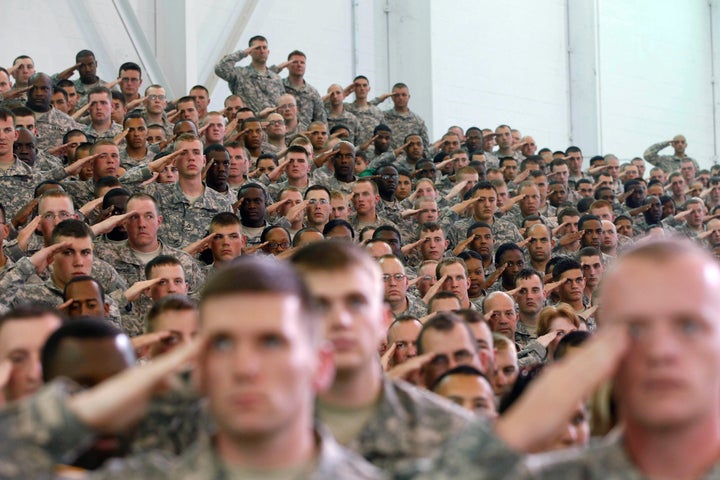 Amid blistering heat and thunderous bombing in central Iraq during summer 2005, U.S. Army Sgt. James Hurley suddenly found it difficult to reach his wife back home in Michigan.
For four days straight, he called and got a troubling message that the line had been disconnected. Eventually, Hurley tracked her down through his uncle.
"She tells me, 'We got kicked out of the house, we're foreclosed,'" Hurley recalled. "I was so pissed off. If it wasn't for my roommate and my sergeant who was over me, I think I would have gone nuts."
As his wife removed every stick of furniture from their home, cramming it in her parents' house and in a nearby garage, Hurley was left to stew halfway around the world. He asked for extra-long shifts and additional mechanic assignments, just to keep his mind off things.
It would be another six months before he could return home to sort out the mess, beginning a years-long court battle with Saxon Mortgage Services over the loss of his home while deployed overseas.
Prompted in part by Hurley's case, the Justice Department on Thursday announced a $22 million settlement with Saxon and a unit of Bank of America to provide relief to more than 170 active-duty military members who experienced improper foreclosures over the past few years.
Active-duty military are protected by the Servicemembers Civil Relief Act, a law that provides a slew of consumer protection measures designed to protect military personnel from financial distress. Among other things, the law prohibits foreclosure on a servicemember's home unless there is a court order.
The Justice Department alleged that the Bank of America unit, formerly part of Countrywide Financial, improperly foreclosed on 160 military personnel between January 2006 and May 2009 and didn't check whether the borrowers were active-duty military.
They also alleged that Saxon Mortgage Services Inc., a subsidiary of Morgan Stanley, foreclosed on 17 servicemembers without obtaining court orders.
Bank of America agreed to pay $20 million, and Saxon Mortgage Services, of Fort Worth, Texas, agreed to pay $2.35 million. If additional military members come forward, the companies have agreed to compensate them beyond those amounts.
"I feel quite confident in the thoroughness of the investigation to date," said Assistant Attorney General Tom Perez. "However, if we identify other victims in the course of our review, or if the servicers identify other victims, we will of course compensate them."
On average, Perez said victims in the Saxon case will receive an average of $130,555, while the Countrywide victims will receive about $125,000 each.
JPMorgan Chase has also disclosed in recent months that it improperly foreclosed on 18 servicemembers. Perez said he could not comment on other mortgage servicers that the Justice Department may be investigating for violations of military consumer laws.
He said he hopes that all other servicers "will take a very careful look at these settlement agreements."
A spokesman for Morgan Stanley issued a statement on behalf of Saxon Mortgage Services.
"First and foremost, we want to apologize to those military families that were affected by any mistakes made in the foreclosure process. Our servicemen and women deserve the highest level of customer service. Saxon has taken meaningful steps to ensure it has appropriate policies and procedures in place to comply fully with the Servicemembers Civil Relief Act."
Victims identified by the Justice Department included soldiers who returned home severely paralyzed and suffering from Post-Traumatic Stress Syndrome.
Hurley settled with Saxon Mortgage Services separately in March, but the Justice Department initiated the investigation in response to his case, Perez said.
For six months after he heard the news in 2005, Hurley was burdened with both the mental strain of a war zone and concerns about the fate of his wife and home on the other side of the world.
Since returning home to Michigan in early 2006, he and his wife have moved into a small cabin where her parents lived.
He did receive some money earlier this year -- he couldn't disclose the amount based on the terms of his settlement -- but he said his only real wish was to get his house back.
A longtime handyman, Hurley has done his best to expand the place and make it more comfortable. But after the foreclosure, his prior home of more than a decade remains in the hands of someone else.
"To this day I still don't understand why," Hurley reflected. "They took it illegally; why can't I get it back? I didn't want any money. All I wanted was my house back."
He suffers from pinched nerves and major back and neck problems, the result of injuries sustained while driving around in tanks. He has major difficulties hearing out of his right ear.
Hurley said he was happy to hear that others are getting restitution, and he hopes that more come forward.
"These banks know they can't do it, but they turn around and they do it anyway," he said. "Because they're the people who are in power, and they think all the government's going to do is slap their hands."
This report has been updated to include comment from Morgan Stanley.
Calling all HuffPost superfans!
Sign up for membership to become a founding member and help shape HuffPost's next chapter