For e-commerce websites, the fast road to increased revenue is reached by improving conversion rates. More visitors converting into sales is naturally going to increase net revenue and ultimately profits.
Through my online marketing consulting agency, I have analyzed e-commerce websites in almost every industry, and I've worked with the in-house teams at multiple brands to optimize, therefore improving, their conversion rates in an effort to drive more sales and revenue. Here are five tips you can implement that will help you greatly improve your conversion rates.
Convey trust with HTTPS, social proof and badges.
If a consumer doesn't trust your website they aren't going to feel comfortable taking out their wallet and entering in their credit card details, regardless of how good your deals and pricing is.
I can't stress how important switching to "HTTPS" is. HTTPS stands for "Hyper Text Transfer Protocol Secure" and it's the secure version of HTTP, the protocol over which data is sent between your website and the visitors browser. A website that is using HTTPS means all the communications between your website and their browser is encrypted.
The cost for this typically runs between $100 and $200 per year, depending on the type of SSL (secure sockets layer) certificate you purchase. Personally, I suggest all my consulting clients use an extended validation certificate, which shows the secure green bar as well as the company name in most browsers. (If you want to see an example of an extended validation SSL, check out my company's website)
You also want to display as much social proof as possible. You only have one chance to make a first impression, and highlighting media outlets and partners that your visitors will connect with will immediately instill trust. Here's an example of some of the social proof I include on my website's homepage: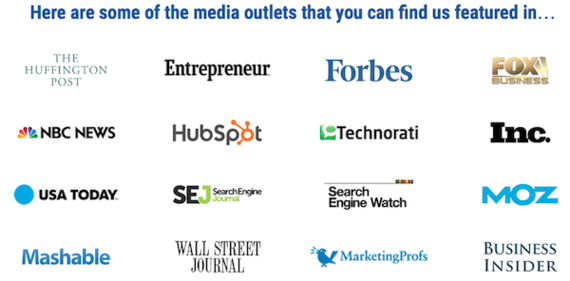 Including badges of trust also build trust, which is needed if you want your visitors to feel comfortable placing an order through your website. The Better Business Bureau logo (if you are an accredited member) and logos that highlight the security of your website should be visible, like shown here:

Make your important buttons stand out by using attention grabbing colors.
The buttons you want your visitors to click on need to stand out. While some web designers like to create pages that have a very uniform feel when it comes to colors, you need to be very keen on what colors you use for your important buttons.
Tours4fun.com, an online discount tours and travel website, has performed extensive conversion optimization to find the right button size, location and color that results in the highest possible conversion rate. If you look at their page for Grand Canyon tours you will see that the "View Details" button similar in color to the prices. Why? The first thing visitors are looking at on a discount travel website are the prices. If they like the price, they gravitate toward the desired button because it's similar in color.
Don't be afraid to test multiple color variations for your buttons until you find a winner.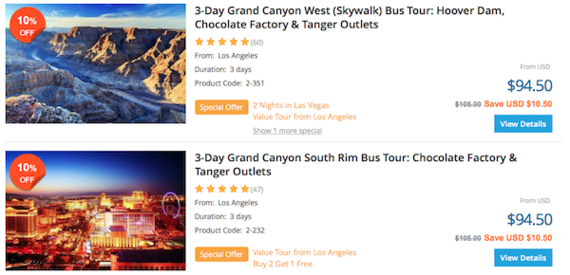 Reduce cart abandonment with an exit offer.
I'm a huge fan of exit offers that fire when a visitor is leaving the shopping cart before completing a purchase. Yes, some popups can be intrusive and annoying, but most website visitors will never return. So, for the sake of converting more of your abandoned cart visits into sales, you shouldn't be worried about a few people getting 'annoyed' with your offer.
I see two types of abandoned cart exit offers: immediate offers like a discount code or free shipping offer, and then offers to join a newsletter for special offers in the future. The email offer is giving the visitor a reason to not make an immediate purchase. They may intent to come back at a later time, but most will not, and they will end up purchasing from elsewhere.
Place an exit offer in front of their face as they are leaving that they can't pass up. A discount coupon code with a countdown timer creates a sense of urgency and will cause many of its recipients to complete their abandoned purchase. These are visitors that had the intention of leaving, so any increase in converting abandoning traffic is a win.
If you are a large company looking for a hands-free white glove service, check out Bounce Exchange (they handle my company's exit traffic), but if you are on a tight budget and want more of a DIY solution, there are several options available, including Picreel, Optin Monster and Optimonk, to just name a few.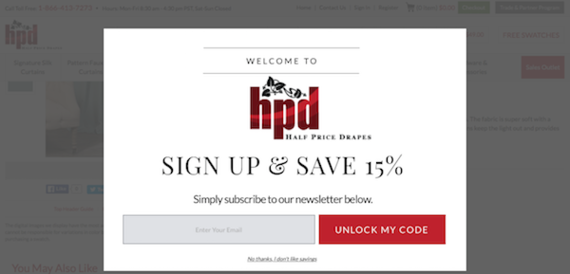 Make sure your user experience is flawless across all devices and browsers.
This is very simple: if your conversion path and checkout experience is flawed on a particular browser or device, you are essentially throwing money out the window. Constantly running your website through a browser testing program, especially after changes and updates are made to your website, should be a no-brainer, but I see many brands drop the ball.
There are many services, such as BrowserStack, that allow you to quickly test across every mobile and desktop browser. While these types of tests should be part of your routine, nothing beats real human testing. Feedback from real users is a great way to see what they like and dislike about your conversion path and check out process. You can have friends and family test in front of your and get live feedback, or you can poll your actual users by using surveys, either real-time or emailed.
Increased conversions result in increased revenue -- so take the time to implement these simple tips and watch your e-commerce sales rise.