Complaining is one of the ego's favorite strategies for strengthening itself. Every complaint is a little story the mind makes up that you completely believe in. Whether you complain aloud or only in thought makes no difference. Some egos that perhaps don't have much else to identify with easily survive on complaining alone. When you are in the grip of such an ego, complaining, especially about other people, is habitual and, of course, unconscious, which means you don't know what you are doing. Applying negative mental labels to people, either to their face or more commonly when you speak about them to others or even just think about them, is often part of this pattern. Name calling is the crudest form of such labeling and of the ego's need to be right and triumph over others: "jerk, bastard, bitch" -- all definitive pronouncements that you can't argue with. On the next level down on the scale of unconsciousness, you have shouting and screaming, and not much below that, physical violence.
Resentment is the emotion that goes with complaining and the mental labeling of people and adds even more energy to the ego. Resentment means to feel bitter, indignant, aggrieved, or offended. You resent other people's greed, their dishonesty, their lack of integrity, what they are doing, what they did in the past, what they said, what they failed to do, what they should or shouldn't have done. The ego loves it. Instead of overlooking unconsciousness in others, you make it into their identity. Who is doing that? The unconsciousness in you, the ego. Sometimes the "fault" that you perceive in another isn't even there. It is a total misinterpretation, a projection by a mind conditioned to see enemies and to make itself right or superior. At other times, the fault may be there, but by focusing on it, sometimes to the exclusion of everything else, you amplify it. And what you react to in another, you strengthen in yourself.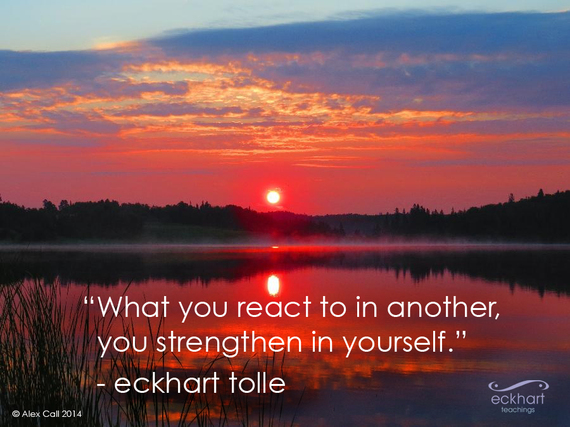 The ego loves to complain and feel resentful not only about other people, but also about situations. What you can do to a person, you can also do to a situation: make it into an enemy. The implication is always: This should not be happening; I don't want to be here; I don't want to be doing this; I'm being treated unfairly. And the ego's greatest enemy of all is, of course, the present moment, which is to say, life itself.
Complaining is not to be confused with informing someone of a mistake or deficiency so that it can be put right. And to refrain from complaining doesn't necessarily mean putting up with bad quality or behavior. There is no ego in telling the waiter that your soup is cold and needs to be heated up -- if you stick to the facts, which are always neutral. "How dare you serve me cold soup..." That's complaining. There is a "me" here that loves to feel personally offended by the cold soup and is going to make the most of it, a "me" that enjoys making someone wrong. The complaining we are talking about is in the service of the ego, not of change. Sometimes it becomes obvious that the ego doesn't really want change so that it can go on complaining.
See if you can catch, that is to say, notice, the voice in the head, perhaps in the very moment it complains about something, and recognize it for what it is: the voice of the ego, no more than a conditioned mind pattern, a thought. Whenever you notice that voice, you will also realize that you are not the voice, but the one who is aware of it. In fact, you are the awareness that is aware of the voice. In the background, there is the awareness. In the foreground, there is the voice, the thinker. In this way you are becoming free of the ego, free of the unobserved mind. The moment you become aware of the ego in you, it is strictly speaking no longer the ego, but just an old, conditioned mind pattern. Ego implies unawareness. Awareness and ego cannot coexist. The old mind-pattern or mental habit may still survive and reoccur for a while because it has the momentum of thousands of years of collective human unconsciousness behind it, but every time it is recognized, it is weakened."
-- Eckhart Tolle, A New Earth