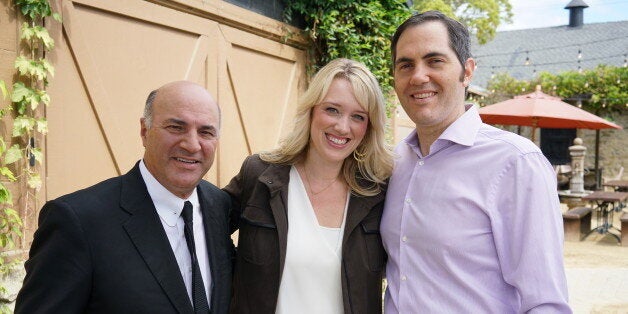 One thing I've learned through my years of experience in the financial world, is that nobody gets away with anything. If you didn't work like a dog in your 20s and you blew your money in your 30s and 40s, you're going to have to scrimp like crazy in your 50s and keep working well into your 60s. That's Money Karma in action: reward or punishment, depending on your previous financial actions. Good Money Karma works like this: if you had a good financial plan and instituted it, you probably have enough. Now it's time to give back.
In their later years, my mother Georgette and stepfather nestled into a comfortable retirement in Switzerland, but neither one of them really stopped working. For 15 years, George continued to consult for the World Bank and other organizations, making very little money but gaining a great sense of purpose because the economic policies he proposed helped people better their lives.
Meanwhile, my mother volunteered with women's organizations at the UN. Thirty years ago, she and a handful of friends began to make dolls and scarves sold at a bazaar to raise money for children's causes around the world. It was informal to start. Mostly, it was an excuse for them to get together and socialize while doing something purposeful. Soon, other embassies started to sell things at the bazaar -- maple syrup from the Canadian embassy, handcrafts from Nepal, and perfume from the French embassy.
After a while, this small group that called itself the United Nations Women's Guild eventually corralled 40 embassies in Geneva to participate. Today, this one-day UN bazaar brings in as much as $300,000 in sales, all donated to charity. That money has built sports facilities in Bogota and treated children with Cancer in Eypt. My mother was as proud of that work as anything she'd ever done in her life -- Money Karma in its purest form.
I like to set aside at least 5 percent of my after-tax income, funneling it to a few select charities that mean something to my wife, Linda, and I -- like foundations that fight disease, or arts and cultural organizations. We call our charitable donations "five in five." We select five charities or causes for five years and support those, rather than spreading our focus too widely. After five years pass, we assess and choose five more.
The method doesn't matter; the point is that good Money Karma goes beyond any tax break you'll receive. There are health benefits to giving. Countless academic studies have come to the same conclusion: altruistic people live longer, healthier and happier lives. Therefore, they're less of a financial burden on their families and on society. You give, you get.
That said, with Giving Tuesday just around the corner, I urge you to give whatever your budget allows to a cause that's important to you -- whether that's five dollars, or five thousand. And if your bank account can't accommodate a financial donation this year, there are plenty of other ways to give. Make dolls and scarves to raise money like my mother Georgette did, spend some time helping at your local food bank, or volunteer at your charity of choice. My friends at Plumfund have lots of other ideas!
It's easy to give. That's what's so Wonderful about it.
This post is part of a series produced by The Huffington Post and Plumfund, in conjunction with Giving Tuesday. In the series, we'll feature inspirational stories of giving and receiving from users and friends of Plumfund, the free crowdfunding site. You'll find one post every weekday in November leading up to Giving Tuesday. To learn more or start your own campaign, visit Plumfund.com.
Related
Popular in the Community