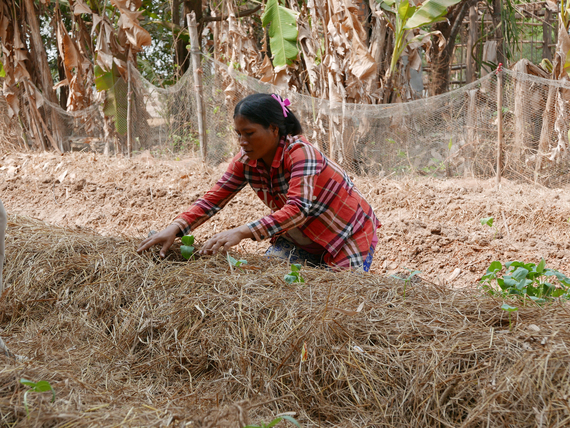 Farmer Dek Huon demonstrates planting long bean seedlings using conservation agriculture practices, which includes rotating diverse crops with mulch.
Copyright: Britta Hansen/UC Davis
A farmer and a pregnant mother, Dek Huon plants seedlings by hand as temperatures rise to 100 degrees in Siem Reap, Cambodia.
Yard long beans are one of five crops she cultivates on her small farm through conservation agriculture, an approach that seeks to leave the soil undisturbed while improving long-term yields. By combining the reduced soil tillage with crop rotation and mulch, conservation agriculture often improves soil structure, moisture retention, and soil health. Dek Huon and other Cambodian farmers are applying the practice in a new way: drip irrigation, which conserves water as well as physical health.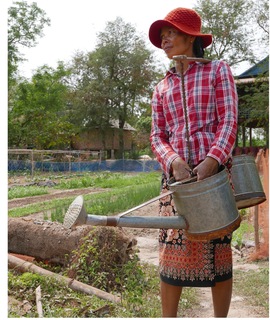 To the right, farmer Tho Roam demonstrates how she would carry water when not using drip irrigation. Researchers estimate that growing vegetables on 100 square meters with traditional methods and hand watering requires hauling about 1,300 pounds of water per day during the dry season. Financial and environmental sustainability are important to many famers because their farms not only provide nutrient-dense vegetables for their families but also may be the family's primary financial revenue source.
Horticulture--as in the fruits and vegetables it produces--supplies half of the U.S. Department of Agriculture's recommended foods for a healthy diet, a guide known as MyPlate. These recommendations are because fruits and vegetables hold vital micronutrients that are key to growth, healthy development, and chronic disease prevention.
Without these important vitamins and minerals, micronutrient malnutrition occurs. Called the "hidden hunger," micronutrient deficiency now afflicts an estimated 2 million globally.
Malnutrition continues to be a high priority in Cambodia. Despite the recent improvements in child health from efforts to reduce poverty, improve education, and promote immunization and breastfeeding, 40 percent of Cambodian children are stunted and 11 percent are wasted, according to the 2010 Cambodia Demographic and Health Survey.
Compared to healthy children of the same age and gender, stunted children appear proportionally normal, but are below average in height. Unlike wasting, which is to be low in weight for height, stunting is not observed until age 2 or 3. Although the exact cause is unknown, research has shown stunting often occurs during pregnancy. This means the mother's nutrition and her child's for the first two years are critical to early development. Stunting now affects 162 million children under age five worldwide. These children will never meet their full potential because of the irreversible damage stunting causes.
During pregnancy, Dek Huon gains about 15 percent of her vitamin A requirement by consuming a cup of raw yard long beans daily. A legume, which can be classified as a vegetable or a protein substitute on MyPlate, is also a source of vitamin C, folate, magnesium, manganese, and potassium. The World Health Organization estimates up to 500,000 children yearly become blind by being deficient in vitamin A: and half die within the following year. This public health emergency is most critical in Africa and Southeast Asia.
In resource-poor countries like Cambodia, diets are often dominated by starchy staple foods that lack micronutrients. Even with the known benefits of having a diverse diet, a major obstacle in measuring diet quality and micronutrient adequacy is the lack of indicators for advocacy, assessment, and accountability. A new monitoring and evaluation tool in the form of a guide called the Minimum Dietary Diversity for Women now enables researchers to help women of reproductive age like Dek Huon. The guide will give a broader understanding at the population level of how to address these growing nutrition challenges.
Dek Huon is one of many farmers learning new practices like conservation agriculture through a research project supported by the Feed the Future Innovation Lab for Collaborative Research on Horticulture (Horticulture Innovation Lab) at the University of California, Davis. Feed the Future is the U.S. government's global food security initiative that emphasizes nutrition-sensitive agriculture and women farmers in developing countries around the world.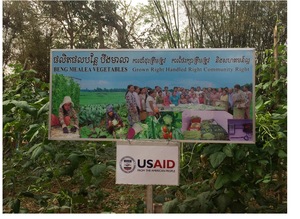 Last month, more than 75 researchers visited field demonstrations for the Horticulture Innovation Lab's annual meeting. The project conducting research in conservation agriculture, drip irrigation, and rainwater in Cambodia and Nepal is led by Manuel Reyes, PhD, from North Carolina Agricultural and Technical State University, and is one among multiple efforts of the Horticulture Innovation Lab for sustainable production, marketing, nutrition, and food safety for horticulture crops. Learn more about following vegetables from field to market in Cambodia from the view of postharvest specialist Angelos Deltsidis, PhD.
Popular in the Community