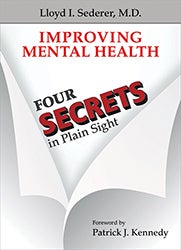 Improving Mental Health: Four Secrets in Plain Sight – by Lloyd I. Sederer, MD
I had just read Siddhartha Mukherjee's wonderful, short book The Laws of Medicine: Field Notes from an Uncertain Science. On a weeklong hike in Spain last year, walking eight hours a day, I had a lot of time to think. Inspired by this book about nature, medicine and the three rather counter-intuitive laws Mukherjee had 'discovered', I wondered what might be said of my field, mental health and the addictions. I wondered, as well, what might make a difference for clinicians working with patients and families – as well as by those directly affected by mental and addictive conditions - regarding their critical and heartbreaking concerns and struggles?
As the days of hiking ensued, I came to four foundational truths, if you will, instead of laws, which I call 'secrets'. They are insights from a long career, which I believe are hidden in plain sight. I imagined a book of patient stories; historical incidents and notable people; book, TV and film references; and (non-jargon) science reporting to reveal and illuminate each of the four secrets I meant to propose. I sought to deliver to practicing psychiatrists, general medical and pediatric doctors, psychologists, social workers, counselors, nurses, and trainees in all these disciplines what they could do more of in everyday practice. I also wanted to speak to people with mental disorders and their loved ones about what they too can do to make an immediate difference in their lives. I jotted some notes as I walked and talked about them with my wife, one of the best writers I know. In a couple of days, I had the design for this book, and its principal themes.
I want, as well, to recognize not just the inspiration of Dr. Mukherjee's book but the encouragement he offered me when I wrote him about the book I had in mind. That was more than I needed to get started.
The "secrets" I believe that are there for all of us to see and apply are: 1) Behavior serves a purpose, 2) The power of attachment, 3) As a rule, less is more, and 4) Chronic stress is the enemy.
I thought I would write a short book, not hundreds of pages, but a fraction of that. I was reminded of aphorisms about how easy it can be to write a long speech or article, and how hard a short one can be. As a writer and teacher, I thought about the competing demands upon the time and attention of those for whom I write. I aim to communicate with them in ways that are concise, clear, and hopefully engaging as well.
I remain hopeful for further and important scientific advances in my field, despite what has been their languorous pace. But I see, daily, that we already know so much about what works. My field can do so much more by reducing the gap between what we know and what we do. The 'secrets' in this book are meant to close that science to practice gap. They are meant to illustrate opportunities in plain sight by which clinicians can help patients and families - and they can help themselves, by taking the kinds of actions that will deliver for them better, richer lives - right now.
Improving Mental Health: Four Secrets in Plain Sight (Foreword by Patrick Kennedy) is now available and began as the #1 new book in its category.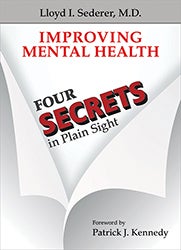 Related
Popular in the Community