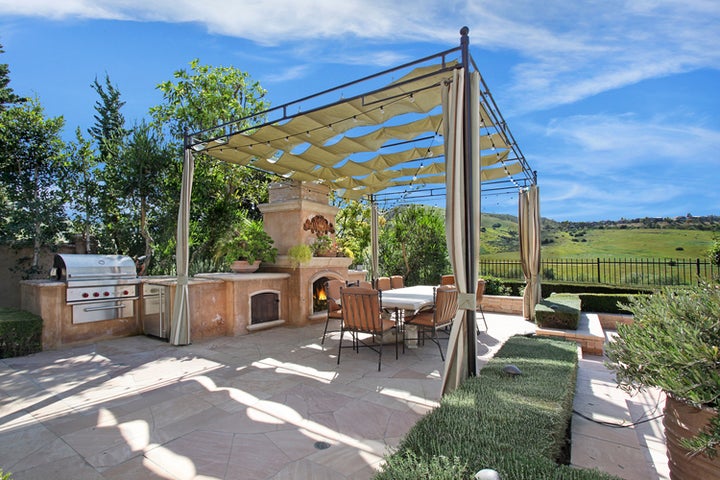 I receive a lot of calls from homeowners this time of year about improving their backyards. Depending on the project, it is good to start soon after the New Year to get your home ready for next summer's entertaining and barbecue season. If you design the outside of your home correctly, it will flow with the inside of the home's function and the outside of the home's style. Improving the backyard will also increase the value of your home.
After working with clients for many years, I get calls from them as their kids are headed into high school and college. They want to get their home updated to provide an entertainment space for their children and friends nearing adult age. Clients want their kids to stay home. If they make their house like a hotel with a pool and spa, they can spend more time together as a family. Adding a few simple things can make a lifetime of enjoyment in your backyard for your children and grandchildren.
What are you missing in your backyard? Do you have a pool, spa or area to barbecue? Do you have a deck to entertain guests? Do you have a large enough patio for throwing larger parties or having a wedding? Larger open patio areas are great to be able to leave clear and set up for weddings or banquet parties if you have the space.
Here are five suggestions to improve your backyard.
1) Do you have an outdoor kitchen and dining area?: This is the perfect place to expand your entertaining and living area. You can even add a fireplace, TV's, and outdoor heaters. Along with your barbecue and refrigerators, a lot of people want to have an outdoor pizza oven.
2) Do you have a vegetable garden area?: This would go near the outdoor dining area. If you enjoy being outdoors this will not take up too much of your time. They just need to be placed properly for sunlight.
3) Do you have a pool or spa?: The first thing that people think about is whether to do the pool or spa. While this can be an expensive addition, it can add to the value of your home for entertainment reasons. This will also keep the kids at home.
4) Do you have a fire pit?: They are a great gathering space for chilly evenings after sunset. Fire pits are not expensive to put in. They can be purchased for around $1,500 and made custom for around $3,500.
5) Do you have privacy?: Plan well for your hedges and decorative trees. You can add other privacy shields like creating succulent or herb garden plant walls. Or, just add traditional fencing or a stucco wall. If you are having a party and need temporary privacy partitions, you can rent or buy 6 ft. synthetic ivy walls that look fabulous in a pinch for any occasion that requires a little more privacy or traffic flow.
Related
Popular in the Community