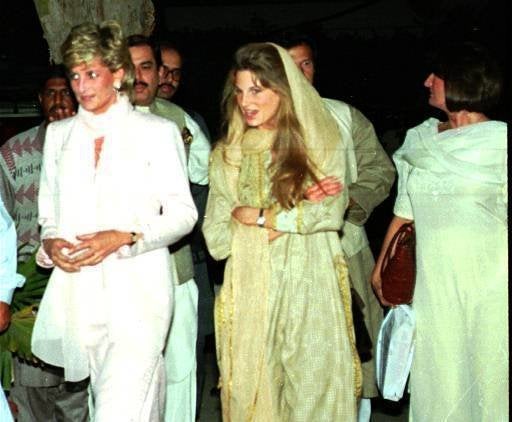 In 1996 Princess Diana visited her friend Jemima Khan, then married to Imran Khan, in Lahore Pakistan. The visit also allowed Diana to have a secret meeting with the family of her lover, Pakistani surgeon Hasnat Khan.
From the Daily Express:

It was in Lahore in 1996 that Diana, head covered and wearing a traditional shalwar kameez, met Hasnat's parents and family.

She had managed to outfox two members of Pakistan's secret services who tailed her and were lost in the darkness as her Mercedes sped through the back streets.

But as she entered the room where the Khan clan had gathered she knew she would always be an outsider.

Dr Khan's father Rashid was to confirm later: "My son told me he would marry no one, nowhere, without my permission." Hasnat was expected to bring home an Islamic bride.

As the world's most famous divorcee with a background steeped in western culture, Diana left the Khan family that night, heartbroken. She received solace from Jemima Khan and her ex-husband Imran, who together with his sisters, had helped facilitate the get-together.
Popular in the Community