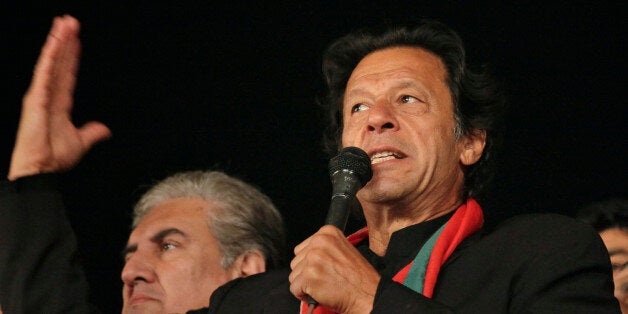 WASHINGTON -- With Pakistan reeling from a terrorist attack that killed 141 people, mostly children, opposition leader Imran Khan on Wednesday declared an end to protests that have overtaken the capital of Islamabad for four months.
Khan, who leads the Pakistan Tehreek-e-Insaf Party (PTI), launched countrywide sit-in protests on Aug. 14 in Lahore, demanding the ouster of Prime Minister Nawaz Sharif amid allegations of rigging last year's general elections. Thousands of PTI supporters had continued to protest the government over the course of 126 days, under the campaign slogan "Go Nawaz Go."
Khan said he was ending the protests "due to the situation in the country right now," stressing the need for Pakistan to show unity after Tuesday's horrific attack by the Pakistani Taliban at Army Public School in Peshawar.
Khan, who had already postponed a nationwide shutdown planned for Dec. 18, said he hoped the government would still hold an independent investigation into the alleged fixing of the polls in 2013.
"During the past few months, I have seen the people of Pakistan wake up and rise for their rights. We held historic protest rallies in Pakistan with record numbers of people attending," Khan told his supporters after attending a meeting of political leaders summoned by Sharif in response to the attack.
He added that he had "never seen an atrocity" like Tuesday's events in Peshawar in his entire life.
"I cannot even comprehend how someone could kill children like this," Khan said. "If someone killed my children like this, I would seek to avenge it as well."
Khan conceded that he had been reluctant to meet with Sharif, but said it was not a time to score political points.
"We as a country have to stand united to defeat the terrorists," he said.
Sharif welcomed Khan's decision, which he said will help strengthen Pakistan's fight against the terrorist factions that have ravaged the country in recent years. He also pledged to set up a commission that would probe the charges of corruption in last year's elections.
Tuesday's attack was one of the deadliest in Pakistan's history and sparked global outrage for its targeting of children. The Pakistani Taliban, known as the TTP, claimed responsibility for the attack and said it was to avenge an army-led offensive that in recent months has left hundreds of militants dead in the Khyber and North Waziristan provinces.
Sharif vowed to eradicate terrorism from the country, saying the deaths of innocent children would not be in vain.
"There will be no distinction held between 'good' Taliban and 'bad' Taliban," Sharif said. "We will fight terror until every last terrorist is eliminated."
Related
Popular in the Community