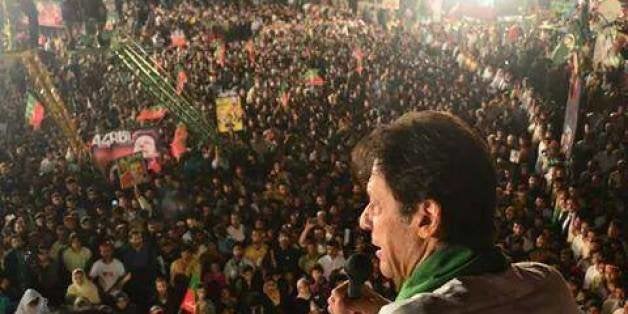 Pakistan's political frenzy is continuing as the world looks on. It is almost a month since the wave of protests began in Pakistan's Federal Capital Islamabad. Thousands have left their homes at the call of Pakistan's most popular political figure, Imran Khan, and the relatively progressive cleric Dr. Tahirul Qadri. The demonstrators have camped outside the Prime Minister House and Pakistan National Assembly, demanding their voices be heard. The protests are in essence against Pakistan Muslim League-N's elected government and the Prime Minister Nawaz Sharif, who both Khan's party Pakistan Tehreek-e-Insaf (PTI) and Pakistan Awaami Tehreek (PAT) wish to oust. Their reasons differ, but the end goal of both parties seems the same: "Go Nawaz Go" is the resounding chant in Islamabad, reverberating across Pakistan. Whether Sharif goes or not remains to be seen, as for now, democratic forces have saved him from a forced resignation. Khan and his followers believe that Sharif came into power through heavily rigged elections, and so it is not a democratically elected government in principle. Evidence supports Khan's claims, but heated debates continue whether democracy should be "derailed" or should Sharif be allowed to complete his term.
Through it all, Khan, already the nation's "national hero" has emerged as a populist leader. Cricketer and philanthropist, Khan is undoubtedly one of the most followed leaders Pakistan has seen. His integrity because of his past record is unquestioned. Pakistan's disgruntled masses love him even more for being non-political and non-dynastic. Khan' s charismatic good looks and his image as one who leads from the front has added to it. He gives his supporters the much-needed hope of freedom from the clutches of dynastic politics, nepotism and corruption. His followers believe he will eventually be the prime minister of Pakistan and solve all of Pakistan's problems and create a just, fair and secure Pakistan, which he calls the Naya (new) Pakistan.
It is natural then that parables are drawn between Zulfiqar Ali Bhutto and Khan. Bhutto was a revolutionary and mobilized Pakistan's masses politically. His daughter, Benazir Bhutto (BB), carried the torch of democracy after her father was assassinated, and was eventually killed at the hands of extremists. Yet their political party, the PPP (Pakistan People's Party) remains a major political force in the country.
While the mass appeal is similar, Bhutto and Khan have many differences. If the Bhuttos were leftist in their ideology, Khan is considered right off centre. His ideology, his background and his political prowess differ from the Bhuttos. But there are, ironically, jarring similarities.
Let us take a look at Bhutto. Some 35 years later, Pakistanis still remember Zulfiqar Ali Bhutto in an awe-struck manner. They never got over Bhutto, whether they agreed with him or not. Bhutto was charismatic, a visionary, one of the proverbial leaders who "come along in centuries". He connected to the awaam (masses) and his voice resonated with them. His manifesto addressed the pains of the people. He seemed God sent. The way he was snatched away from this country made him an even bigger hero. And Bhutto is that point in the history of Pakistan where the Jiyalas (staunch loyalists) were born. Infact, the term so effectively described the state of mind of Bhutto's followers that the word became synonymous with his loyalists. His were a breed of loyalists who were ready to protect their leader and to die for him because they believed in him blindly. Rich and poor, urban and rural, illiterate and from the intelligentsia, these loyalists were varied in many ways but common in their reverence for Bhutto.
Till this point, it was all good, and natural. Except for one thing. These staunch supporters, somewhere, left their sense of judgment buried behind their admiration for the messiah. The purpose and the vision of democracy and equal rights to all citizens of Pakistan became packaged in one and only one package. Zulfiqar Ali Bhutto. Without him, they were lost.
Fortunately for Pakistan, the reigns of the PPP were taken over by the defiant, strong, politically groomed and well-meaning BB as her father's political heir. The military dictator General Ziaul Haq's era of oppression and the fact that BB was a woman fighting a dictator further brought out the protectiveness in people. What came out of it was not just a belief in Bhutto's ideology, but also a belief in the Bhutto dynasty being saviors and almost infallible. They, and not the vision, became the focus.
Sadly, this is what was exploited by those with hidden agendas. Absolute adulation corrupts. This is what many good leaders have fallen prey to in human history. Their followers stopped seeing their leaders' shortcomings. What remained of a brilliant ideology were slogans and a reactionary brand of personality-worship.
BB's widower Asif Ali Zardari made an entrance as a non-Bhutto yet the closest in line after BB. He may have successfully completed five years of a democratically elected government, and is today being lauded for his political wisdom, yet his very advent into politics was dependent on this unquestioned adulation. BB's son Bilawal Bhutto Zardari is the coveted political heir of the dynasty, ultimately expected to take over, whether he is deserving or not.
Let us come back to Imran Khan. People either follow him with absolute conviction or are against his fiery, often agitational brand of politics. But undisputedly, Khan's biggest strength, like the Bhuttos, is supporters who are ready to lay down their lives for him. They believe in his sincerity of intention and his integrity when it comes to money matters. He has proven his persistence. And he is the one man who has the guts to challenge the status quo to the point of dismantling it. This is all good and all true.
However, the flip side is that the pitfall is ironically the same as what the Bhuttos faced. While the PTI is a completely non-violent party, members are known be hasty and reactionary if anything against Khan is pointed out.
As one who believes that Khan is well-meaning and can do a lot for Pakistan, the one thing I wish I can say to him would be, "O captain, my captain, the last thing you need is blind following. What you do need is a sincere following."
The state of mind being pointed out here is not just limited to followers of Bhuttos or Khan. We see the same in other political parties in Pakistan as well, where a hushed silence ensues when the leader speaks, and there is no allowance for disagreement with the leaders who are seen as saints. Till now Khan has done well, because his followers love him despite knowing his shortcomings. The "human-ness" owing to these shortcomings either increases people in his love or his opposition.
For Khan, it is just the beginning. While he does need the sincere support of his followers, he needs, as a part of that sincerity, that they point out where he goes wrong. He needs to develop a culture in his party where the people who are his support are tenacious enough to stand by him, but awake enough to alert him to his mistakes. This will help Khan be the change he promises. A welcome fact is that Khan has repeatedly said that now and if hypothetically he were to be Pakistan's prime minister, he would want that his faults be pointed out. Will that actually happen remains to be seen.
The hope is that the great Khan remains under check and balance. Only then we can hope for great things from him. Otherwise, it will be de ja vu all over again, where a good leader would fall prey to being idolized.
Calling all HuffPost superfans!
Sign up for membership to become a founding member and help shape HuffPost's next chapter