Wikipedia is often considered one of the pillars of the Internet. Founded in 2001, it has been the go-to source for everything scholarly for well over a decade. It's hard to imagine the internet without Wikipedia, but over 15 years after its inception, no one has made a successful attempt at making it better. Wikipedia still remains the only dominant online encyclopedia.
Like every organization that ages, Wikipedia has become a bureaucratic behemoth that has ended up halting innovation. Their lack of innovation is either a liability or an asset depending on who you ask. Wikipedia largely looks the same as it did in 2001. Although that makes it reliable in terms of look, feel, and content, it creates the chance for aspiring entrepreneurs to create a new generation platform that ups the ante on the incumbent. No one uses MySpace anymore, but everyone is on Facebook.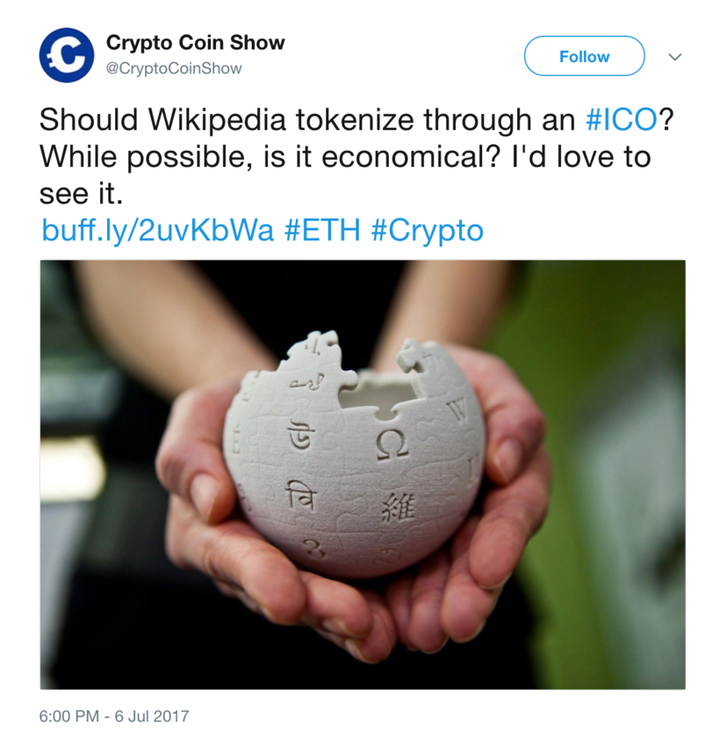 Everipedia, a startup based out of Los Angeles, takes a fresh look at what an encyclopedia should look like and how it should function in 2017. The founders of the online knowledge base have completely redesigned their software from scratch including new editing tools and a more modern design. However, they have kept the free to use content license that Wikipedia uses and have planned to keep their articles completely ad free. Finally, and most interestingly, they encourage pages on everything (part of their namesake), including pages that Wikipedia might find non-relevant or non-notable. This allows Everipedia to collectively have the pulse on almost anything imaginable, from news events to pop culture to emerging concepts. One popular page on Everipedia, Michael Wenzel, details the activities of a serial animal abuser who would gleefully show off his "trophies." In regards to pop culture, it's still incredible to think that one of the most popular rappers on and off the internet right now, Lil Pump, does not have a Wikipedia page. Furthermore, Lil Pump is a part of a rising movement of artists who utilize SoundCloud and other platforms to aggregate not only their music but themselves and their lifestyles. There is much debate of what SoundCloud Rap actually is as a genre, and like a scholarly resource for any other subject, Everipedia acts as an introductory springboard the allows the reader to be informed and knowledgeable. Wikipedia skips this topic of rap. Almost all of these pages have tens of thousands of views, including some approaching in the 6 and 7 figure ranges, clearly showing there is wide demand for learning about these topics.
So who is exactly behind all these new pages and articles being created? The Everipedia community of editors hail from all over the world, with over 14,000 registered editors who have already signed up for the site and an active forum where many of them share their pages, Everipedia's editors are a vibrant community that cares about recognizing people and ideas who deserve to be noticed.
Everipedia would not be possible without two of it's co-founders, Sam Kazemian and Theodor Forselius. Sam was a double major Neuroscience and Philosophy student working 3 lab jobs at UCLA while Theodor (a high school dropout) was running one of the largest gaming server networks in the world when their paths crossed through a mutual friend. Together they developed the idea for a better repository of information that people could access and engage with. Near the end of Sam's college career, fate would have them linking up with former Genius co-founder Mahbod Moghadam and another mutual friend, Travis Moore, to work on the idea full-time. Moghadam said their potential to becoming one of the largest sites on the web is "100%." Moghadam would joined the team as co-founder and got Everipedia their initial funding from Santa Monica based Mucker Capital.
Today Everipedia is based in Los Angeles not far from the UCLA campus. The Everipedia team has since grown to include a select group of full-time Executive Editors who curate the information on the site and help guide members of the community in the wiki-making process. They have also brought onboard a slew of talented advisers including LA based investor Nouriel Gino Yazdinian. Living a lifestyle reminiscent of the TV show Silicon Valley, the Everipedia team is working day in and day out and relying on each other to make the site the success that they all know it can be. The world of tech and startups is full of fads and what's hot today is not necessarily hot tomorrow. Everipedia differentiates itself from the rest by being one of the most ambitious knowledge projects in recent memory, to revolutionize how information is created, recorded, and distributed.
Related
Popular in the Community