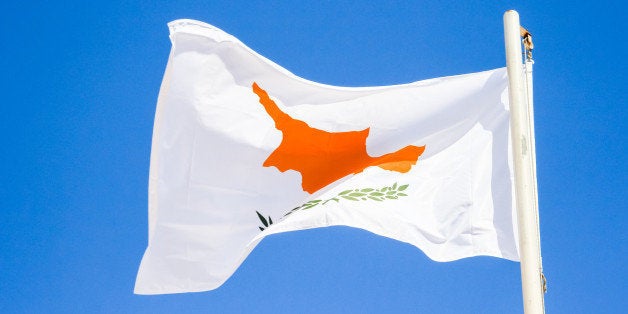 The Eastern Mediterranean island of Cyprus leapt into the headlines with the landing of a hijacked EgyptAir plane. It will soon make headlines again as the US and the UN move to end the 42-year division of that country, through its capital city of Nicosia, by 40,000 Turkish troops. These negotiations will have significant ramifications for the region and the U.S.
Cyprus is a strong U.S. ally and the only western democracy, other than Israel, virtually within sight of Middle Eastern shores. Ending the occupation and division of Cyprus will be crucial to America's security interests.
If Cyprus' division is ended properly, it can produce untold benefits, including a strengthening of the new geopolitical triangle of America's western democratic allies in the Eastern Mediterranean -- Israel, Greece and Cyprus. This triangle is important for many reasons including their shared natural gas findings. However, if this effort to end Cyprus' division is mishandled, dangerous, unstable elements within the "Turkish occupied" third of Cyprus could gain a constitutionally approved foothold in the country. Some of these elements are responsible for the Cyprus-licensed pickup trucks seen carrying ISIS jihadists in Syria into battle.
Like Berlin during the Cold War, Nicosia stands as the dividing line between freedom and authoritarianism. And, just as President John Kennedy began the world's victory for democracy at that line in 1963 with his famous "ich bin ein Berliner "or "I am a Berliner", we, today, must begin the victory for freedom and humanity by saying, "E-meh Key-pre-os" or "I am a Cypriot". Just as Berlin became the "tipping point" for the demise of a philosophy built on authoritarian rule and atrocities, so too can Nicosia with the coming Cyprus negotiations.
The Cyprus issue has always been worthy of America's undivided attention. For years U.S. Senators, Members of Congress and 1.2 million Greek-Americans have periodically said, "I am a Cypriot". Egregious injustices against Cyprus perpetuated by Turkey, and sometimes even by our own government, led the Cyprus issue to be the only major foreign policy matter in modern history where the US Congress overrode the Executive Branch. Congress enforced the law by imposing a Turkish Arms Embargo following Turkey's 1974 illegal invasion of Cyprus.
The issue of the "Cyprus Missing" epitomizes this ongoing Turkish and periodic U.S. injustice toward Cyprus. Ten years after invading Cyprus, Turkey refused, with the acquiescence of our government, to account for the five Americans and over 1,600 Greek-Cypriot men, women and children they captured alive. Again, the Congress had to pass a law to force our Executive Branch to act and, in doing so, revealed the gruesome truth. A 17-year-old American boy visiting Cyprus from Detroit, Michigan, the other Americans and over 1,500 civilians were executed by the Turkish military and their bodies were unceremoniously dumped in mass graves.
Large demonstrations of Turkish-Cypriots oppose Turkey's illegal infusion of hundreds of thousands of Turkish citizens onto Cyprus. This infusion is smothering and extinguishing the sophisticated and distinctly different centuries-old Turkish-Cypriot culture, which has been part of a western democracy.
The enormity of the stakes in the Cyprus solution has moved its handling to the attention of our very best. Today's incarnation of President Lyndon Johnson -- perhaps the most persuasive U.S. official in modern history -- is now in charge: Vice President Joe Biden. It is not unusual to see Biden, like Johnson, with his face inches away, clutching the lapels of the person to whom he is explaining that his proposition is in their best interest. Nor is it unusual for Biden, like Johnson, to establish close personal relationships and trust with the decision-makers of an impasse, as he has with the Cyprus issue.
Even Donald Trump, who sees nearly all government officials as "stupid" would admire the no-nonsense steel and velvet effectiveness of Biden. How else could Biden, virtually single-handedly, with Senate Republican Majority Leader Mitch McConnell, put an end to the months-long debt limit log-jam that brought America to within two days of default and economic chaos? Biden has 42 years of intimate knowledge of the Cyprus issue; President Barack Obama's complete trust; and an excellent relationship with Secretary of State John Kerry, who, in the event of his own presidency, would have selected Biden as his Secretary of State. Further powering Biden is an opportunity to spend all of his White House's "chits", as they expire when the Administration ends in 290 days.
With the pervasive growth of authoritarianism and the scale of atrocities committed in the Middle East and spreading across the globe, the Cyprus issue has risen to a tipping-point for humankind. As Cyprus recaptures headlines in the coming months, we must remind ourselves of this era's struggle between the graces of civilization and the rawness of barbarism. And, we must all say, "E-meh Key-pre-os" -- "I am a Cypriot".
Calling all HuffPost superfans!
Sign up for membership to become a founding member and help shape HuffPost's next chapter