With today's third anniversary of the Shelby v. Holder decision, I am reminded of two poll tax receipts hanging in my Congressional office. On January 31, 1949, my grandparents traveled to the tax assessor's office in Jack County to pay their annual poll tax.

My grandparents worked hard to save enough money to pay their poll tax of one dollar and seventy-five cents - the equivalent of $36.16 today. Their receipts are a constant reminder that only over seventy years ago, African Americans were legally required to pay to exercise a constitutionally protected right. In 1964, the courts and Congress finally realized that the practice was immoral and eliminated poll taxes altogether through the Twenty-fourth amendment and in Supreme Court decisions.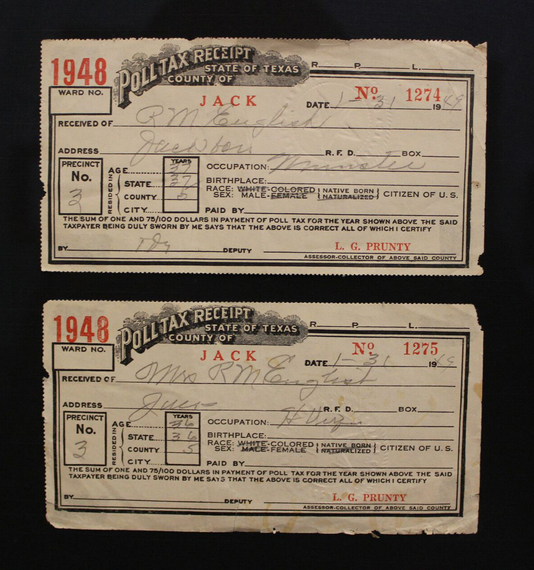 The original 1949 poll tax receipts of Congressman Marc Veasey's grandparents hang in his Congressional office in Washington D.C.
Almost fifty years after the original 1965 Voting Rights Act fully protected the ballot box, the Supreme Court handed down the Shelby v. Holder decision which effectively dismantled key provisions of the historical civil rights legislation. The ruling set in motion what many feared: states subjecting minorities, seniors, and low-income Americans to unfair, punitive barriers designed to prevent them from exercising their right to vote. Since the 2013 decision, 33 states have implemented laws that again make it difficult for traditionally disenfranchised communities to cast their ballots.

Just hours after the Supreme Court decision, my home state of Texas began to enforce one of the strictest voter ID laws in the nation. The new law requires citizens to present specific identification that is cost prohibitive for minority, poor, disabled, and elderly voters. Even "free" election certificates require obtaining supporting documents like birth certificates that vary in price range. Voters must now effectively pay at least $20 to $50 dollars before they can obtain an ID, register to vote, and then present that ID to cast their ballot. Frankly, the practice amounts to a modern day poll tax. That is why I introduced the Poll Tax Prohibition Act to forbid requiring a person to present solely forms of ID that have associated costs in order to vote or register to vote in a federal election.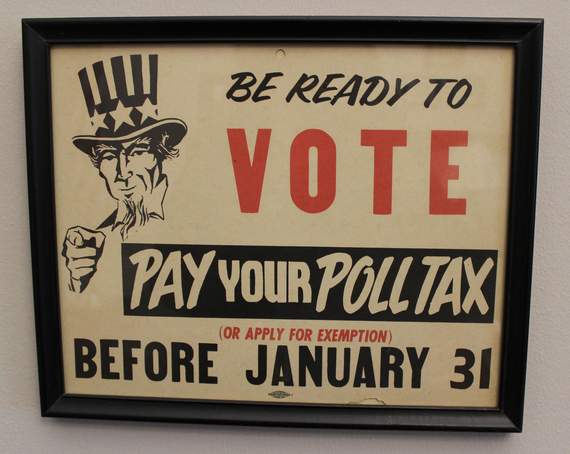 Until the ratification of the 24th Amendment in 1964, African Americans and other disenfranchised communities were legally required to pay to exercise their constitutional right to vote.

Supporters of the strict ID laws claim that these laws are designed to prevent "rampant" voter fraud, which is why only certain forms of identification are acceptable. However, there is no evidence that in-person voter fraud is widespread or that accepting only certain forms of photo ID is the solution. According to a Department of Justice study outlined during a 2006 Congressional hearing, out of the 197 million votes cast for federal candidates between 2002 and 2005, only 40 voters were indicted for voter fraud. Only 26 of those cases or about .00000013 percent of the votes cast, resulted in convictions or guilty pleas. It is clear that the photo ID requirement is not a solution to a problem but is instead a political ploy to prevent traditionally disenfranchised populations from voting for the candidates of their choice.

But it isn't just Texas leading the charge on finding roundabout ways to suppress today's voters. States like Wisconsin, that don't have a Civil War era history of discrimination, are now implementing some of the harshest voter ID laws as well. As a result, Mrs. Ruthelle Frank, who was born at home in Wisconsin in 1927, has been unable to vote. Unlike many Americans born at home by midwives, she was fortunate enough to have a record of her birth at the Wisconsin State Register of Deeds. However, Ms. Frank's maiden name, Wedepohl, is spelled incorrectly on her birth certificate which, under her home state's new voter ID law, renders it an unacceptable form of ID to re-register to vote. For citizens like Ms. Frank, the process to correct a birth certificate could cost up to $200, a costly expense for many senior citizens living on limited income.

In Shelby v. Holder, the Supreme Court called on Congress to update the Voting Rights Act to meet modern needs and yet Congress has failed to enact pending legislation to restore the protections gutted by the Court. This November, the need to break down barriers for voters is more important than ever. Americans from my grandparents' era paid the price, both with their hard earned money and with their literal blood, sweat and tears, to exercise their right to vote. No American today should have to do the same.

The Poll Tax Prohibition Act will encourage states to work towards finding fair means to identify voters and prevent fraud that will not infringe on citizen's right to vote. My 103-year-old grandmother has lived to see the ballot box protected for all Americans. Now, she has also seen people's suffrage compromised once again. I will not let that be the end of her story and we must not let it be the end of our legacy.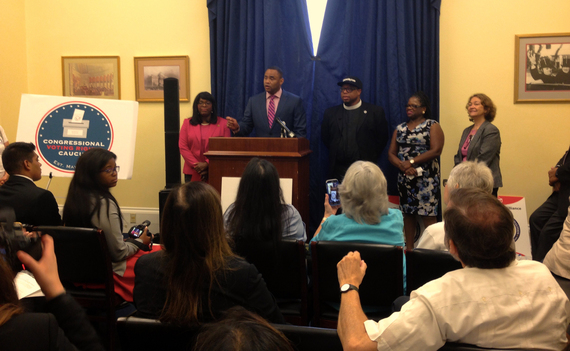 On June 23, 2016, Congressman Marc Veasey (TX-33) was joined by Congresswoman Terri Sewell (AL-7), Reverend Lennox Yearwood of the Hip-Hop Caucus, Barbara Arnwine, Esq. of the Transformative Justice Coalition, and other Members of the Congressional Voting Rights Caucus during a press conference demanding immediate action on voting rights legislation to restore access to the ballot box nationwide.
Popular in the Community