In 2017, Dump Bill de Blasio
Last week, New York City Mayor Bill de Blasio breathed a sigh of relief at news that two parallel investigations into his shady fundraising efforts were closed without any charges filed against him. The focus of one of the investigations, launched by the US Attorney's Office (now minus Preet Bharara), were on his since-defunct political nonprofit, the Campaign for One New York.
With that pesky little investigation behind him, and that of the Manhattan District Attorney's Office, the Mayor would seem to have a clear path to a re-election, amirite? Maybe not. While city reporters have concluded safely (and predictably) within the box of mainstream political, soap opera-esque, storylines that de Blasio is a cinch for re-election, our good mayor isn't quite yet in the clear. He has managed to piss off a sizable number of activists, parents and New Yorkers. Some of that might throw a monkey wrench into the prospects of another four years of Mayor de Blasio.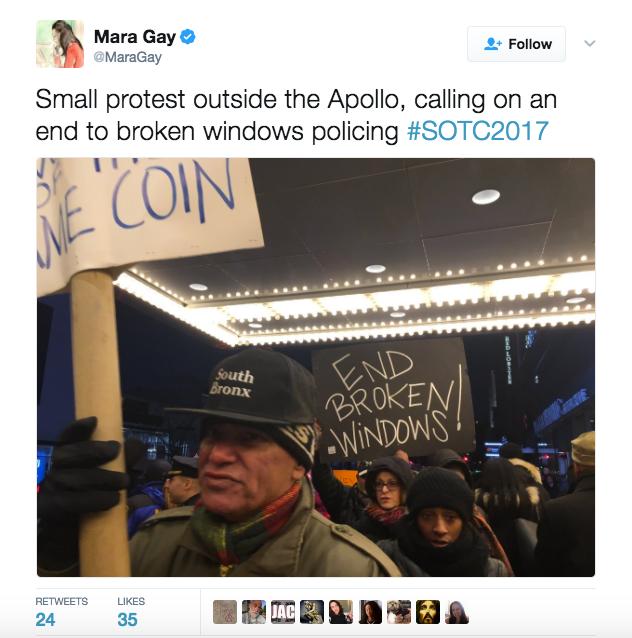 A few of the controversies that could bite him in the ass, and that he likely won't put behind him come November:
The Mayor has professed his undying love for Broken Windows policing. This, despite the very clear risks (and devastating outcomes) that Broken Windows imposes on immigrant New Yorkers. Arrests for turnstile-jumping, which can get someone deported, started the year at 2000 for the month of January alone. You can read a recent statement from grassroots policing and immigration activists calling out the Mayor here.
De Blasio has been ducking the parents of Ramarley Graham, who've been demanding that he fire Ramarley's killer, police officer Richard Haste (currently living off of the taxpayer dime). The Mayor has similarly let down the family of Eric Garner, with the city claiming (falsely) that it can't move on the Garner case until a federal probe, which isn't likely to bring any charges against Garner's killer, is completed. De Blasio could fire Haste and the killer of Garner, police officer Daniel Pantaleo, tomorrow if he really wanted to.
The Mayor has also gotten flack from activists asking him to close Rikers Island. Over a hundred of them joined some of us from the anti-Broken Windows camp (and even construction workers) last month outside of the Apollo Theatre as several groups protested the Mayor's State of the City speech.
Outside the Apollo that night there were also housing activists, some of them with the Citywide Alliance Against Displacement coalition. This network of activists and tenant groups, which includes residents of Chinatown, Harlem, Queens and the Bronx, have consistently targeted the mayor. Their message is pretty straightforward: Dump de Blasio.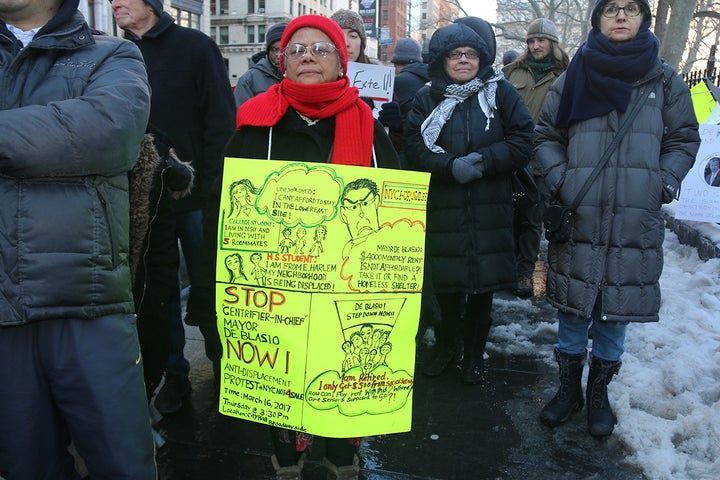 While the Mayor often prides himself on his housing policy proposals, specifically his "affordable housing" plan, tenant organizations have called him out early and often. During an MLK day rally organized by the Alliance outside City Hall with over 200 people railing against not only the Mayor, but also the City Council, de Blasio was described as the "gentrifier-in-chief" because his plan would usher in, not protect from, the continued gentrification of low-income neighborhoods of color. The Alliance followed that up last Thursday, a day after the investigations of the Mayor were dropped, with another rally calling for de Blasio to step down.
In a press release, the Alliance compared the Mayor's developer-friendly efforts to those of President Donald Trump, perhaps the world's most famous developer: "While Trump pushes people out of the border," the press release said, "de Blasio pushes people out of their homes and neighborhoods to benefit his political aspirations and ultra‐rich developers. They are two sides of the same coin: both destroy immigrant families and communities of color."
Roger Hernandez of El Barrio Unite, a group based in Spanish Harlem that's fighting the upzoning of that neighborhood through de Blasio's plan, says that the neighborhood is fed up: "Mayor de Blasio's Rezoning proposal for East Harlem is recognized by community residents as a gentrification strategy to displace its most vulnerable residents."
Is the Mayor doing the bidding of developers and not, as he wants everyone to believe, working class New Yorkers? Well, a pretty telling sign might be found in that now-defunct Campaign for One New York which the Manhattan DA and US Attorney's Offices were investigating. The biggest donors to the Mayor's nonprofit were (surprise, surprise) real estate developers. Some of de Blasio's Campaign for One New York sugar daddies included Alexander Levin (a real estate investor), Leon Goldenberg, (developer), Two Trees Management (developers), Brookfield Financial Property (developers) and Douglaston Development (developers).
Another piggy bank for Team de Blasio, the Mayor's Fund to Advance New York City, has gotten big bucks from other big name developers: Bill Rudin (mega-developer), Larry Silverstein (mega-developer of World Trade Center fame), James Capalino (real estate lobbyist), L&M Development (developers) and Tishman Speyer Properties (developers).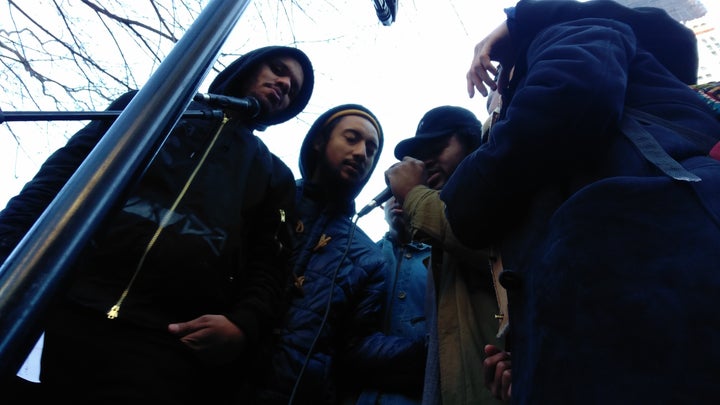 So yeah, the Mayor has escaped criminal prosecution for now. However, New Yorkers probably don't want to hitch their wagon to another career politician elbow-deep in real estate money, do they? With a commitment to mass criminalization and luxury development, it might actually be hard for the Mayor, despite clearing recent legal hurdles, to fool New Yorkers into believing that he's some sort of champion of everyday, working class New Yorkers.
He's not. We should all #DumpDeBlasio this year, once and for all.
REAL LIFE. REAL NEWS. REAL VOICES.
Help us tell more of the stories that matter from voices that too often remain unheard.