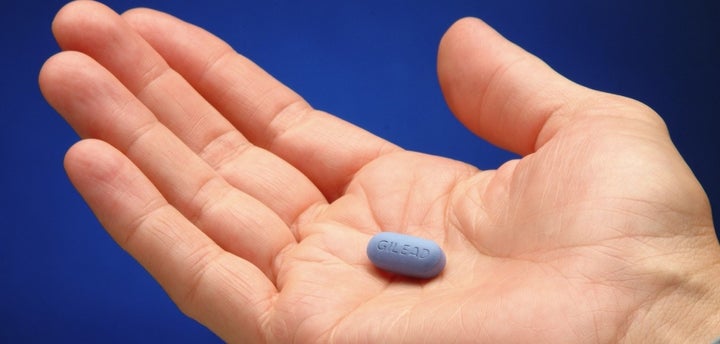 Full disclosure: grown up conversations ahead.
I was talking to a guy on a dating app. He seemed pleasant at first. Good looking. He unexpectedly asked if I was into "barebacking," if I was "clean." I replied that I'm negative, and on PrEP, but I choose to always use condoms, and I avoid using the word "clean" to refer to not having a sexually transmitted disease because the term perpetuates a negative connotation that makes my friends who are HIV positive feel bad. He replied with what he was looking for...and blocked me. 
Life tip: Don't be that guy. 
HIV positive friends of mine have described negative interactions with guys that made them feel like "damaged goods," but also how much things have changed because of modern medicine. Prince Charming is elusive (and obviously, I'm not referring to that guy), and I'm fine with that. I'm up late writing this because there's a question I've struggled with for a long time.
I brought up this question when we interviewed fashion designer and HIV equality activist Viktor Luna for an episode of the Soapbox Dirty podcast (Feb 9th, 2017), and discussed everything from stigma, to transmission, prevention, and pos/neg relationships. I fact checked our recording with a medical professional before releasing the episode because I really wanted us to get this right. Health experts say the risk of contracting HIV from someone who is positive, on the right antiretroviral therapy regimen for them, and currently has an undetectable viral load is negligible. Others say that it's impossible.
Additionally, condoms are 98-99% effective against HIV transmission when used regularly. Plus, PrEP / Truvada is incredibly effective at prevention when taken regularly, though doctors still recommend using condoms as an additional level of protection against HIV and because it offers no protection against any other the STDs. Many insurance programs cover it, and Gilead, the manufacturer of the drug, even has a program that will cover insurance co-pays.
Because of these methods, it is less likely to become HIV positive by having sex with someone that is HIV positive, taking the right meds for them, and stays undetectable, and more likely to become positive from someone that is positive and doesn't know it, or is still in the window period of up to three months that most HIV tests need to detect the virus (The RNA test is also available, and is more expensive, but can confirm a status as early as 10 days after exposure).  
Now is the easiest it has ever been to have an intimate relationship with someone that has a different HIV status than you. New drug regimens are easier to adhere to, more effective, and make it possible for those taking them to live long and complete lives. Serodiscordance can be just one more part of dating life. Meanwhile, stigma continues and referring to people who are HIV negative, never had HPV, or don't currently have any of several treatable infections, as "clean" is degrading to others. Plus, the truth is that if a guy isn't using risk reduction methods, "clean" isn't even easy to claim about himself. 
HIV and STD rates continue to rise, and while the implications are not like what they used to be, the options available to avoid transmissions are greater than ever, and they're easy to use. 
Please keep in mind, what I've written thus far mostly applies to communities where people have access to sexual health information, doctors, medications, and insurance coverage. Particularly in developing nations, poor people and women are disproportionately affected by HIV and due to lack of information, access to affordable care, and other factors, the UN estimates over 36 million people are living with HIV or AIDS and 19 million people around the world don't even know they have it. Here in the U.S., as the Republican party continues to try and repeal The Affordable Care Act, it's important to point out that this would would leave millions of Americans without health insurance, vulnerable to denial of health insurance coverage due to pre-existing conditions (like being HIV positive), price gouging (remember Martin Shkreli?), and treatments that can cost thousands. Six members of the Presidential Advisory Council on HIV and AIDS resigned citing President Trump's lack of initiative, action, or even "care" about this issue even when only 40% of Americans currently have access to the medications they need to live. HIV and AIDS have always shared a precarious relationship with politics, and we can neither literally, nor figuratively, afford to take steps backwards.
My hope is that with continued research, community outreach and education, sex ed in schools, free condom programs, innovation with condoms and lubricants, increased availability of free HIV testing, advancements in treatments and prevention, and honest communication between partners, we'll one day close this chapter on human health. According to Michel Sidibé, Executive Director of UNAIDS, with increased efforts, we have the potential to do so by 2030, but again, only with increased funding and vigilance.
Bringing this back to my own life, I guess this isn't entirely a "grown up conversation." I originally wrote that above because the conversation on my phone this evening ended so abruptly...and with such immaturity. However, since HIV does not discriminate, there are age-appropriate conversations about health and HIV, even for children, some addressed by the South African version of Sesame Street when they introduced an HIV positive monster named Kami. As a senior in high school, I started a group called Young Artists in Action that combined the efforts of students with all different artistic specialties. My sister kept it going after I graduated. We collaborated with Broadway Cares/Equity Fights AIDS and our school's drama program to raise funds for the fight against HIV. Between everything I learned from those charitable efforts in high school and later having a panic attack in college while rehearsing a monologue from The Normal Heart, I had a lot of specific views on this whole topic. After getting through high school and college and rethinking the stigmas around HIV and STDs, I've always struggled with how to talk about this. This has been a conversation central to my LGBTQ community for decades and it's emotionally charged for all of us. I've struggled with how to discuss prevention in a way that makes clear its importance, honors those we've lost, but avoids some of the fear based talking points we've historically relied upon.
During our interview with Viktor, I asked him my long enduring question. I said, "When it comes to our health, whether it's about obesity or addiction, so much of the conversation is about consequences and fear. And especially with all these preventative measures we've talked about, how can we do a better job of creating an awareness about HIV in a way that will reduce new cases and continue to reduce stigma, but also to encourage people who are living with HIV and AIDS to care for themselves and live great lives?"
Every time I see a subway poster about the AIDS walk or a public service announcement about getting tested, or buy a ticket to Broadway Bares, I wonder if health advocacy groups, journalists, doctors, corporate sponsors, friends, families, and partners struggle with this question as well. How do we summarize all this succinctly? Could there be a simple phrase that addresses that duality, opens the door for larger conversations, and that we can keep on the tips of our tongues as we go through life?
What about using the phrase, "Be as healthy as you can be"? To be perfectly clear, I mean "healthy" comprehensively as in mind, body, heart, and soul regardless of one's HIV status. Healthy as in mentally "informed", physically "well", "open" to fulfilling relationships, and "compassionate" towards others and ourselves. The daily goal of being "healthy as you can be" applies every day in regards to which causes we support, how we vote, what we read, how we talk about sex, how we care for our bodies, how we care for our emotional well-being and mental health, how we use social media and dating apps, who we choose to include, and how we treat one another.
We have a lot of work ahead of us, but I don't think it's too much to hope that all my friends, positive or negative, feel equally deserving of love.
REAL LIFE. REAL NEWS. REAL VOICES.
Help us tell more of the stories that matter from voices that too often remain unheard.