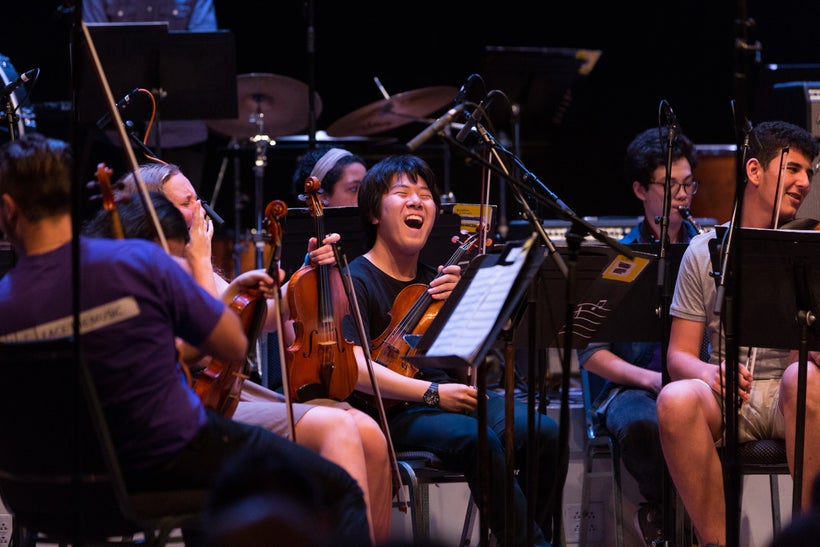 As we near the end of high school graduation season, young people across the nation are beginning to embark on the most important journey of their lives, and they have more paths to choose from than ever before. If they go to college, it's no longer the case that a bachelor's degree in engineering equals an engineer, a degree in journalism means becoming a reporter or a science degree leads to a job in a research lab.
It follows that today's music major should be tomorrow's most innovative entrepreneurs. In fact, to succeed, they must be. Our society stands at the threshold of a new era of expression and communication, and those who have mastered the most productive communication skills will ultimately stand out. Musical mediums that were prevalent in the last century such as the classical orchestra, large concert halls and record labels have taken a back seat to new forms like DIY rock venues, digital streaming and social media. We are no longer listening to music at concerts, CDs or on the radio --we're using subscriptions, streaming services and Snapchat to connect with performers in real-time. These technological, creative and economic trends have transformed how people consume music and how artists make it, and today's music majors are at the forefront, forging new paths and owning the revolution.
That is why it is no longer enough for a musician to be talented enough to be signed to a record label. He or she must be able to also market, promote and manage as the industry has been drastically transformed.
It comes as no surprise therefore that in music schools across the country, the arts and entrepreneurship are becoming increasingly linked. For instance, here at Kaufman Music Center's Special Music School, the only New York City K-12 public school with music as a core curriculum subject, we offer a course on entrepreneurship and arts leadership. The goal is to teach students how to empower themselves in their creative and professional fields. Students are coached how to argue for their artistic or personal cause and to use marketing, social media, branding, negotiation, problem solving and self-promotion to make their message more persuasive. They learn to analyze their own professional and artistic strengths and weaknesses, assess their value, manage their time and projects, cultivate engagement and strategically plan their image and sharpen their presentation.
These students must be more entrepreneurial than ever before, and the timing is right. Entrepreneurship grew in 2016, according to an annual report on startup activity by the Kauffman Foundation. Over the past two years, the rate of entrepreneurship has shot up nearly 15 percent, translating to more than 550,000 new businesses for each month during that timeframe. Additionally, new startups account for at least 50 percent of jobs created, according to the report.
The trend will only continue, as reams of statistics show that millennials are up for challenge, more so than generations past. For instance, according to a survey released earlier this year by the Citi Foundation, over 77 percent of millennials polled consider working for themselves or starting their own business appealing. Similarly, a survey from Bentley University in 2014 found that only 13 percent of millennials said their career goal is climbing the corporate ladder, whereas 67 percent aspire to start their own business.
It's no mistake, by the way, that there's a match between the traits of successful entrepreneurs and musicians. Mastering music means developing creative thinking skills, resiliency and the mental strength to overcome repeated failures or hardships; learning self-discipline, team collaboration and improvisation; and exuding patience, dedication and originality.
In fact, some of the world's most powerful business leaders -- Paul Allen, cofounder of Microsoft, Steve Wozniak, cofounder of Apple and Roger McNamee, founder of Silver Lake Partners and Elevation Partners – are also musicians.
The truth is, to be a musician today is to be an impresario. At a time when we need more innovative, creative and forward-thinking minds than ever before, my hope is that we see more young people rise to the occasion.
REAL LIFE. REAL NEWS. REAL VOICES.
Help us tell more of the stories that matter from voices that too often remain unheard.
This post was published on the now-closed HuffPost Contributor platform. Contributors control their own work and posted freely to our site. If you need to flag this entry as abusive,
send us an email
.