The unprecedented rate of change across every industry sector is staggering as companies accelerate digital transformations so they can innovate faster and engage with customers in more meaningful ways. To fuel success in the digital economy, marketing teams therefore must connect, collaborate and communicate with speed and agility.
For marketers, aligning and adhering all the moving digital parts continues to be a struggle. According to Salesforce's latest STATE of MARKETING 2017 research, which surveyed 3,500 market leaders worldwide, only 12 percent of those polled identified as "high performers" based on being "extremely satisfied" with current outcomes resulting from marketing investments.
Additionally, a 2016 Harvard Business Review study revealed only 15 percent of marketing and sales organizations have the right talent, processes and tools to perform at the highest levels. To gain greater insight into what will propel marketing organizations into the digital economy, Ray Wang and I recently invited Joanne Moretti to join us on DisruptTV.
The SVP and chief marketing officer at Jabil, a U.S.-based design, manufacturing and supply chain services company with 180,000 employees and $18.4 billion in annual revenues, Moretti knows what it takes to build and run high-performance marketing teams. Additionally, she serves as general manager at Radius, Jabil's innovation and design consulting arm, where some of the latest digital tools and technologies are bringing game-changing products to life.
After more than 30 years working with software and high-tech leaders, Moretti has amassed a universal reputation for driving transformational business outcomes by cultivating a customer-focused culture of innovation, quality, agility, sustainability and scale. On Jabil's executive leadership team, she plays a pivotal role in guiding the company's digital transformation while working with a global team to assist customers with their digital journeys.
Prior to Jabil, Moretti was the VP/CMO of Dell's software division and served as the first VP and Dean of HP's award-winning Sales University. A digital business thought leader and Six Sigma Master, I have long followed her on Twitter at @JoannMoretti. With a Twitter bio that reads: "Advocate for women in #STEM & love to empower people who want to empower the world!", Ray and I knew she would offer great marketing insights for thriving in the digital economy.
As the digital manufacturing partner of many of today's best-known brands, Jabil is at the forefront of helping companies take traditional products and connect them seamlessly with the Internet, consumers and the world around them. Jabil relies on the latest digital technologies and services, including IoT, intelligent digital supply chains, 3D printing, digital prototyping, automation, virtual reality, machine learning and more. The ability to collect and analyze massive amounts of data enables Jabil to work closely with customers in uncovering new, innovative business models and improved service delivery opportunities.
Today, the most valuable companies in the world are software and data companies that know how to use data as the connective tissue that aligns all aspects of their business, with marketing as the glue that binds it all together.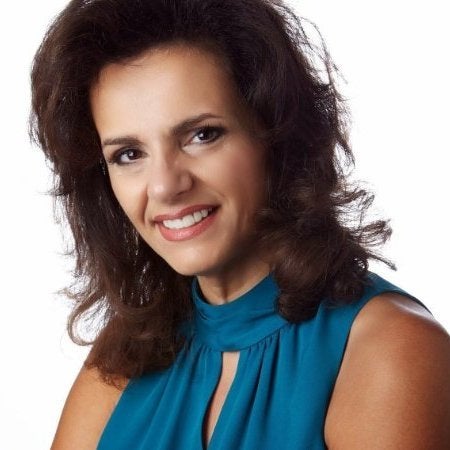 In a Digital Economy, Marketing is About Effective Communication and Connections
At Jabil, Moretti leads a global marketing team focused on connecting all the company's moving parts and pieces to drive ongoing digital transformation. Communications about change management, both internally and externally, is vital to ensuring everyone is on the same page and aligned with the company's mission. Moretti's advice to CMOs in the digital economy: Always seek new and creative ways to connect, communicate and collaborate.
As the pace of transformation quickens, it's critical to keep all facets of the business aligned in terms of market approach and messaging, customer engagement and communications as well as product and service delivery. According to Moretti, marketers who understand the "marketing as glue" philosophy will be best positioned to help their businesses succeed in the digital economy.
Early Customer Conversations Accelerates Concepts to Commercialization
At Jabil, Radius is the tip of the spear as the organization's design and innovation capabilities often prove critical in taking a customer's great idea and turning it into an amazing digital product or solution. Moretti calls this process "Innovation Realized," when a team of product designers, engineers, human factors specialists, business experts and marketers help a customer take the "glimmer in their eye" and turn it into an amazing product.
Moretti shared how an innovative oral hygiene company called Onvi collaborated with Radius to deliver a breakthrough in oral healthcare. Together, they developed the world's first smart video toothbrush—truly a model of business innovation that can improve people's lives.
Virtual reality is gaining momentum as both an innovative communications vehicle for marketing as well as an excellent solution for improving consumer retail and packaging experiences. The trick with all the new digital technologies, according to Moretti, is to look beyond the "cool factor" and design for manufacturing and scale while never losing sight of pricing. In the final analysis, companies must be able to scale manufacturing seamlessly and deliver products at the lowest landed cost.
The Unprecedented Velocity (Speed and Direction) of Innovation Requires Innovative Marketing
In addressing trends that will impact everyone as the digital economy takes hold, Moretti spoke about urbanization and the need for smart cities and improved healthcare infrastructures. As more people migrate to urban centers, the opportunities to build and sustain smart cities will grow exponentially. So will opportunities to support our aging population with digitally connected solutions for health and wellness.
Opportunities for personalization are emerging, which offers marketing organizations a nearly limitless arsenal of tools for tailoring messaging based on customer demographics and sentiments. Businesses—and the marketing organizations that support them—will have unparalleled access to digital tools for improving service delivery through customization, immediacy and intelligent products and services. Staying relevant in the digital economy will require marketing organizations to partner with other digital leaders, like Radius and Jabil, to compete and win in the age of the connected customer.
When You are a Dog, Don't Try to Be a Cat
In advising marketing leaders on how to succeed in the digital economy, Moretti cautions: Do what you do best and don't strive to be something you're not. For Jabil, that meant investing in the time and talent to build an intelligent digital supply chain capable of producing real-time insights and meaningful analytics for its more than 25,000 suppliers around the world. The company has taken a similar approach in testing and deploying the latest 3D printing technologies and solutions to be among the first organizations to deliver production-quality final parts at manufacturing scale using the latest 3D printers.
As a pioneering CMO, Moretti appreciates the "digital design and innovation nirvana" she's found at Jabil and Radius, which she credits with empowering a talented global marketing team with the ability to move forward with speed and agility. They are united in sense of purpose and delighted to be at the forefront of an exciting, transformational time in manufacturing.
To learn more, please watch our video conversation with Joanne Moretti.
Calling all HuffPost superfans!
Sign up for membership to become a founding member and help shape HuffPost's next chapter
This post was published on the now-closed HuffPost Contributor platform. Contributors control their own work and posted freely to our site. If you need to flag this entry as abusive,
send us an email
.