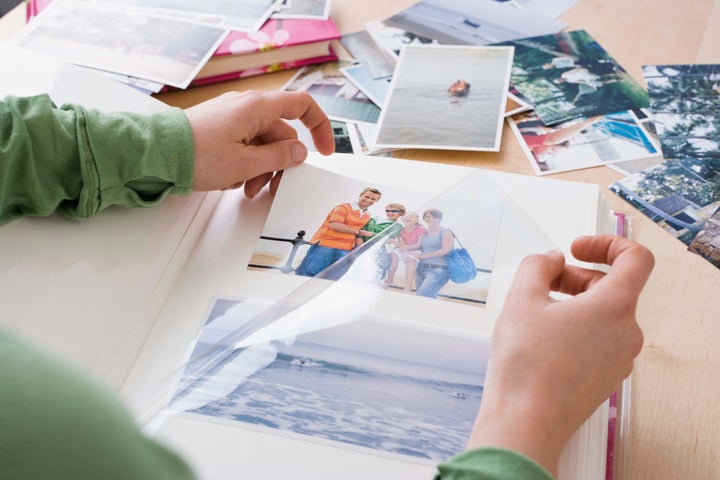 When I married my first wife in 1992 she brought 3 children to the marriage. I brought a 35 mm Canon SLR and a Sony camcorder. When our marriage ended suddenly in 2002 I walked away with half a dozen albums of family photos and a plastic shoebox full of 8mm videotapes.
Who gets the photos and home movies in a divorce? Many people say that if their house were to catch on fire they would rescue the children and pets first, but then rush back in to get the photos. After all, photos and movies are family memories in tangible form, and they can't be replaced. Because I had most often taken the photos, I was also the one to take custody of them when divorce came. It didn't seem quite right, but there were many other more urgent things to work out.
After a divorce these same movies and photos my seem tainted, especially at first. In the context of a divorce the happy memories can be painful and the smiles can suddenly seem forced. At least one of my relatives went through her albums and removed all the photos of my ex-wife, and I decided that my wedding album belonged in the trash can. All my other albums and videos were then stuffed into my closet and after I re-married in 2003 I rarely looked at them. It doesn't seem fair to a new spouse to put the photo albums from a previous marriage out on the coffee table, so I started a new set of albums for my new family.
Still, I felt the presence of the old albums waiting for me to do something with them.
This past week, with divorce more than 9 years past I finally took action. What I discovered is that there are so many great, relatively inexpensive ways to duplicate and distribute photos and video that it was relatively easy distribute all the images to the people who might want them. In the age of multimedia, there can be "Joint Custody" for all your past family archives.
I started by pulling all the photos out of my old albums and scanning them into my laptop using a Canon desktop scanner. The model I picked up on Amazon.com, a CanoScan LiDE110, is very easy to use and only cost me about $50. Scanning can be a bit tedious, but I found that by doing a couple dozen photos at a time, I was able to scan 10 years worth of photos in less than 8 hours of work time.
I love Google's free Picssa software and I have used that to organize my photos and to upload them to the web into albums. Once all my old photos were on the web, I made up albums for each of my stepchildren, e-mailed them a link and told them "If you enjoy the photos, it is easy for you to download them or order copies."
It is also amazingly easy, once your photos are all in digital form, to make customized photo books. I downloaded "Booksmart" from blurb.com and found that I could make superb photos books. Once you have made up the books, anyone who is interested can see them previewed online, and order them directly from blurb. There are many other great photo book services out there, including snapfish.com. Maybe its time to send a nice photo book to your ex mother-in-law? Why not?
To distribute videos I purchased a $20 gizmo, the Geniatech Mygica Capit USB 2.0 Video Capture Adapter Device. Don't let the long product name confound you: this adapter is very easy to use and comes with software that will let you burn DVDs. It took me less than 15 minutes to install and figure out the software. In a single afternoon I was able to burn 3 DVDs of travel videos for my ex-wife and put them in the mail.
What if you aren't great with technology or don't have time to take care of these things yourself? You will find that there are many businesses that will help you scan photos, and slides, or transfer movies and videos to DVD. I have used "Digital Pickle" for several other projects, and have gotten great results. Just mail them your stuff, and they take care of the rest. They, and other companies like them, can also put your older 8mm movies on DVD.
One of my stepdaughters, sadly, has also gone through a divorce, and trading photos online has gotten us in touch for the first time in a few years. When I asked her if she would like to see the 5 minutes of video I had of her first wedding, she made a wise reply: "Put it on youtube. The kids need to know that their mom and dad cared about each other at one point." She has that right.
After divorce photos and videos are there to tell us about the past, even when some pain is involved. I feel better now that mine have been shared. Everything that they show belongs not just to me, the man who held the camera, but to everyone was part of my previous life. This week, I burned my first DVD, and it wasn't tough. Maybe you should try it too: for me it has had a healing effect. Sharing photos and movies from the past is part of moving on.
Popular in the Community