The Bible tells most people to turn the other cheek.
Level Ground Mixed Martial Arts teaches the opposite, at least at face value.

'Evade the opponent. Duck and counter,' instruct Level Ground's coaches. But digging deeper, it's apparent that the two aren't mutually exclusive.

That's because Level Ground's Executive Director, Alexandra Fuller, 29, was inspired by her faith to create a nonprofit serving Boston's underprivileged youth, using Mixed Martial Arts to teach determination and connect them with career options.

"I knew I wanted to do this from the first time I stepped on the mat," Fuller says, standing in the near-rubble of what will be, within a month, Level Ground's new gym facility in Boston's working class Dorchester neighborhood.

Fuller represents a unique blend of practicality and spirituality, having received her MBA at Simmons School of Management and having served street children on Christian mission in Brazil. After working for a dozen nonprofits, Fuller realized her own dream of starting an organization that would allow her to share the gifts of personal growth and courage that she experienced in combat sports.

On a recent chilly Boston afternoon, a group of eight young men, all volunteers, showed up to paint the facility.

The 6,300 square foot LG Training Center stands in the shadow of Dorchester's fabled Strand Theater, a Depression Era jewel that, like the rest of the neighborhood, fell on hard times before its own revival.

The Training Center, which is being refurbished entirely by Level Ground members and volunteers, symbolically depicts one more step forward in the neighborhood's continued renewal in recent years.

The Training Center will offer one of the largest mat spaces in Boston, a personal training studio, and an academic and job training classroom. The primary trainers and staff will be the Level Ground teens themselves, creating a career pathway for these young people.
This "Student Trainer" program is a workforce development component that gives young people an alternative to the trouble they can run into on the streets. Fuller and her team train teenagers, some of whom have already had brushes with the law, as fitness instructors and personal trainers. "Some of our students have grown up with influences that weren't the healthiest," Fuller notes diplomatically.
"In addition," says Fuller, "health disparities in Boston's urban communities go so far as dramatically diminishing life expectancy for adults. For instance, next door in the Roxbury community, the average life expectancy is just under 59 in contrast to Back Bay, where it is 91 years old."

"A lot of people in Boston have almost no access to Mixed Martial Arts, personal training, or even a quality gym" she says. "Most studios typically charge $140 a month, which is totally unaffordable to many residents of the City, myself included. We will offer a sliding scale membership for adults, starting at $30 a month. This is in addition to the youth training programs we will continue to offer at no charge."

The organization also has a "College Access" program that helps young people transition into a 2 or 4-year degree.

"Most people might not think of MMA as a path to maturity and independence," Fuller says, as the paint crew begins its work in the unheated space. "But there's nothing like the mat to teach them determination, resilience, leadership, and collaboration - all of which they may apply to their personal or professional goals.

In addition to fostering community equity, everything in the LG Training Center is donated, including all athletic equipment and the time of the volunteers who work with the young people.

Within six weeks, volunteers like the painting crew working in 25-degree weather will have built America's first free, youth managed MMA gym. Level Ground students have won MMA competitions, have traveled to the Ukraine through a State Department funded peer-to-peer initiative, and helped countless young people progress in their personal growth -- even to "see through my anger," as one member puts it.

Can Muay Thai, Brazilian jujitsu, and the art of grappling put kids on the right path? Ali Fuller says yes, and the way she fights for her kids, you better believe her.

To find out more or make a tax-exempt donation, click here: http://generosity.com/sports-fundraising/let-s-build-the-first-free-youth-managed-mma-gym--5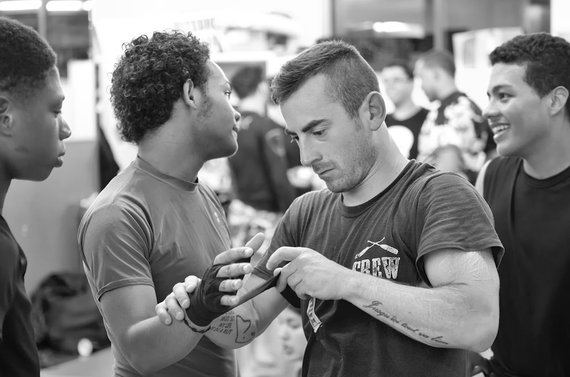 Calling all HuffPost superfans!
Sign up for membership to become a founding member and help shape HuffPost's next chapter