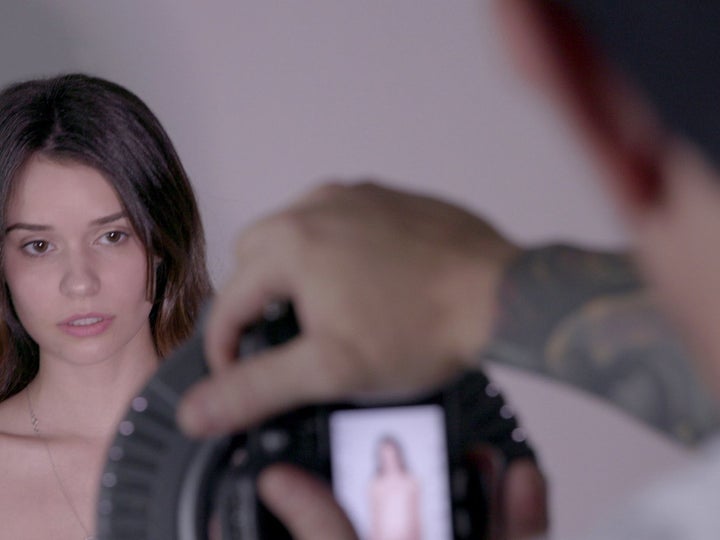 Three sex workers have come forward alleging that directors Rashida Jones, Jill Bauer and Ronna Gradus used footage of them without their consent or knowledge in the new Netflix series. The series is the second installment of the feature documentary "Hot Girls Wanted," released in April of 2015, that explored the amateur porn industry in Florida.
Two of the sex workers are featured for a few seconds in the last episode of the series in footage taken on the app Periscope.
The third sex worker says she initially agreed to appear in the series and signed a participant release form. After filming began, she told the directors she was uncomfortable with how many personal questions she was asked, and requested that she not appear in the series. According to a report from Vocativ, the woman still appears in multiple scenes in the series. (Head over to Vocativ to read her full story.)
In an interview with Variety published on Sunday, Gradus and Bauer refuted the allegations and pointed to fair use laws. "Fair use" is a legal term that allows the unlicensed use of copyright-protected works in specific circumstances.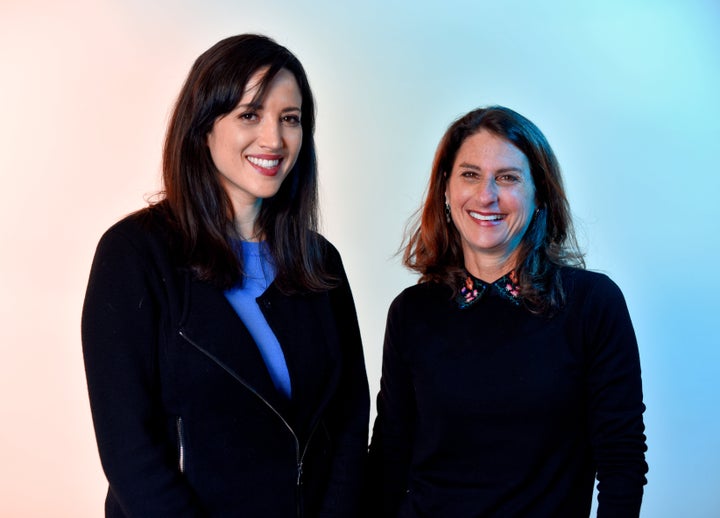 The footage of the two sex workers on Periscope, which is featured in a montage of other Periscope clips, can be used under the fair use umbrella as a way to side-step reaching out to the women for permission. One way the directors can do this is by using a very short clip of the women's larger Periscope feed.
"If the use includes a large portion of the copyrighted work, fair use is less likely to be found," the U.S. Copyright Office website explains. "If the use employs only a small amount of copyrighted material, fair use is more likely." What constitutes fair use is also determined by the medium through which it was shared, in this case, Periscope.
Since "Hot Girls Wanted: Turned on" only includes a 10-second clip of the two women's Periscope footage, the docu-series can legally claim fair use terms. Periscope's fair use language also allow clips filmed on its platform to be included in documentaries.
Gradus insisted to Variety that they didn't put anyone included in the series in danger: "The narrative has kind of become hijacked, that we exposed sex workers and that we put them in danger by telling the world that they were sex workers, when in fact we never ever did that."
The six-episode series, which was released on Netflix this month, focuses on the intersections of intimacy, technology and porn. The docu-series explores different aspects of the porn industry including camming (women who perform sexual acts on a live camera from a remote area) and the struggles of being a female producer in a male-dominated industry.
Both "Hot Girls Wanted" and "Hot Girls Wanted: Turned On" received some critical praise. Other reviews focused on a troubling trend: It seemed as though the very people exploring sex work didn't have much respect for sex workers and the industry as a whole.
"The producers seem to be working through their own confusion about the differences between virtual dating, sex work, race and exploitation. They can not seem to understand that porn is work, and like every job on the planet has ups and downs," one Netflix review reads. "In the process of stumbling upon their own assumptions and gaze they end up exploiting and divulging personal information on several of their subjects."
For context, many sex workers use porn names or "stage" names that allow them the privacy and safety to live their work life separately from family, friends and often other employers.
And that's the most troubling part of these allegations. The very people who are documenting sex work don't realize how damaging it can be to out a sex worker.
"The producers seem to be working through their own confusion about the differences between virtual dating, sex work, race and exploitation."
The first two sex workers to come forward are two "cam girls" who go by Autumn Kayy and Effy Elizabeth. Last week, both Kayy and Elizabeth tweeted that a short clip of them on Periscope was included in the series' sixth episode titled "Don't Stop Filming" without their consent or knowledge.
"We were not aware at all that 'Hot Girls Wanted' was going to use it," Kayy told HuffPost. "We found out from fellow models and members."
Elizabeth confirmed to HuffPost that the docu-series also used footage of her without asking. "I was put into 'Hot Girls Wanted' without my consent and zero knowledge of it until it had already been posted," Elizabeth said.
Kayy told HuffPost she reached out to "Hot Girls Wanted" on Twitter and they responded that someone would be in contact with her to explain "fair use." When HuffPost asked Elizabeth if she reached out to the series, she responded she hadn't because "they've made it pretty clear they'll exploit us no matter what."
Below are screenshots of the conversation Kayy provided to HuffPost.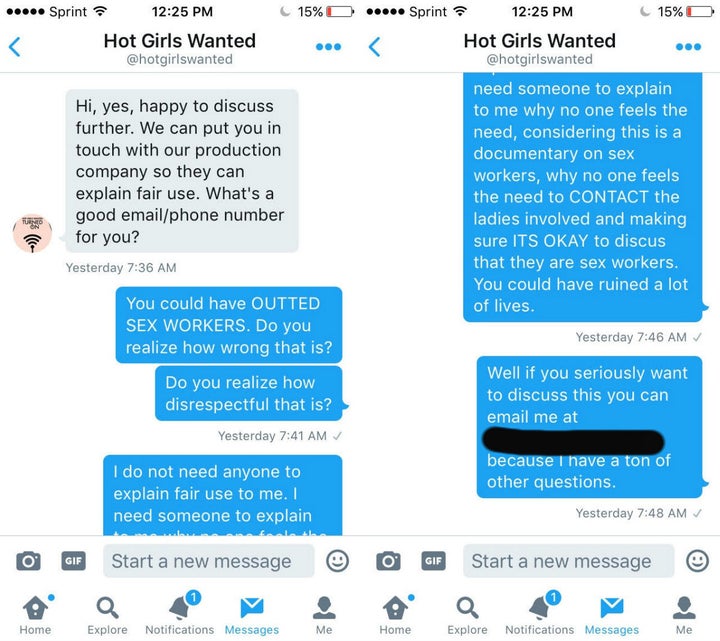 Bauer and Gradus told Variety that any footage recorded on Periscope is allowed to be used in a documentary under the app's fair use terms of service. The two directors also pointed out that neither Kayy nor Elizabeth are identified by name anywhere in the documentary.
"They saw themselves, and then on Twitter, as themselves, using their own handles, tweeted out, 'Oh my God, we're on Netflix. Oh my God nobody told us. Oh my God, we're sex workers and they've just shown us on Netflix,'" Gradus said. "So the great irony here is that they identified themselves as sex workers. And really that is a key piece of information that has been lost in this story. We didn't know who they were. We never would have known, the viewers never would have known, unless they themselves identified themselves."
For two people making a documentary about sex workers, both seemed rather flippant about the emotions and privacy concerns of sex workers.
"I was put into 'Hot Girls Wanted' without my consent and zero knowledge of it until it had already been posted."
Bauer's and Gradus' response to these allegations highlights two main issues. The first is that many sex workers use Twitter as a way to promote their work and often use pseudonyms to conceal their real identity, as both Elizabeth and Kayy do. Identifying someone as a sex worker on Twitter is very different from identifying them on one of the largest entertainment platforms in the world.
The second issue is the context in which "Hot Girls Wanted: Turned On" used the short clip of Kayy and Elizabeth. The episode in question focuses on people's use of Periscope, particularly young teens like Lonina. There are multiple sections that include different clips of people using Periscope in the episode. While the viewer watches these short montages, 18-year-old Lonina explains how she feels connected to her friends using the app.
Kayy is 26 and Elizabeth is 21. It feels like an oversight that the directors included a clip of two adult professional sex workers in an episode about teenagers and Periscope.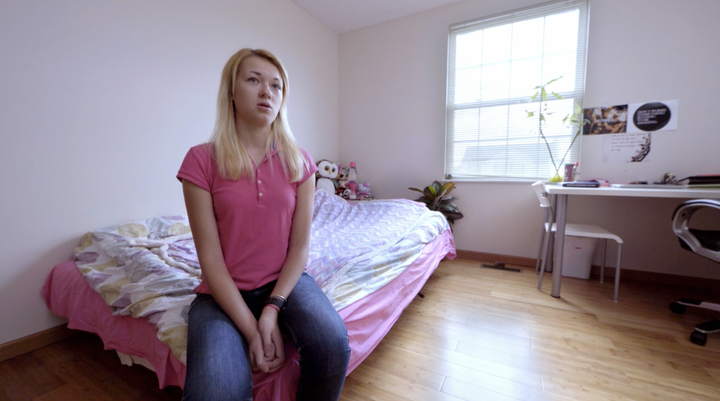 On April 28, Free Speech Coalition ― the national trade association to the adult entertainment industry ― published an open letter to Netflix and the directors and producers of "Hot Girls Wanted: Turned On."
"Yes, the use of a [publicly] available live web show may technically fall within legal guidelines of 'fair use,'" the letter reads. "But it is unethical and dangerous for producers who claim to be on the side of the performers to then take those images, and use them to 'out' vulnerable workers."
It is ironic ― and disturbing ― that a mainstream series which purports to address workplace ethics among adult film performers and focus on issues of empowerment appears to exploit them for its own gain. If the allegations against this project are substantiated, the producers may be perpetuating unfair labor practices against adult performers on their own production.

Privacy is a huge issue for performers, and in direct correlation to their personal and physical safety. Many performers face daily threats of harassment and violence from over-zealous fans and stalkers, and many are stigmatized for the work they do by families and communities. Paradoxically, this series may have made the lives of the workers featured in it substantially less safe by increasing the visibility and accessibility of their private information, such as birth names, and by broadcasting images without consent, and without regard to how that might affect these performers. The dismissal of such concerns with a reference to "fair use" speaks volumes, as do Jill Bauer and Ronna Gradus' remarks discrediting and dismissing the claims and experiences of the workers affected by the series.

Head here to read the full letter.
Gradus chalked up the backlash to a "defensive" porn industry that often doesn't like how it's portrayed in mainstream media.
"The industry is very defensive about people coming in and shining a light on the industry and doing stories about it," Gradus told Variety. "The allegations that have come out are probably the result of pressure they are feeling to stand in solidarity with the industry."
While everything the "Hot Girls Wanted: Turned On" directors did seems to be legal under fair use terms, the whole ordeal leaves viewers with a bad taste in their mouth.
One Netflix reviewer summed up the issue well, writing: "So let me get this straight: You make a series allegedly trying to shed light on the experiences of women in the sex industry ― and you do so by exposing them and not caring *in the slightest* about their concerns?! Legal or not, it's unethical."
The Huffington Post reached out to the directors of "Hot Girls Wanted: Turned On" and Netflix but did not hear back before the time of publication.
Popular in the Community