During the past 75 years, the world has witnessed the transformation of Asian nations like Japan and China into modern-day superpowers. The 2014 United States-African Leaders Summit in Washington, D.C. marked a distinct turn in Africa's importance as an emerging global market.
While Africa has long been viewed as a continent from which oil, diamonds, and historical artifacts can be taken, in today's post-Colonialism and post-Apartheid era, it is rapidly becoming an economic force to be reckoned with. The primitive adventures of Henry Morton Stanley and Dr. David Livingstone (as well as the perception of Africa as the Heart of Darkness) belong to the distant past.
From The African Queen and The Lion King to The Snows of Kilimanjaro and Zulu, the audience's perceptions of "The Dark Continent" is rapidly moving from fiction toward fact.
For every ancient spectacle like King of Kings, The Egyptian, and The Ten Commandments, there have been 20th-century narratives like Out of Africa, Gorillas in the Mist, and Dan Hoyle's probing monologue about his adventures in modern Nigeria (Tings Dey Happen).
For every cinematic or animated variation on the Tarzan legend, numerous documentaries about African wildlife are readily available on Animal Planet, The Discovery Channel, and the BBC.
Instead of old-fashioned scenarios like Mighty Joe Young, a contemporary film like Duma is likely to thrill a modern audiences.
In recent years, some of the products imported from Africa have come under increasing government scrutiny. From blood diamonds to ivory, increased public awareness of the cost of extracting precious gems and/or poaching animals that belong to an endangered species has led to divestiture of certain stocks and increased celebrity participation in cause-related media projects. Basketball superstar Yao Ming will soon be seen in a documentary entitled The End of the Wild.
Ironically, two films recently screened in San Francisco offer such radically different perspectives on Africa that their juxtaposition is worth noting. One was decidedly old school; the other a fascinating documentary about one of Africa's most controversial musicians.
In 2014, the San Francisco Silent Film Festival offered a rare screening of F. Harmon Weight's 1928 potboiler entitled Midnight Madness (one of the last films to be produced by DeMille Studios). Although long believed to be lost, in 2010 a copy of Midnight Madness was discovered at the New Zealand Film Archive.
Based on The Lion Trap (a play by Daniel Nathan Rubin which had not yet been produced onstage), Midnight Madness revolves around a wealthy white South African diamond miner named Michael Bream (Clive Brook), who is in New York on a business trip. Bream (who has always been extremely secretive about the location of his diamond mines) has been working with a diamond merchant named Childers (Walter McGrail), who is about as sleazy as they come.
Even though Childers is not "the marrying kind," his secretary, Norma Forbes (Jacqueline Logan), has had a crush on him for a long time. Her biggest hope has been that Childers would marry her and take her away from living with her alcoholic father in their tiny, squalid apartment located behind a carnival's shooting gallery.
The conniving Childers, however, has an idea which could put Norma's feminine wiles to much better use. If he could get her to marry Bream, she might be able to pry loose the location of Bream's diamond mines. By passing that information back to Childers, he could jump the claim and cash in on Bream's diamond mine.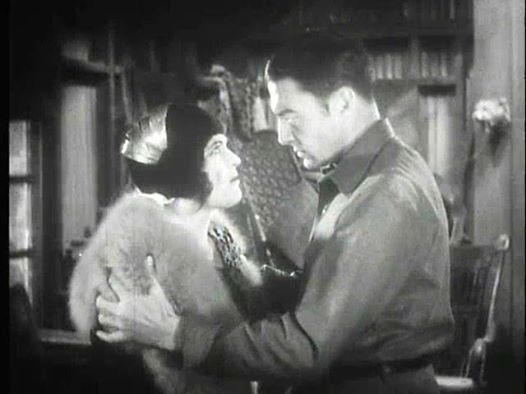 Jacqueline Logan and Clive Brook in Midnight Madness
When Bream starts to show a romantic interest in Norma, she suddenly agrees to marry him (no doubt imagining that her nuptials will open the gate to a life of luxury). But when Bream overhears her telling a friend that she only plans to marry him for his money, he lays an elaborate trap for his scheming fiancée.
After their wedding, Bream informs Norma that they're booked on a long ocean voyage to Africa. But instead of traveling first class, she discovers that they will be crossing the Atlantic in steerage. While pretending to be in dire financial straits, Bream lets Norma savor the full impact of life in the jungle (their honeymoon takes place in a remote area of Africa known for its ferocious lions).
Finding herself left high and dry (and with little to protect her but mosquito netting) completely demoralizes Norma. After she wires Childers, begging him to come to Africa and rescue her from her horrible new husband, Norma gets a chance to surprise everyone with one of the valuable skills she learned while living behind a shooting gallery.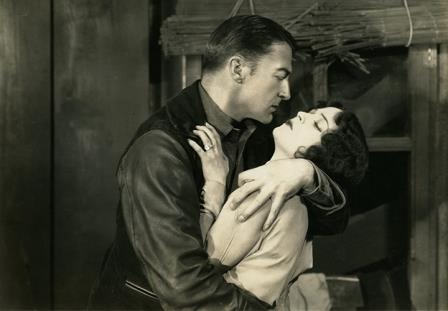 Clive Brook and Jacqueline Logan in Midnight Madness
Teetering between romantic comedy and jungle melodrama, Midnight Madness was accompanied by Stephen Horne on piano, flute, and accordion. Needless to say, the lions were delightful!
Back in the 1960s, when I was beginning to get bitten by the culture bug, there was precious little awareness of African music other than the kind of jungle drumming one might hear in a Tarzan film. Things began to change in the 1960s, when Miriam Makeba's recording and concert career took off.
In 1966, a South African revue entitled Wait A Minim! enjoyed a healthy run at the John Golden Theatre, where its small ensemble did a fine job of entertaining Broadway audiences.
At the time I had absolutely no awareness of the music or political importance of Fela Anikulapo Kuti, a Nigerian composer, performer, and human rights activist who became known for his Afrobeat performance style.
Born in Abeokuta, Nigeria in 1938, Fela became an international star whose combination of traditional Yoruba, highlife, and jazz gave rise to a potent new sound which he took to stages around the world. Prior to his death on August 2, 1997, Fela had produced over 70 albums.
In 2008, dancer/choreographer Bill T. Jones joined forces with the Afrobeat band Antibalas to create a new musical that would celebrate Fela's music while educating audiences of the political climate in which he functioned as an artist and political activist. The show's success off-Broadway eventually led to its transfer uptown to the Eugene O'Neill Theatre (among its producers were Will Smith and Jay-Z). In 2010, Fela! was nominated for 11 Tony Awards.
Five years after the show's debut on Broadway, a new documentary directed by Alex Gibney offers audiences a more comprehensive education about Fela's music and politics. When I attended the opening night performance of the national tour's San Francisco engagement of Fela! I remember feeling overwhelmed by the brilliance of Bill T. Jones's staging, the cast's unbelievably high energy levels, and the physical production. In my review, I wrote:
"Thanks to an electrifying performance by the athletic Sahr Ngaujah as Fela Kuti, opening night kept the Curran Theatre rocking like a house on fire. As I sat watching Fela! unfold, I was struck by how much closer this show came to representing the spirit of today's Occupy Wall Street movement than the recent revival of Hair (1968's hit counter-culture protest musical). A rip-roaring piece of total theatre built on the concept of 'recreating' one of Fela Anikulapo Kuti's 1977 concerts at the Afrikan Shrine in Lagos, Nigeria, the show's breathtaking energy level keeps audiences enthralled for more than two hours."
Gibney's documentary skillfully weaves archival news footage of Fela's life with interviews with people who worked with him, one of his American girlfriends, and his grown children. The ability to create a media tapestry that provides an historical context in which to frame Fela's life with the difficulties of bringing Fela! to life onstage gives Finding Fela a rare storytelling strength which is bolstered by the ability to jump back and forth between Fela in real life and how he is depicted onstage.
The music and magnetism are all there, as well as the ego, controversy, overt sexuality, and provocative political stances. What Finding Fela does so beautifully is allow viewers to fill in the blank spots that could not possibly have been examined while trying to keep pace with the stage musical. The moments late in the film when a touring production of Fela! gets to perform in Lagos brings Fela's story full circle, Here's the trailer:
Popular in the Community