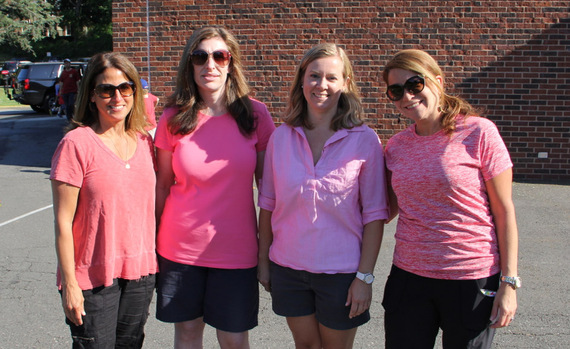 In the summer of 2008 we moved to Chicago. My oldest was due to start kindergarten the following year and the home we eventually choose was in the catchment of a highly regarded public school. It had a 9 rating on greatschools.net, but the parental reviews were mixed.
Some people loved it, others complained about the autocratic principal, lack of communication and the parent body.
"It is a strange, cliquish, unwelcoming environment with nasty politics."
When my son entered the school I didn't find the Parent Teacher Association particularly polarized. Perhaps as a man I didn't notice or I wasn't made privy to some of the politics. Or maybe kindergarten parents are just too new to adopt entrenched positions.
But those reviews have stuck in my mind.
At my kids' current school in suburban New York a group of parents, that would be a bunch of mothers and me, tend to congregate in the same spot after school. Other parents come together in different places. Our group is heavy with PTA executive board members. Do the other parents in the playground think of us as a clique? What about the parents who pick up their children and leave the school grounds immediately?
Humans like to group together. It is inevitable that parents will divide into groups on the playground. They might be more loosely bound than the cliques of their kids. Adults are better able to smooth over the social cracks, but they are never far below the surface.
Given this fact, and my subsequent work on the PTA, those comments on greatschools.net are particularly irritating. I want to tell those people to get over it. If you are too busy, be thankful someone else has the time to give. Look on the bright side.
If you can't see the positive, here is a list of things the PTA does for my kids' school. For effect I've put one item per line, so get ready to scroll...
After-School Clubs: Over a dozen clubs ranging from beading to lego robotics, animals to TV production run in winter and spring.
Bike Safety Rally
Book Fairs: In winter and spring.
Building Bridges: Week-long focus on people with different abilities.
Car Drop-Off: Volunteers unloading the kids in the morning.
Classical Cafᅢᄅ: Beautifying lower-grade lunch room while older kids give them a concert.
Crunchy Carnival: A health-focused school fair.
Cultural Arts: A school-wide event focusing on one of the arts.
Directory: A list of parent contacts.
Fifth Grade Events: Events for the graduating class.
Fifth Grade Legacy Project: A gift from the graduating class to the school.
Kindergarten Square Dance
International Picnic: A Spring Friday Night family event.
Literary Magazine: Printed book featuring a written entry from every student.
Parent Perks: Coffee mornings with guest speakers.
Picture Day: The official school photos.
Scholarships: To help struggling families participate in events.
School Charity: Thanksgiving food drive, Holiday cards for troops, school supplies for kids in Kenya.
School Garden: Getting every student involved in gardening.
School Play
School Supplies: Set up online ordering of back-to-school supplies and delivering them to each classroom.
School Talent Show
Slice of Summer: An after-school party to welcome the new school year.
Scare Fair: A Halloween-themed school fair.
Teacher Appreciation Breakfast and Lunch
Teacher Grants
Walk to School Week: With raffles and prizes.
Yearbook
The PTA, its donors and volunteers contribute to each of the above events. Sure, teachers are involved in some of them, but they couldn't do it without parent help. Remove the PTA and our school would be stripped of most of these programs. Our kids would get a bare-bones education.
It took me a long time to realize this. The penny only dropped when I put this list on the PTA website.
Like any non-profit, the PTA is an organization prone to politics. One of the ideas that sticks with me from my sociology studies is the power of giving. When you give to someone, you gain a certain amount of power over the recipient. Which is why wealthy people are so keen to give to political campaigns. Us commoners have to resort to more modest giving; usually donating our time. I notice volunteering comes with an elevated sense of entitlement. A noble entitlement to be sure, but it makes organizations reliant on donated labor devilishly hard to manage.
That is the underside of the PTA. Our PTA just installed it's new executive board, it is an appropriate time to single out four people who do the lioness' share of the work, managing the process.
They are Martha Friedland, Romy Kirwin, Krista Williams and Melissa Perez, the immediate past, present and future co-chairs of our school PTA. There are a couple of people like them at every school lucky enough to have a PTA.
Their role is truly thankless. They have to herd the volunteers together, field any number of complaints, attend meetings, and gently let down every wide-eyed volunteer with a plan to raise money this way or spend it another, when their idea clashes with the reality of the calendar, or the budget, or the rules around the use school facilities.
They spend half their time putting out fires, and the rest of it stoking the engine so everything is done on time. They will no doubt have to soothe the waters when this blog post goes viral and I've left someone's program off the above list. Which would be a welcome change from some of the "controversial things" I've been responsible for.
Perhaps you work full time, or you volunteer elsewhere. Maybe your child butts heads with the son of your PTA president. Perhaps you caught them on a bad day and that's colored your view of the PTA.
That shouldn't stop you from appreciating the work they do for the benefit of the school community. So I ask you to do two things; Thank the head of your PTA and next time they pass the hat around, throw a few bucks in or give up some of your time.
It's time to go back to greatschools.net and look at the reviews of my kids' current school.
Whew, nothing but praise for the PTA. As it should be.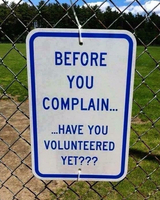 Related