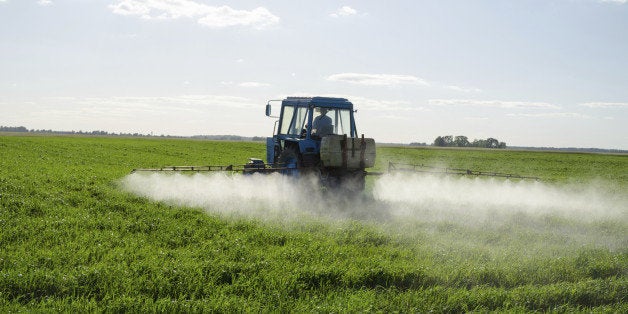 Before approving a powerful new chemical cocktail of herbicides for use on fields in Midwestern states last year, the EPA failed to do the legally-required analysis aimed at protecting endangered wildlife.
So it was hardly surprising to hear the recent news that in the wake of a lawsuit from several conservation groups, including the one I work for, the agency did a sudden about-face and revoked its approval of the pesticide known as Enlist Duo, saying that its combination of chemicals is likely significantly more harmful than initially believed.
It's nothing but great news that the EPA has now taken this dangerous chemical off the market. But the agency's approval, then rejection of Enlist Duo offers a window on the EPA's industry friendly, fast-track approval process that routinely fails to conduct legally-required analyses before licensing toxic new pesticides for use on America's fields, gardens and lawns.
The agency is especially loath to do the exceedingly complex work required to analyze the synergistic interactions of chemicals in pesticide cocktails like Enlist Duo, which combines two of the nation's most heavily used herbicides: glyphosate (aka Roundup) and 2,4-D, a World War II-era toxin invented for chemical warfare that gained notoriety as one of the deadly components of the defoliant Agent Orange.
It doesn't take a scientist to understand that -- just like it's important to understand interactions between medicines taken by humans, a critical component of protecting the environment is to determine how chemical interactions in new pesticides affect plants, animals and the water we all depend on.
In approving the new pesticide, the EPA was quick to assure that Enlist Duo posed little or no risk to humans or animals. But, in fact, the agency had failed to fully assess the chemical compounds' effects. And in far too many cases, that's business-as-usual at the agency.
But here in the U.S. we've quickly approved genetically engineered corn and soybean seeds specifically designed to be resistant to Roundup, spurring an exponential increase in the pesticide's use that has quickly spawned stronger, Roundup-resistant weeds.
That growing resistance to Roundup, the EPA argued, created the need for the fast-track approval of Enlist Duo for use in 15 Midwestern states.
Given that the U.S. Department of Agriculture estimated that approval of Enlist Duo could increase use of 2,4-D by as much as an estimated 600 percent by the year 2020, it defied scientific reason that the EPA would simply declare that it would have "no effect" on endangered species living in the areas where the toxin is applied.
By approving use of Enlist Duo without first consulting with the U.S. Fish and Wildlife Service, the EPA failed to determine potential impacts to 20 endangered species, including the whooping crane, several freshwater mussels, a minnow already reduced to 10 percent of its historic range and the palid sturgeon, the freshwater behemoth that grows up to six-feet long but spawns only once every 10 years.
It's an important step in the right direction that the EPA has reversed course and suspended approval of Enlist Duo. But it's just as important to recall that the reversal came about only because of the lawsuit brought by conservation groups that forced its hand.
There's much work left to be done to make sure Americans and the wildlife we share the planet with are safe from toxic pesticides: The EPA has approved hundreds of pesticides without fully assessing their impacts.
The agency's wise decision to pause and take a deeper look at the synergistic impacts of the two highly toxic chemicals that make up Enlist Duo was the right way to go.
But it also reveals a deeply flawed approval process that fails to adequately prioritize protecting Americans from the more than 1 billion of pounds of pesticides that are dumped on our nation's fields, gardens and lawns every year.
The fact that Enlist Duo had already been in use for several months in 15 Midwestern and Great Plains states demonstrates how critical it is that the agency makes its job one to slow down and get it right before approving pesticides for broad use.
Calling all HuffPost superfans!
Sign up for membership to become a founding member and help shape HuffPost's next chapter