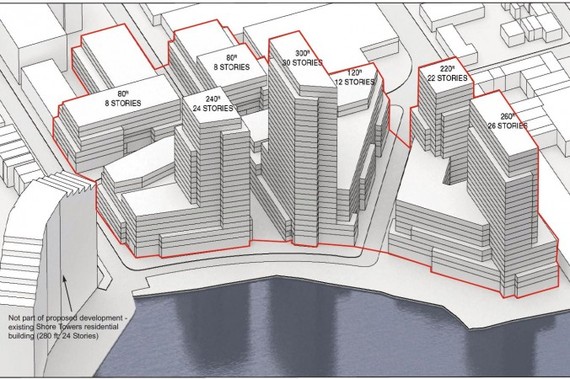 Tentative sketch of the buildings in Astoria Cove. (Source: zoning application from the Department of City Planning)
Affordable housing is one of the most -- if not the most -- important issues in New York City. For far too long, low- and moderate-income families have been squeezed out, or left out, of most of the new developments built or proposed across the five boroughs.

During the Bloomberg years, affordable housing requirements were largely left to developers, some of whom promised a high percentage of affordable units, only to renege and build fewer affordable apartments. That has caused a crisis that is getting worse with each passing day. If we do not fight back to sustain our vibrant communities, we might lose New York City as we know it.

Our new mayor, Bill de Blasio, says he is trying to change that, requiring developers to set aside a higher percentage of affordable units as part of a multi-billion-dollar plan to build more housing, but we want the new administration to require developers to set aside half of all units in new projects. Anything less than 50-50 is unacceptable.

Right now, many new development plans are springing up where the builders have proposed miniscule amounts of affordable housing for the untold thousands of low- and middle-incomes families who need them desperately.

A case in point is the proposed Astoria Cove project, a roughly 2-million-square foot development along the Queens waterfront. The builder, Alma Realty, has a poor track record of using contractors who have been hit with countless OSHA violations and who have failed to provide good jobs and benefits to workers.

Alma wants to set aside just 20 percent of its unit for affordable housing. That number is totally unacceptable and must be raised to a 50-50 split to help provide a pathway to the middle class for low and middle-income families and to give the community the kind of economic boost it needs.

For months, residents and the community have raised serious concerns about lack of affordable housing at the project, which led the local Community Board to vote it down in June. Astoria Cove is working its way through the city's Uniform Land Use Review Procedure (ULURP).
The latest data for the Astoria and Long Island City area shows a median adjusted household income of $49,432. Half the households make less than $50,000; 69 percent make less than $75,000 and 80 percent make less than $100,000. Under the current plan well over half of Astoria Households won't even qualify for the affordable part of the development.
Alma Realty has already broken promises and backtracked. The company initially committed to a minimum of 340 affordable units in order to achieve 20 percent affordability, but later reduced the number to 295, in an application filed with the city in March. Alma has refused to disclose details on the number and square footage of affordable apartments, and the household income levels that would qualify for those units.

The Astoria Cove project, as proposed will transform the area from a manufacturing zone, where no housing development is allowed, to a high density residential zone that will allow for buildings over 20 stories high to be developed. The developer stands to make millions in profit, including tax abatements.

Astoria is one of the most rapidly gentrifying neighborhoods in the city, and we must ensure that it stays affordable and livable. My organization, New York Communities for Change, is working to address that, along with a variety of tenant and housing groups and labor organizations as part of the Real Affordable Housing for All Coalition.

We want to prevent the "Brooklynization of Queens" in Astoria Cove -- namely the loss of mixed-income, economically diverse communities -- and limit the growth of luxury condos that will drive up rents and inflate real-estate prices far beyond what New Yorkers can afford.
These are among the growing concerns about Astoria Cove and Alma Realty and we want all city officials to ensure that this massive new development project creates the real affordable housing and good jobs Astoria needs.
Astoria Cove should be not be rubber-stamped or rushed. The project needs to be vetted and scrutinized thoroughly to ensure it will actually benefit the community, rather than hurt it -- not only now, but for generations to come.
The only way to do this is to impose the 50/50 model on all new developments so people in our communities can continue to live there.
Calling all HuffPost superfans!
Sign up for membership to become a founding member and help shape HuffPost's next chapter