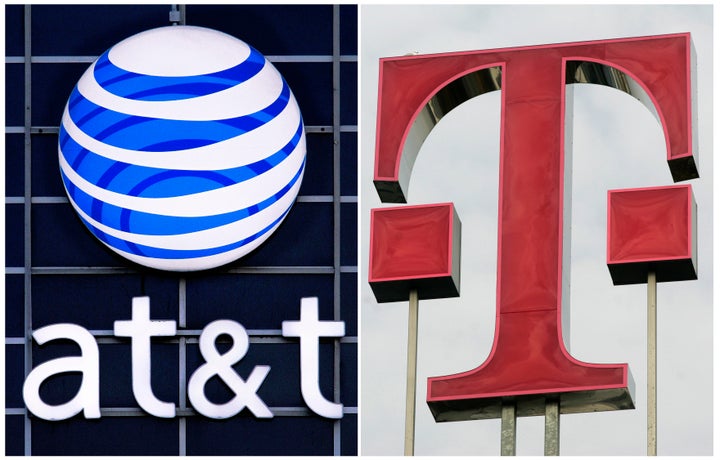 Eleven years ago, at the height of the telecom bubble, Deutsche Telekom paid about $51 billion for one of America's smallest national cell phone companies, hoping to gain entry into the burgeoning U.S. market.
On Monday, the German giant announced it's selling the offspring of that deal -- T-Mobile USA -- to AT&T for $39 billion.
That 2000 investment -- now worth about 40 percent less after adjusting for inflation -- has cost Deutsche Telekom and its shareholders dearly. The benefits for the American public, which were widely touted at the time as the German company fought for regulatory approval, are debatable.
But the bankers on those deals sure made a killing. And while it remains to be seen whether the same purported "synergies" and "cost savings" that were peddled in 2000 will ultimately benefit AT&T's shareholders who are being promised the same thing, bankers once again are poised to strike it rich. Bankers' fees will roll in regardless of whether their advice will ultimately benefit their clients.
"When you look at investment bankers, their job is to put buyer and seller together," said Matt McCormick, a portfolio manager at Bahl & Gaynor, which oversees about $3.2 billion. "Much like a real estate broker, if you're trying to buy a house, does the broker really care if you're in a ranch, or a two-story home, or with a pool or not? They are only paid if a deal gets done."
AT&T's shareholders are cool to the idea. McCormick, who oversees about 500,000 shares of AT&T for clients, said the benefits of the deal are "yet to be seen." Shares in AT&T are up 0.6 percent since Friday.
Bankers will probably pocket about $120-140 million off the AT&T and T-Mobile deal, according to Teck-Tjuan Yap, managing director at Freeman Consulting Services.
For JPMorgan Chase, which advised AT&T and provided a $20 billion loan, it'll likely be much, much more after a few years, one prominent bank analyst said.
Richard Bove, an analyst at Rochdale Securities, told clients that the purchase could be worth upwards of half a billion dollars for JPMorgan after fees and other sorts of income over the coming years are considered.
Bankers, unlike shareholders, are always among the biggest beneficiaries when companies merge.
Back in 2000, when Goldman Sachs was advising VoiceStream Wireless, the firm that eventually became T-Mobile, it made at least $80 million off its sale to Deutsche, securities filings show. That $80 million is worth $103 million in today's dollars.
Shares of Deutsche Telekom closed at 10.8 Euros on Tuesday, down about 60 percent from when the firm announced it was buying VoiceStream. In July 2000, Deutsche's shares were trading in the 25-Euros range.
Even investors who bought houses in Miami at the height of the housing bubble in 2006 have fared better. Their investment is down only about 49 percent, according to the S&P/Case-Shiller Home Price Index.
The initial investment in T-Mobile was apparently so bad for Deutsche's investors that they celebrated the sale to AT&T. Deutsche's shares are up 12.6 percent since Friday's close.
But the wisdom of Deutsche's bankers' advice at the time isn't what generated their fees. Donaldson, Lufkin & Jenrette, a firm that was eventually bought by Credit Suisse, got paid to get the deal done.
That's generally how it works, according to Alex Edmans, a finance professor at the University of Pennsylvania's Wharton School and a former investment banker at Morgan Stanley.
"Bankers' fees are not contingent on the success of the deal," Edmans said. "How much a banker gets paid for advising on a deal doesn't depend on whether it creates shareholder value or whether they could sell it for more later. They get a fee for the announcement and the completion of the deal."
Edmans reckons that this may skew incentives towards completing a deal "at any cost, even if it's not in the client's interest."
There are three benefits from getting a deal done -- regardless of its merits, he said. First, the bank immediately receives fees.
Last year, mergers and acquisitions generated $17.9 billion in fees for investment banks, a 23 percent increase from 2009, according to data compiled by Bloomberg.
Second, the banks on the deal improve their rankings among peers.
Wall Street compiles lists ranking firms based on the income banks generate off M&A and the value of their deals. These lists are incredibly important -- both for bragging rights and for landing future clients. Edmans said the potential of moving up these lists creates a "huge incentive" to get deals done as potential clients largely decide which bank they'll pick for future deals based off their rankings.
Third, deal activity improves a bank's market share, particularly if the deal is huge. Predictably, there's an emphasis on doing lots of deals, rather than being selective about which truly are the best for clients.
The AT&T deal is the largest telecom acquisition since AT&T purchased BellSouth in 2006 for about $102 billion, according to Dealogic, a data provider. Thanks to the proposed purchase, JPMorgan moved one spot up in the rankings, according to data compiled by Thomson Reuters.
"Even if you do a lot of value-destructive deals, this doesn't seem to reduce your market share going forward," Edmans said. "That sort of discouragement doesn't really seem to exist."
"This isn't optimal for the industry," he added.
There's a way to ease the distortion caused by such incentives, Edmans argues. He said clients should judge banks based on the quality of their advice, rather than on the number of times they're asked to provide that advice.
In a paper with Jack Bao of Ohio State, Edmans and his colleague ranked banks based on whether investors cheered a proposed deal. By looking at the stock price of the affected companies over a three-day period immediately preceding and following a deal's announcement, they found that the biggest banks were among the worst when it came to advising successful mergers.
Goldman Sachs was about 10 times worse than the average firm, Edmans and Bao found. Morgan Stanley was just a tad better than Goldman. JPMorgan was also significantly worse than average. Their paper will be published in the Review of Financial Studies.
Edmans and Bao found that middle-tier investment banks advised the best deals, likely providing the best advice, according to their metric. The big banks like Goldman and Morgan, Edmans said, probably advised bad deals because they had other interests in getting the deal done, like future opportunities underwriting the firm's bonds or new stock issuance, as opposed to simply getting paid for providing good advice.
"Given how the industry works, the banks are doing the rational thing," Edmans said.
That particularly makes sense in cases in which banks aren't even brought in for their advice.
"Being a consultant I hate to say this, but sometimes consultants are called onto a job just to validate what the CEO and CFO want," said Yap of Freeman. "The question is: are the bankers basically called in to validate or justify," or are they brought in to provide good counsel? Yap asked.
He said that for AT&T, the question may not be about the benefit of purchasing T-Mobile, but rather the detriment that could arise from a competitor buying the nation's fourth-largest wireless provider.
If AT&T didn't attempt to merge with T-Mobile, for example, the firm could face the prospect of declining market share if a competitor joined forces with Deutsche's American subsidiary.
AT&T and T-Mobile said the value of the "synergies" from their merger -- corporate lingo for the savings derived from eliminating duplicative employees and activities -- are "expected to exceed the purchase price of $39 billion," according to a joint statement.
That's nothing new to McCormick, the money manager.
"The usual things I look for in every press release are always statements like, 'This will mean more synergies' or 'This will lead to more cost savings,'" he said. Firms are "always touting those key points again and again and again."
"But the truth is, they rarely work out."
*************************
Calling all HuffPost superfans!
Sign up for membership to become a founding member and help shape HuffPost's next chapter