When I announced five years ago that we were moving to North Carolina, my writer and artist friends assumed we'd move to Asheville. "It's the creative capital of North Carolina," I heard repeatedly. While a creative capital sounded good, due to my husband's job, we wound up in a small town called Hillsborough. Turns out Hillsborough is the literary capital of the South with more writers living here any other small town in America. Asheville, too has its claim to literary greatness. Home to the legendary Thomas Wolfe whose seminal work Look Homeward Angel is a thinly veiled autobiographical novel of his childhood in Asheville. Contemporary authors Sara Gruen, Charles Frazier, Patricia Cornwell and Ron Rash make up a few of Asheville's more well-known literary residents.
Asheville sits in a valley the middle of the Blue Ridge Mountains, right where Interstate 40 cuts through on its trek from coast to coast. One of North Carolina's more populous cities, Asheville's downtown creeps up and down with the hills, while the French Broad River rolls through the center of town on its east-to-west passage to Tennessee. Descriptions I'd read through the years led me to think of Asheville as a San Francisco of the South. Consider if you will, the hilly setting of San Francisco with trees, trees, and more trees. Imagine now a river city such as Portland, this time with wooded hills rising up in every view. If you've explored those iconic West Coast cities and appreciated the creative vibe they exude, you'll get a good idea of Asheville.
A city of "mosts," "firsts" and "onlys," Ashville boasts the most independent breweries of any city in the U.S. It's the first city in America to be designated a "Bee City USA," a result of the Pollinators Protection Act. It is the only city in the nation that repaid all of the federal monies borrowed during the Great Depression. This last piece of trivia isn't so trivial to Ashevillians. When other cities were imploding their old buildings and erecting modern high rises, Asheville was busy paying back its debts and couldn't underwrite civic redevelopment of that scale. Because of that, Asheville takes tremendous pride in having preserved its historical downtown skyline and claims the most art deco architectural design of any other city besides Miami.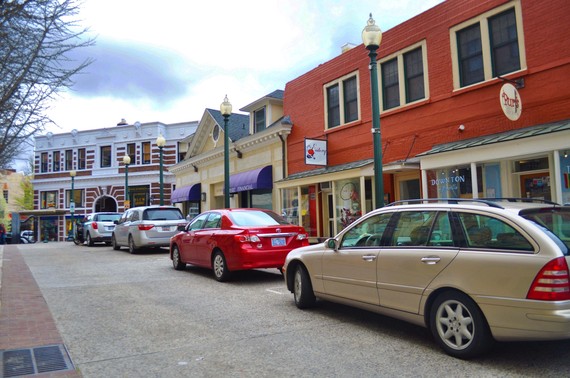 Asheville's pictureque Wall Street displays a charming sample of the city's art deco heritage. Photo: Carolyn Burns Bass
So, when I told friends I was planning a trip to Asheville, they immediately gushed, "Oh, you have to visit the Biltmore." Like the city of Asheville itself, the Biltmore estate has achieved legendary status in barely 100 years. (Isn't that the way of America?) George Vanderbilt II broke land on his mansion in 1885 and oversaw a six-year building and landscaping project that would make Biltmore the largest privately owned house in the U.S. It's setting on 80,000 acres of rolling Appalachian landscape with farms, a vineyard, a hotel (soon to be two), picnic areas and hiking trails is unparalleled. Access to the Biltmore estate doesn't come cheap. A one-day adult pass is $59 (children below age 16 are free), which includes a self-guided tour of the house, free range of the cultivated gardens and surrounding grounds, a guided tour of the winery, and wine tasting in the winery tasting bar.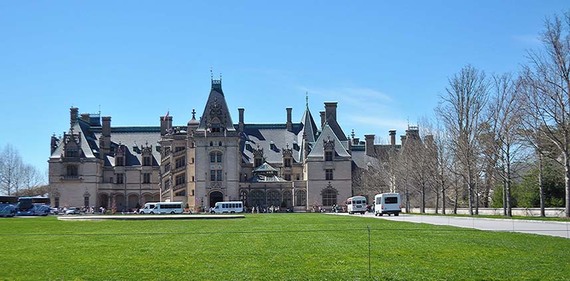 Biltmore House draws crowds to Asheville all year long. Notice how the mullioned windows spiral up the tower to the left of the main entry. Photo: Carolyn Burns Bass
George Vanderbilt II was the grandson of railroad baron Cornelius Vanderbilt. Born with a pedigree and raised with luxury, Vanderbilt envisioned a country home that would rival any of the grandest old family estates in Europe. In 1888, Vanderbilt hired renowned architect Richard Morris to design the 250-room mansion in the French renaissance revival style that was all the rage at the time. Morris's forward-thinking designs are seen in the opulent use of local limestone, the Guastavino ceramic tile arching across the vaulted ceilings, the employment of counterbalance in the grand staircase, the three-tier iron chandelier with 72 electric candle lights. The diamond-paned mullion windows inside the circular staircase tower spiral along the rise of the staircase and are spectacular from inside and outside the house. Vanderbilt also had a gymnasium, pool and a two-lane bowling alley built in the house's massive basement. At the turn of the 20th century, indoor plumbing was still a luxury and one Vanderbilt could afford. Biltmore had running water in the kitchens and bathrooms, along with flushing toilets and central heating. The Biltmore house boasts 43 bathrooms for its 35 bedrooms spread across 135,280 sq. ft. of living space.
To landscape the grounds, Vanderbilt contracted Frederick Law Olmsted, the pioneer of landscape architecture responsible for revolutionizing public spaces for livability, conservation and beauty. Walking paths meander through the grounds, across stone bridges, passing by small brooks, niche gardens, and cunningly placed statuary. A walled garden is cultivated year around for floral variety, most notable in the spring when it's alight with multicolor tulips. The greenhouse boasts a collection of orchids, ferns and tropical foliage from around the world.
Built six miles south of the small town of Asheville, Vanderbilt realized the hundreds of staff members who worked in the house, the farms and grounds would need somewhere nearby to live. As his palace grew from the earth, so did a charming village of wooden cottages just outside the gates where his staff could flourish. These people would need a place to worship, as well, so he funded the building of a church outside the estate gates. The Cathedral of All Souls, an Episcopal church, still holds three Sunday morning services and boasts a thriving community of Christians who call the church their home. The quaint workers's cottages, however, have been turned into the charming shopping and business district known as Biltmore Village. Here you'll find boutiques, galleries, salons, cafes and lodging establishments such as the posh Grand Bohemian, as well as several bed and breakfast inns.
The railroad's completion through the Blue Ridge Mountains and the developing road structure had already awoken the sleepy mountain town before Vanderbilt broke ground. People seeking refuge from the industrialized cities of the South flocked to Asheville for health cures, rejuvenation and clean mountain air. Several resort hotels were built in and around Asheville, but only the Grove Park Inn, now managed by Omni Hotels, continues operating today. Set on the western slope of Sunset Mountain, the Grove Park Inn shines golden on the hillside overlooking downtown Asheville like a beacon of the gilded age.
Something about resort towns draw creative people. In the hills just outside of Asheville, a group of creative thinkers banded together in 1933 to found a school for the arts called Black Mountain College. It drew artists, intellectuals and radical educators from all over the world--including an influx of Germans fleeing Hitler's condemnation of the arts. Black Mountain College closed in 1957, but its legacy continues to influence the town's creative soul. The University of North Carolina opened an Asheville campus in 1927 and in addition to more than 30 majors, its art and art history department is nationally acclaimed.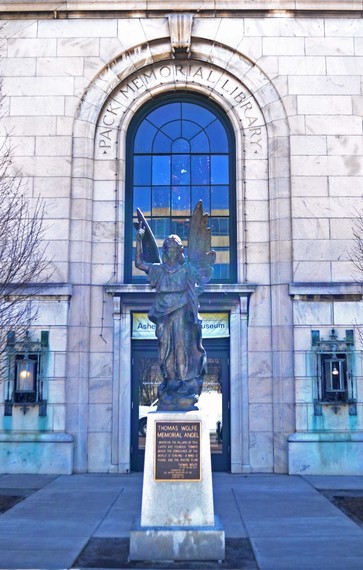 "Look Homeward Angel," a monument to author Thomas Wolfe stands outside downtown Asheville's Pack Memorial Library. Photo: Carolyn Burns Bass
Creative people need business people to take their ideas to market. Asheville has looped those two groups in a circle that feeds each other. Of the many niche communities that make up Asheville, the River Arts District pays homage to those who create, who appreciate and who collect the art. Downtown you'll find the Black Mountain College Museum, which houses exhibitions of alumni artwork and offers lectures, seminars, films and oral history interviews with BMC alumni. The Asheville Art Museum features a collection of more than 3,500 works in diverse media in permanent exhibits, as well as hosting world-class traveling exhibitions. Off on the picturesque, brick-lined Wall Street is the aSHEville Museum which recognizes the contributions of women both local as well as international, with core exhibits such as Appalachian Women, 100 Years of Sexism in Advertising, and A History of Hysteria.
Like San Francisco and Portland, music and art overflow from the galleries and lounges and onto the sidewalks of Asheville. It's not uncommon to walk by--no, stop and watch--a chalk artist rendering a celebrity portrait on the sidewalk, or to see easels set up with plein air artists painting a view of the Grove Park Inn. Steps from that artist might be a young man strumming a mandolin or a piping a home-made flute. Such is the variety and individuality of the Asheville street arts scene.
Even the food is creative here. We enjoyed several local restaurants where menus were changed daily or monthly depending on the local provisions. My favorite comfort food came from the Early Girl Eatery, which put a Southern spin on eggs Benedict that left me hungering to return. Early Girl introduced me to Counter Culture Coffee, a North Carolina small-batch roaster in Durham, which has now become my morning standard.
Growing up in Southern California gave me a love for Mexican food, from its most humble street tacos, to the modern spin it takes in the finest dining rooms of Mexico. Planning for our trip, I stumbled upon Limones, which bills itself as "Mexican and Californian cuisine." How could I pass this by? Limones isn't about tacos, enchiladas and burritos (although there's a mean-looking steak burrito), it's about the foods we love prepared with contemporary Mexican flair. I was delighted to find an authentic tamarindo here, a margarita variation spiced with tamarind and rimmed with salted chaupaulines (crushed, smoked grasshoppers--yes you read that right). My sister had a succulent rack of lamb finished with rioja demi glaze and served with vegetable tagine, a smear of chermoula, and mint pesto. My order of salmon with chipotle glaze was disappointingly dry, though the chipotle glaze across the top was quite tasty. Limones is pricey, but even on a Monday night the place was full throughout the dinner hour.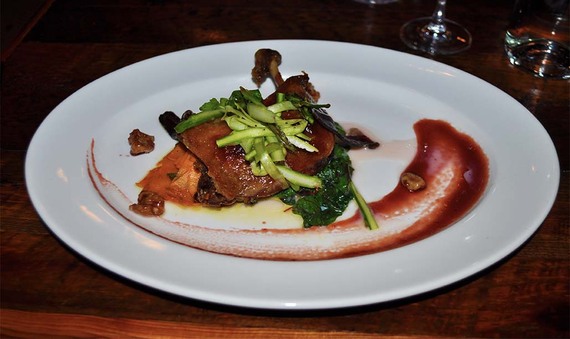 The rhubarb glazed duck confit at Rhubarb fell off the bone, a food memory to savor. Photo: Carolyn Burns Bass
We also enjoyed dinner at Rhubarb, one of Asheville's most distinguished restaurants. Chef John Fleer earned his cooking chops with 15 years at Tennesse's renowned Blackberry Farm, then opened Rhubarb here in 2013. The menu changes daily and on the night we experienced Rhubarb, the only thing on the menu that referenced the vegetable-used-as-a-fruit, was the rhubarb glazed duck confit. My sister ordered the duck and was swept into gastronomic passion that continued with every bite. I would like to say the same for my vegan selection--a seared cauliflower steak brined overnight in IPA--which I ordered because it sounded so unusual. Perhaps if I had never have tasted the duck, I would not have found my cauliflower steak so bland and disappointing.
Walking back to our room at the Windsor Boutique Hotel, we were tempted to stop back by the French Broad Chocolate Lounge for a cup of their decadent liquid truffle. We'd already been to French Broad Chocolate Lounge once already and even toured the factory. Although the pull of chocolate was strong, we'd decided to pass on by. While meandering back to the hotel, we were drawn into a little pastry and coffee shop called Old Europe. Having opened in 1994, it's the oldest coffee shop in Asheville. The lure of chocolate finally ensnared us and we picked out a couple of decadent chocolate pastries to take back to the Windsor and enjoy with a cup of the hotel's in-room coffee.
Asheville has a wide range of lodging choices, from charming bed and breakfasts, to budget, student, family and business hotels, to world-class luxury resorts. Visitors who can't get enough of the Biltmore can stay on the property at the luxe Inn at the Biltmore Estate or Cottage at the Biltmore, the former gardener's home now offered as to guests wishing for a more private experience. The Village Hotel, an intermediately priced hotel, will open in late 2015. Asheville expects to open seven new hotels in the area, which will add more than 2,000 new rooms.
We loved our stay at the Windsor Boutique Hotel. It was everything the website promised--close to everything in downtown Asheville and roomy enough for two sisters and their suitcases. In fact, all of the rooms are suites with a kitchenette, a washer and dryer, a posh sitting room and a separate bedroom. Sofas can be pulled out for additional sleeping arrangements.


The Windsor Boutique Hotel offers only suites for a luxurious downtown Asheville experience. Photos: Carolyn Burns Bass
Décor was elegantly eclectic, with ostrich-leather wrapped stair bannisters, repurposed wood tables and refinished plank flooring from old barns in Tennessee and Virginia. Rather than a key card that can be lost or erased (has happened to me many times) the rooms are keyed with the last four digits of the guest's personal phone number. Entering from the street, all guests must punch in their room code for the outside door to open. We found this a bit awkward upon checking in--before we had our code--but when we stepped inside the gorgeous lobby and then into our suite, we never again felt inconvenienced by the front door security. Despite the in-room coffee and tea, the Windsor offers complimentary Keurig, Nespresso, a variety of soft drinks and snacks in the lobby 24-hours-a-day. Chocolates on our pillow every night was another sweet touch that endeared us to the Windsor. No wonder Southern Living magazine, the bible of all things genteel in the South, named the Windsor among the South's best new hotels for 2015.
The spring weather in Asheville was glorious the day we arrived--blue skies, fluffy cotton clouds and short sleeve temperatures. It remained so throughout our three days in town, but on the morning of our departure, it opened into rain. We wouldn't have enjoyed walking around Asheville with raincoats and umbrellas as much as we had in the sunshine. We took it as an omen that as much as we wanted to extend our stay, it was a good day to go home.
Related