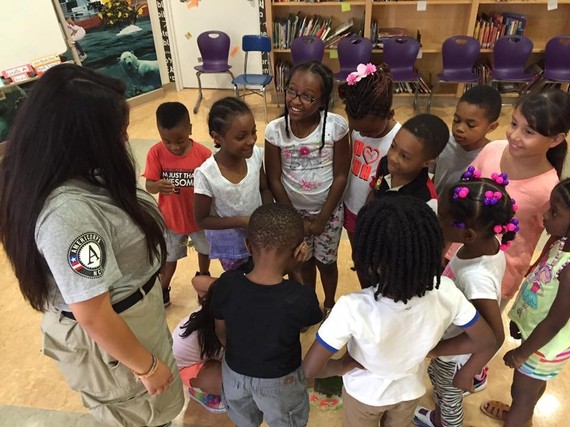 Classrooms are empty, desks are stacked in the hallways, and Baltimore's students are halfway through a sixty-day layover in which they are expected to sustain their learning until the upcoming school year.
While summer can offer students the chance to learn through camps, family trips, or robust reading lists, access to these opportunities often falls upon socioeconomic lines: wealthier families have more means to discover and utilize summer learning activities, so richer students return to school in September better prepared than their low-income counterparts. One study estimates that 80 percent of the rich/poor achievement gap is attributable to the atrophy of reading skills over summer vacations.
Imagine if public schools left their libraries open during the summer for students to continue reading and exploring hands-on educational content. What would happen if media specialists remained on site so that students could check out books and access materials? Or if a city's informal education and non-profit partners visited the libraries to lead STEM, drama, or environmental stewardship workshops?
Enter SummerREADS, a Baltimore City initiative, where ten public school libraries are serving hundreds of students in such a fashion.
SummerREADS is a free, drop-in program, managed by the Maryland Out of School Time Network, in which public school libraries renovated by the Harry and Jeanette Weinberg Foundation's Baltimore Library Project remain open for six weeks during the summer. Hundreds of the city's emerging readers (predominantly in grades K-3) spend summer vacation in their school's library, which is visited by local partners such as The Maryland Zoo, National Aquarium, Young Audiences of Maryland, and Port Discovery.
Supporting library-based activities are volunteers from Americorps VISTA Summer Associates, National Civilian Community Corps, and Foster Grandparents who provide a unique blend of intergenerational mentors working with students every day during the program. Through the support of the USDA's Summer Food Service Program, participants under 18 years of age are also eligible for a free breakfast and lunch in the school's cafeteria.
The Baltimore Library Project and SummerREADS are initiatives born from the idea that zip code, family income, and other social determinants should not preclude youth from high-quality educational experiences. This is especially important in Baltimore City, where 85 percent of school-aged youth are eligible for Free and Reduced Meals (FARMS), and only 11 percent of 4th graders and 9 percent of low income children read at proficiency.
To step inside a SummerREADS library is not like stepping in a classroom or a summer academic intervention. The heart of the SummerREADS initiative is to provide a safe and fun (and, perhaps most importantly, air conditioned) hub for students to explore a wide variety of content, much of which is not available during the school year. On any given day, students are building circuits with LED lights, learning how classic jazz compositions have influenced modern music, or exploring folktales from around the world. Through this approach, over 90 percent of parent and student participants have indicated a positive experience in the library, and that they feel better prepared for the upcoming school year.
Not only are students having fun, productive summers in the library, but the corresponding academic outcomes are encouraging. An external evaluation completed by the Baltimore Education Research Consortium (BERC) following SummerREADS' first summer in 2014 found that the program "had similar positive effects across grades." First and second graders in 2014 made gains, or at least maintained their reading proficiency, as compared to a control group of demographically matched peers. In 2015, an internal pre and post benchmark using the DIBELS literacy test showed that 75 percent of matched assessments demonstrated maintenance or gains in reading fluency and accuracy across K-3 grade levels.
However insurmountable the achievement gap may seem, initiatives like SummerREADS should encourage school districts across the country, where a majority of students continue to lack summer learning opportunities. We have witnessed over the last three years what is possible through the simple act of leaving a school library open during the summer months. When community members, organizations, and philanthropy invest in our students as the Baltimore Library Project and SummerREADS have, we can do more than stop the summer slide. We can finally start to level the educational playing field for all our young people.
Paul Mincarelli is the SummerREADS Program Manager with the Maryland Out of School Time (MOST) Network, a Baltimore Corps Fellow, and specializes in more and better out-of-school time opportunities for Maryland's young people.
REAL LIFE. REAL NEWS. REAL VOICES.
Help us tell more of the stories that matter from voices that too often remain unheard.