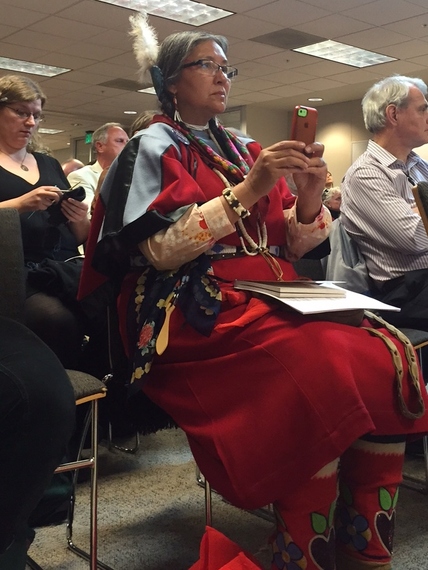 There were a number of factors that played into the hand of this surprising reversal of fortune. For starters, the battle took place in Portland--a town that doesn't take kindly to the fossil fuel industry, much less a corporation that made its billions on the tar sands. Cities don't get much greener than Portland, and fossil fuels don't get much dirtier than the tar sands.
Then there was the fact that, and unbeknownst to most everyone--including, apparently, Mayor Hales and Pembina--there was the need to amend an obscure environmental overlay code in order to allow Pembina's project to proceed. It was this amendment process, which required public participation in a discussion that otherwise might have taken place behind closed doors, that was the Achilles' heel in Pembina's plans. Loudly and clearly, overwhelmingly and repeatedly, late into the evening, and early in the morning, Portland residents showed up and made it clear they did not want any amendment that would allow Pembina to set up shop in Portland.
But the victory included far more important factors than these two. This was an amazing team effort. Nick Caleb with Our Children's Trust ensured the riveting testimony of students at Sunnyside Environmental School was a part of the hearings. Dr. Kelly O'Hanley, a retired physician who has taught medicine at Stanford and Harvard, and a Greenpeace volunteer, provided expert testimony on the health effects of the rail transport. Rising Tide members reached out to ensure First Nations and Native American voices were heard at public hearings. 350PDX was instrumental in ensuring broad attendance at all of the rallies and hearings. The Portland Unitarian Universalists provided meeting space and critical support throughout. The Center for Sustainable Economy together with their project, the Sustainable Energy & Economy Network helped with media, press outreach, and testimony. Together, our participation in public hearings, our outreach and our actions were as varied as our city's population.
Outreach included retirees working their political connections, artists who created amazing posters and likenesses of the mayor distributed around town chiding him for his support of the fossil fuel industry, or people who spent hours bicycling the "tank of doom" -- a likeness of so-called "bomb trains" -- to street fairs and rallies together with informational flyers.
We did it all with mostly volunteer labor, out of love for the city and the people we share it with, and out of love for the planet whose fever we want to cool. We did it and we won. But we have lots more work to do.
A key component in this resistance is upholding the treaties of First Nations and Native Americans throughout North America. As Naomi Klein writes in her book regarding climate change activism, "This Changes Everything," "To change everything, we need everyone." With this kind of generosity of spirit, this widespread collaboration, there's no stopping us. Goliath or no, we will win. We must win.
Popular in the Community