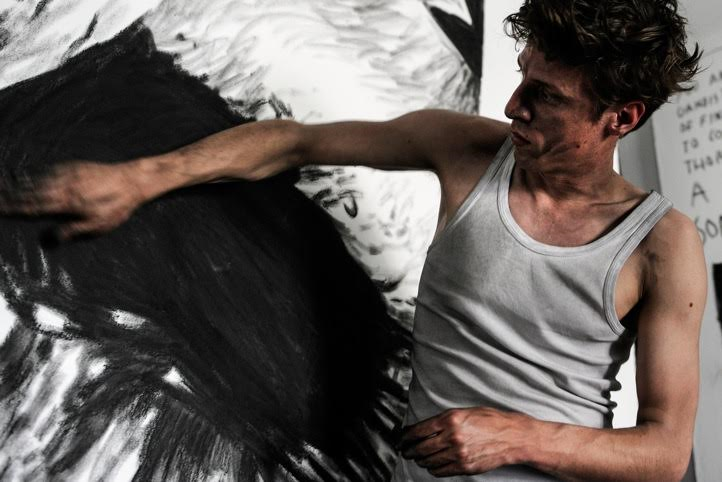 The restrictions placed on possibility and time are non-existent within the creative world of Rinus Van de Velde. Throughout his body of work exists a merging of fantasy and illusion, peeling away at the limitations of reality. From a hallucinatory artist stranded on an isolated island to a 19th century sculptor, the Antwerp native, known for his compelling large-scale charcoal drawings, has created a fictional autobiography of his life. He has previously taken personalities from history including Bobby Fischer and Vladimir Mayakovsky, incorporating himself into imagined tales as the protagonist of an alternate reality, an illusory history.
In recent years, Van de Velde has used staged photos as source material for his work, setting up scenes and then translating these images into drawings that include a text written in charcoal, a composition linking the images. His most recent exhibition presented a series of nine new drawings on canvas based on the unrealized film script Donogoo Tonka by Jules Romains. Within the story, a professor is found to be a fraud after falsely discovering an invented city in South America. He then encounters a suicidal young man who helps him create the fictional city, which sets an entire adventure in motion where from fiction a reality is born.
I spoke with Van de Velde at the S.M.A.K. museum in Ghent about his recent exhibition and his compelling creative universe.
J.L. SIRISUK: What can you tell me about your latest exhibition?
RINUS VAN DEL VELDE: I made this new exhibition with only new works. When Philippe [Van Cauteren] the director of the museum invited me to do a show, I didn't want to make a retrospective. I wanted to take this opportunity to produce a whole series, so I've been working on this series for a year now. It's important that it's all new works because I'm 32 years and I don't feel that at this point I want to give an overview. I think this is something I can do in 25 years; then it will make sense to look back. So I took this opportunity to make a new series and everything is based on a novel which I found in New York in a little bookstore called Spoonbill and Sugartown.
SIRISUK: When did you find the book?
VAN DE VELDE: Six years ago. I'd been traveling with Philippe and my gallery team for a show and I found this book in Brooklyn. I just picked it up because I liked the layout and I didn't know what it was. I made this trip to Dia Beacon on the train through the Hudson River and I read this book. I was fascinated by the book, which is a film script, because it had a lot of links with my own work. Then six years later, I got this invitation to make a show here. I thought I now want to base the new series on this book which is called Donogoo Tonka which is a Brazilian city - a fictitious one, and what I wanted to make was a kind of storyboard from this movie script as if we were preparing a whole film to be shot but the film was never made.
You see the sculptures which are décor and the nine big drawings are kind of key moments from the story. I like to see my work as kind of one shot movie. You see an image and it's like the movie still, but a little bit too big for a movie still. Then you have the text in between the works which kind of frame the story about how I built all these things, kind of a curatorial text, but fictionalized because everything I do in a way, all my works are part of a bigger context. I try to see my work as one big oeuvre, which is like a fictitious autobiography. So it's always about me, but about a life I never had.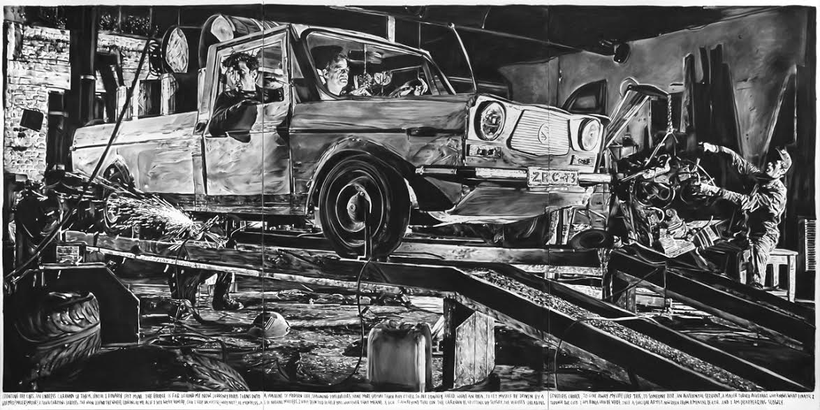 SIRISUK: When you first read the book, did you see a little bit of yourself in the professor? Some qualities of yourself?
VAN DE VELDE: Maybe not qualities, but I saw an idea that related to my own idea of making things. The story really suits me in a way. I cannot work with every story, or most of the time I invent my own story and I don't base my work on a book. But with this book, it's very special because when I read it on this train trip I thought I could have written it or this could have been an idea of mine - like a city which is first like a fiction suddenly becomes real, and this appeals to me.
SIRISUK: A definite parallel there. When you were growing up did you draw a lot?
VAN DE VELDE: No, I never drew a lot. I only started drawing when I was 17 or 18 years old. I wasn't very talented as a child from the perspective of drawing. I was not a skilled painter. I was just fantasizing all the time and pretending I was somebody else until I saw an exhibition in Paris in 2000 - I went in to see this show of the Fauvist art and all these kind of weird painters who made very colorful work. This was the first time I thought, "There is really something happening here. This cannot be nonsense. People devote their lives to making such weird paintings." So I got back home and I started reading a lot about art and then slowly I started making my first drawings when I was 18. So this is how I got into it and then it got worse and worse and became an obsession. It's a way of life, of course. I wake up and I start drawing.
SIRISUK: What were you mostly drawing?
VAN DE VELDE: First it was studies. For example, trying to copy the sink or something very close, just trying to represent something. Then I started copying artists I liked. I copied a lot of Basquiat's works because I think this is the way we learn things: by copying. If you see a child, he's copying his parents because he's trying to learn how to eat with a spoon, with a fork, or with a knife. So I thought I had to copy old masters and contemporary artists and I read a lot of biographies to see what it is to be an artist. There isn't one definition of course, and then just very slowly after all these years you start to come up with your own, because the nice thing about art and about good artists is that they are hyper individual.
What I like to do is test things out in my drawings. In the image, I sometimes pretend I am another artist. For example, I ask myself what kind of performance artist I would be. Then I make a drawing of me painting upside down or doing a kind of performance, but it is still a drawing that looks like my drawing. I can test out a lot of possibilities in the image - pretend I'm somebody else. I had a whole series I made about Vladimir Mayakovsky, who is a Russian poet who lived in the beginning of the 20th century and I'm pretending I'm his friend, so I'm pretending that I live in Russia in 1917 during the revolution. I tested how I would think if I lived in that time.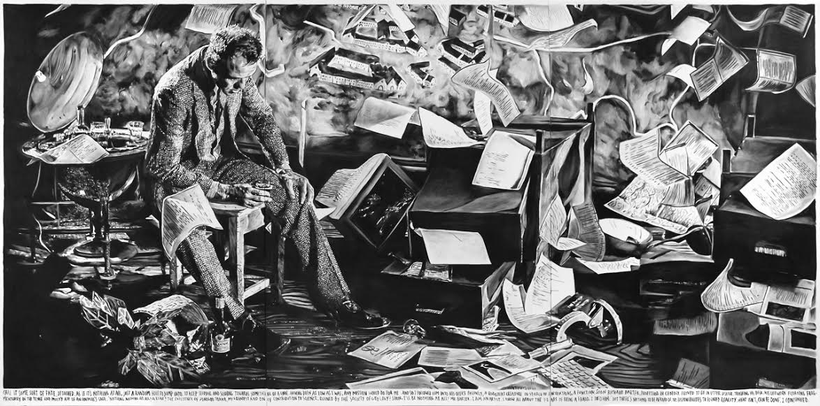 SIRISUK: How did you do that? Did you read his poetry?
VAN DE VELDE: I read his biography, I read about Russia at this time, I read about Communism, I read about how the art functioned in the regime. Then I would just sit, or drive my car, or walk around and fantasize about how I would react.
SIRISUK: When did you start creating installations?
VAN DE VELDE: First I drew from found pictures when I was younger. I didn't have the material or a studio that was big enough, so I just found magazines and I photographed photos which were in the magazine and I made a drawing out of it. I never read the articles or the original context, but I made a new story from all the found footage. I made my own story, but then I thought that was too much of an appropriation art. I always liked the main character I pretended to be in the picture, but then I thought sometimes it's weird. Sometimes I have a big beard and sometimes I'm an old man or it needs to clearer. Then I started to make my own sets and it was very clear that it's about me, and this is when I started to make my own sets.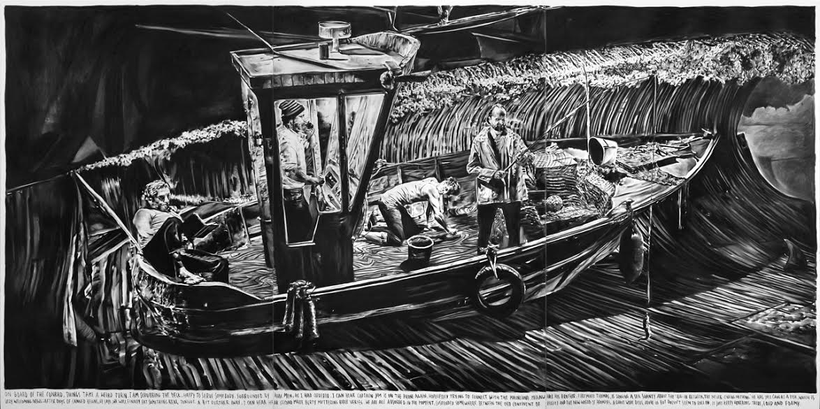 SIRISUK: Out of the different universes you've created, do you have any favorites?
VAN DE VELDE: The last is my favorite because it's the most recent. I like to see an exhibition for me as a success if it's the best exhibition I ever did so far. I always try to push my work a bit further and further so when we finish this installation, I will have a look at it and then in the a month think, "This could have been better," and then this keeps me going.
SIRISUK: Do you remember how you felt after your first exhibition?
VAN DE VELDE: I was super nervous. I was pretty young, 22 or something. I had a show here in the museum in 2008 and it was a kind of space for young upcoming artists and this was an important show for me. I still like the show, but back then I remember walking into this venue and thinking it would be nice, too, if I could create something here and now I'm happy that I can make something here in this big space.
SIRISUK: What is something you hope people take from experiencing your stories?
VAN DE VELDE: I try to make this work for myself in the first place and I'm the one whose making it in my studio, and I can't control what people take from it or what people think when they come to see the show. I also don't want to think about it too much because then I have the fear I will become like a preacher. I don't want to give a speech or a lesson for people. It's just my fantasy, it's my universe.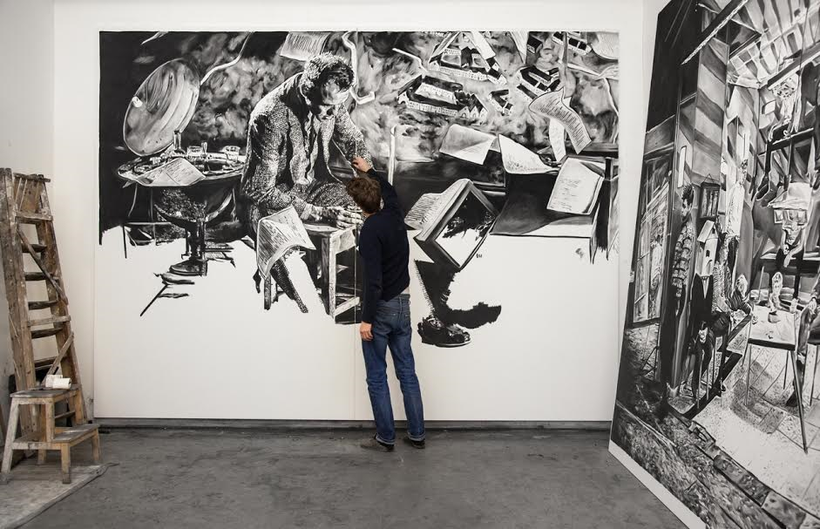 SIRISUK: What comes next, what do you want to do?
VAN DE VELDE: I just want to make shows and continue. My only goal is that I can keep on working and that one day this work will become an oeuvre and will only grow bigger and bigger. This is my only concern - I want to do it for myself and develop the work and make it stronger and bigger. So this is why I am happy with every invitation to make a new show - it's expanding this word and it's getting more and more detailed. That's what it's about, I think.
Calling all HuffPost superfans!
Sign up for membership to become a founding member and help shape HuffPost's next chapter
This post was published on the now-closed HuffPost Contributor platform. Contributors control their own work and posted freely to our site. If you need to flag this entry as abusive,
send us an email
.