Artist Greg Gifford of Bend, Oregon, sees inspiration where others might overlook it. He finds it on the ground.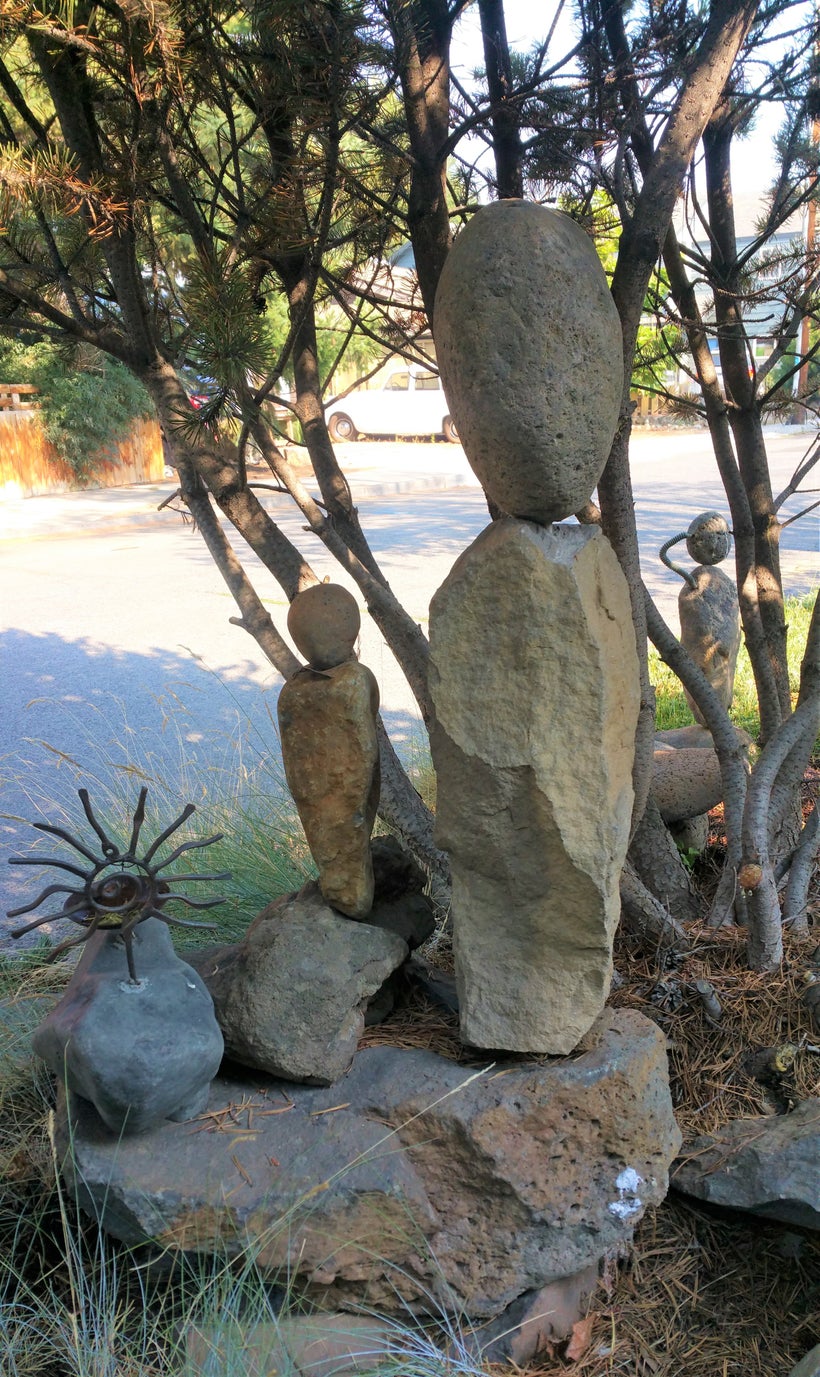 A decade ago, a hobby for stacking rocks turned into the retired school teacher's creative second career. "The materials are really cheap," Gifford told me, which was another incentive to work with this material over something else.
Gifford first started playing with stones while camping on the beach in Baja with his wife Jan. Mornings they would fish or kayak and in the afternoons they would windsurf. In between, he would make rock stacks, seeking the most challenging, oddly-shaped rocks to see if he could make them balance. On his return to Bend he kept at it, expanding his repertoire to create whimsical figures out of this incongruous medium.
"I make skiers and cyclists and kayakers and golfers and fly fishermen " he said.
I found Gifford's garden gallery on a morning walk with my friend Sabah, who lives in Bend. Coming out from Drake Park on Northwest Riverfront Street, we spied a kayaker constructed of three simple but well-placed stones and some copper tubing. It seemed to be sailing out of a clump of decorative grass by the road. We stopped to admire it, unaware that this kayaker was just one of many. The others were equally well-positioned in their natural element.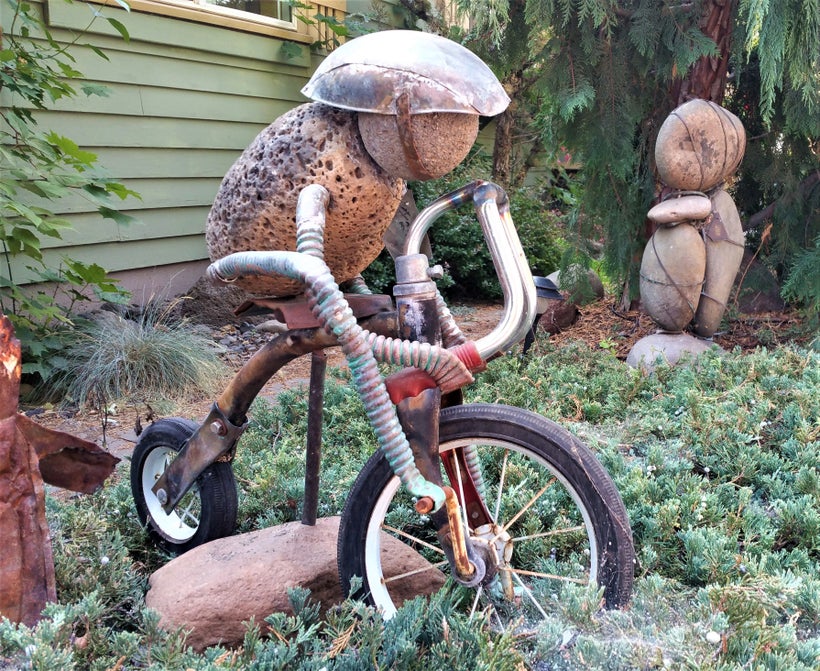 A pint-sized tricyclist, a giant mouse, an energetic skier soon appeared. But even the largest piece took some time to spot. A four piece jazz band positioned against the house was a concoction of driftwood, washtubs and industrial material, topped with Gifford's trademark rocks.
"When I put something together and it pleases me, that's what I go with," Gifford told me with some modesty when called to ask about his informal gallery.
"I have artist friends and they have a lot more talent and more education in art. Basically I've hit on a gimmick and it works for me. Its something anyone can do. "
Whether anyone can turn stone into cuddle-worthy creatures this appealing, I'll leave you to decide. But in Bend, which draws visitors for both its artsy-vibe and its array of outdoor activities, many tourists stop by Gifford's house looking to buy one for their own home.
Fifty or sixty kayakers have already paddled into someone else's possession. "I've got some that have gone to Texas, some in Pennsylvania, some in Missouri and Utah," Gifford told me.
For the most part, they've gone with buyers who can take them by car or truck because while they're adorable for sure, transportable, not so much.
Check out Gifford's work on his Facebook page, at or email him at rockguyart@gmail.com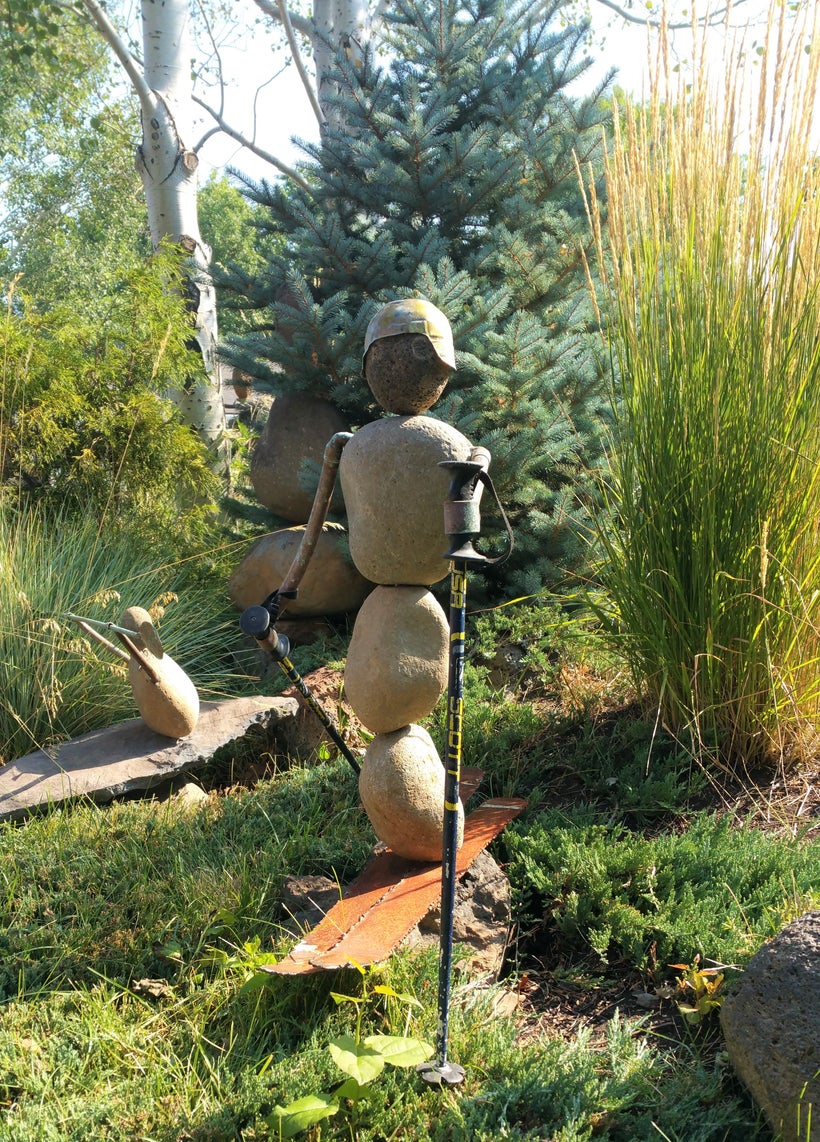 Calling all HuffPost superfans!
Sign up for membership to become a founding member and help shape HuffPost's next chapter
This post was published on the now-closed HuffPost Contributor platform. Contributors control their own work and posted freely to our site. If you need to flag this entry as abusive,
send us an email
.