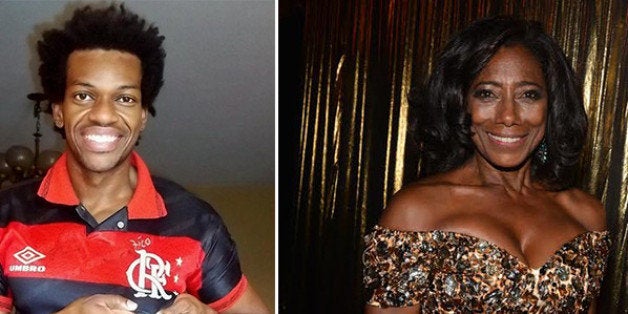 Racism in Brazil often wears a friendly face -- those who practice it are familiar to us, it is part of our social fabric and our institutions. Discrimination against black and mixed-race people, a complaint considered by many to be outdated, is rooted in our behavior and pervades public and private spheres, permeating both our social and intimate behaviors. Three highly public incidents from 2014 shed light on the deeply ingrained racism that is part of Brazilian consciousness.
We are racists when we allow the imprisonment of an innocent black actor. Dalva Moreira da Costa, who was mugged two weeks ago in Rio de Janeiro, described the criminal as a "black guy with an Afro." Vinícius Romão, an actor in a popular teen soap opera in Brazil, who was not at the scene of the crime and was going home from work, was recognized by the victim and immediately arrested by a policeman. It was dark at the time of the mugging, which led to a double mistake. Dalva was mistaken when she recognized the mugger. The policeman were mistaken when they arrested the man.
Would that mistake occur if the mugger was a young white guy? Or if he was a white actor going home from work at that hour of the evening? Not every black guy with an Afro is a criminal... Are the civil and military police forces aware of that? Would the police officers treat a leading white actor from a teen soap opera the same way as they treated Vinícius Romão?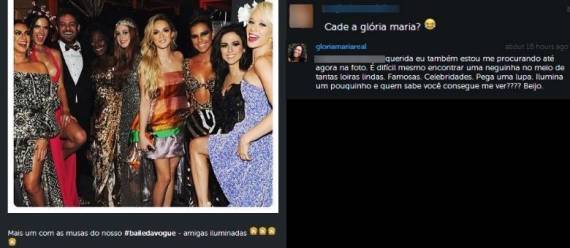 Reprodução/R7.com
We are racists when we joke about the color and appearance of a black journalist.
Brazilian journalist Glória Maria posed, next to several celebrities, for a photo that was posted to the Instagram account of the columnist Bruno Astuto. She was the only black woman in the picture and the only one to be mocked by the user @raqhelcouttinho in the comments. "Where is Glória Maria?," asked the user with a LOL emoticon. Gloria Maria replied: "It is actually hard to find a 'neguinha' [a Brazilian slur for a black person] among so many beautiful blondes. Famous. Celebrities. Get a magnifying glass."
With this classy answer, Glória Maria was acclaimed by hundreds of Internet users, who repudiated the "joke." The journalist's reply indicates the strong influence of European aesthetic standards that are admired and celebrated by Brazilian society. There are so many beautiful and famous blondes. Would anyone make fun of the white, blonde celebrities in the photo? Or is it only valid to make fun of the black journalist that stood out among them?
We are racists when we joke about the scent, the hair or any part of a black person's body.
The 14th season of Big Brother Brasil, a reality TV show, has already aired some scenes where people make color and race-related jokes. In a casual conversation during the season, participant Franciele said she was "a little bit black": "If I don't use deodorant, I'll start smelling like a 'neguinha'".
Is there a white smell, Franciele? Or just a "neguinha" smell? Under the guise of good humor and friendly jokes, racial prejudice is alive and kicking in these expressions and comparisons.
Our racism is based on the whitewashed ideal that has guided Brazilian attitudes towards race and racial mixing for centuries. We are much less a racial democracy, a term coined by the sociologist Gilberto Freyre, than a racist demagogy—and the influence of racism is present in our daily lives. Beauty is white, blonde, blue or green-eyed. European. Caucasian.
On the opposite side we have the black woman – whose face, build and hair is open for popular criticism. Traces of the phenotype of black people become negative markers. Appearance and essence are intertwined, and black people are not only less beautiful, but also second-class citizens.
Doors open more or less easily depending on the color of your skin. IPEA (Instituto de Pesquisa Econômica Aplicada, the Institute for Applied Economics Research) has already shown many examples of the double discrimination suffered by Brazilian black people, due to both their race and socioeconomic status.
One of the consequences of this discrimination, according to IPEA, is violence: more black people are murdered, actually 2.4 times more, than white people in Brazil. A study conducted by the São Paulo-based "Sou da Paz" Institute confirms the results of this racial divide. While car accidents are the main cause of unnatural death of white people, black people die more often due to homicides.
This statistical data reflect institutional racism, which is fed daily by stereotypes, banter and prejudiced jokes. It is our legacy of slavery that determines what position is occupied by black people and their aesthetics… Friendly or not, racism is a crime and a serious problem deeply rooted in the core the Brazilian society. And, as such, we much each address it.
This post was originally published on HuffPost Brazil and was translated into English. It was adapted for an American audience.
Popular in the Community