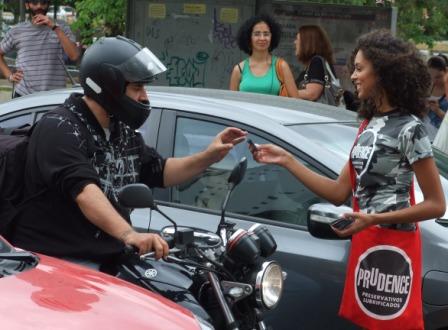 On Dec. 1, World AIDS Day, "Prudence Trooper" repeatedly battled it out with HIV on the streets of downtown São Paulo. HIV was trying to infect pedestrians but Prudence Trooper defended them, because he had Prudence, one of the leading condom brands in Brazil, in his arsenal.
The two characters were mascots created by DKT Brazil, a social marketing enterprise that distributes Prudence condoms for HIV prevention and family planning, and are an example of the creative, in-your-face methods it uses to encourage young Brazilians to protect themselves against HIV, which currently affects more than 600,000 Brazilians.
Brazil is considered a model in HIV prevention and, according to UNAIDS, HIV prevalence in Brazil dropped from 0.4 percent of the population 15-49 in 2001 to 0.33 percent in 2011 and is now stable. However, AIDS continues to cause a large number of deaths and condoms are the most effective known method to prevent sexual transmission.
DKT promoters clad in black, white and gray camouflage Prudence T-shirts occupied a key intersection in downtown São Paulo to drive home their point. Dubbed the "Prudence Squad," the team's mission was to distribute samples of Prudence and to let people know it can protect them from HIV.
On the Monday and Tuesday after World AIDS Day, the entire DKT Brazil staff recommitted to their mission by taking to the streets in a full-scale guerrilla action. DKT actually calls it "guerrilla marketing," an apt term, considering the means they are using to fight a persistent, wily and nefarious virus. In the three days, 20,000 Prudence samples were handed out.
DKT Brazil also pressed its military mission online, where many more people could be engaged, with Esquadrão Prudence (Prudence Squadron), a free game application available to users of the Android and iOS systems. The app, inspired by the famous Pac Man game, is available on the Esquadrão Prudence Facebook page, Google Play and iTunes.
Each player chooses to be either "Prudence Trooper" or "Prudence Troopete." Players navigate a labyrinth of risky situations, pursued by HIV, in search of condoms. Once a player obtains a condom, the virus transforms into healthy people.
The Prudence packets handed out by promoters on the street displayed a QR bar code which, when scanned by a smart phone, takes the user straight to Esquadrão Prudence online.
DKT's street and online actions resulted in almost 4 million people being reached on Facebook and 592,000 on Twitter with posts about the game and HIV in general between December 1 and 31. Over 570,000 of the people who read about Esquadrão on social media, including blogs like this one, went to its Facebook page to check it out. Thousands more were reached through Google Adwords and Facebook ads, and DKT picked up 8,423 new fans on Facebook because of those ads.
Yet cutting edge innovation and use of modern technology to achieve social goals are nothing new for DKT Brazil:
•In October, I reported how DKT Brazil has been using sexy condom advertising for over 10 years, especially on television, to encourage condom use and increase their market share of the Brazilian condom market to 21 percent.
•In 2012, for the fourth time, DKT hosted a "Condom Tester Program" in which users of Prudence shared their experiences with the product, answering such questions as "Where was the last place you had sex?" Users with the 100 best stories won a year's supply of Prudence. The contest resulted in 100,000 website visits, 10,000 registered participants and more than 3,000 stories submitted from Brazil but also the U.S., Canada, Mexico, South Africa and Japan. DKT used Google AdWords and Facebook ads to drive people to its dedicated website.
•In 2013, DKT is taking creative HIV prevention to a new level by becoming the first Brazilian social enterprise to become a major sponsor of Carnival. DKT entered into an agreement with the Tom Maior Samba School, one of São Paulo's 14 principal samba schools, to support it in the 2013 São Paulo Carnival in return for the national exposure for their Prudence brand.
Daniel Marun, the DKT Brazil country director said that getting through to youth on the importance of safe sex is harder every day: "We try to reach them in many ways, and not only online. We were very successful on Facebook last year, with more than 210,000 likes, up from only 2,000 in January 2012. Aligning online and offline messages and activities such as the Condom Tester Program, Prudence Trooper and Troopete, Esquadrão, merchandising and TV and print ads were all very positive and increased the recognition of the brand and reinforced the message that safe sex can be pleasurable and fun."
Related