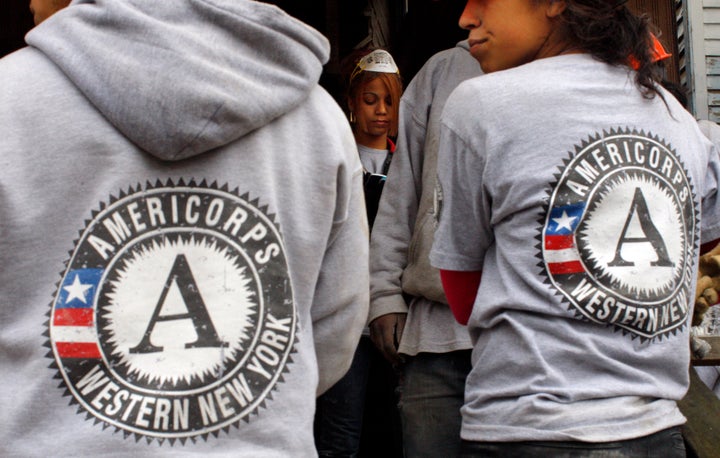 The White House has reportedly begun pitching to Republican lawmakers the loose contours of a so-called skinny budget, a conservative restructuring of the government that would deep-six large swaths of the federal bureaucracy, even as the president has not yet formally submitting a rigid spending blueprint to congressional appropriators.
It's the first time in eight years that government is poised to shrink. But what measure of trimming--and from what quarters of the vast reaches of Washington--is responsible?
The impulse to reach for the scythe over the scalpel is a natural one--as the inaugural chief of staff to the first Republican governor of Georgia in 130 years, I understand it--but not necessarily a healthy one in every instance.
Appropriators owe it to the taxpayer to responsibly invest every dollar to which they were entrusted. That requires some thoughtful scrutiny, because every federal dollar spent isn't a dollar wasted.
Indeed, in the case of national service, every $10 of federal money appropriated stimulates the private investment of another $15 in emergency public-works, schools-based, and economic upliftment programs. Researchers at Columbia University estimated that every dollar invested in national service programs produces a $3.95 return to society in higher earnings, increased output, and other community-wide benefits.
The Departments of Commerce, Energy, Transportation, Justice, and State will reportedly see "significant cuts and program eliminations," reducing federal outlays by $10.5 trillion over the space of 10 years. That's music to these Republican ears.
But it would be a tremendous blow to civil society if the Corporation for National and Community Service, the little-known federal agency that administers the exceedingly popular AmeriCorps program, was among those many agencies and departments whose budget get the ax in the next fiscal year.
CNCS, for which I previously served as a US Senate-confirmed member of the board, has facilitated the volunteer service of more than 1 million Americans, totaling some 1.4 billion hours in the service of more than 1100 non-profit community and faith-based organizations, including Teach for America, Catholic Charities USA, Habitat for Humanity, City Year, Boy Scouts of America, Boys & Girls Clubs of America, and YouthBuild.
The Republican number-crunching firm TargetPoint found in late December 80 percent of all voters support continued federal investment in national service. Asked directly if they would support a robust national service program proposed by the new president, a dizzying 88 percent of Trump's supporters agreed.
Eighty percent majorities are the public opinion equivalence of unicorns--that is to say, you'd be hard pressed to find 8 in 10 Americans who agree on the color of the sky--but Congress shouldn't invest in national service because it's smart politics. It is, plainly, but more importantly it's smart policy that enables the greatness of our people.
Civilian national service--responding to Hurricanes on the coast and tornadoes in the plains or teaching inner-city youth--transcends partisan divides in the same was as military service. They both make for better citizens and a stronger nation. Accordingly, they both deserve steady federal support.
Popular in the Community