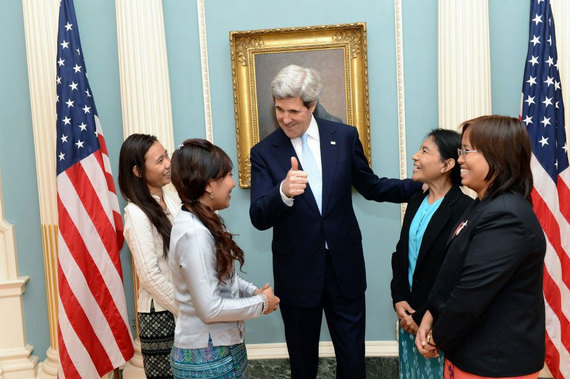 Secretary of State John Kerry gives the thumbs up to four Myanmar women leaders at the State Department in Washington DC on February 6, 2013. (State Department Image)
"Women's issues can wait--there are more pressing issues at hand."
That's the mentality I sometimes come across in my work as Ambassador for Global Women's Issues--and it could not be more wrong.
Women are powerful partners for progress, especially when communities and countries are struggling with economic or security challenges. That's the message I'll take to Burma this week, when I'll meet with people from across the country to discuss the critical role that women and girls have to play in shaping the country's future.
Burma is a country facing a range of challenges, especially related to building a modern economy and establishing lasting peace within its borders. The government has been working to resolve long running ethnic and religious conflict and to eliminate restrictions on basic freedoms while raising the country's standard of living. At the same time, Burma is undergoing a transition to democracy. With elections on the horizon, the future of Burma may start to take shape, showing the world exactly how far the country has come since it last held nation-wide elections in 2010.
Women have so much to contribute to these efforts--to the peace process, to the economy, and to the leadership and direction of Burma's future. And when they have every opportunity to contribute, the entire country will benefit.
The government of Burma has taken steps to recognize the invaluable ways women can help in the country's development. There's a national strategic plan that outlines twelve priority areas to advance gender equality and a draft law against domestic violence in the works.
But more must be done to empower women by acknowledging their rights and ending the pandemic of gender-based violence. In Burma's most important institutions--the government, the military, and some powerful civil society groups--women are underrepresented, which means their status and political influence are limited.
Too often women's roles are marginalized because they are seen as victims instead of potential leaders. But I've seen firsthand how women in Burma can lead. Earlier this year I met May Sabe Phyu, who was recognized with the Secretary of State's International Women of Courage Award for her work to end discrimination against women and minorities in Burma.
May Sabe Phyu was a social worker for people living with HIV/AIDS when she saw how women in Liberia had pushed for peace in their country. She wanted to do the same in Burma, so she co-founded networks for peace in Kachin state, drawing attention to the challenges facing ethnic minority women in conflict zones. She also worked with the government to promote women's involvement in the peace process and respond to gender-based violence.
May Sabe Phyu is a powerful example of how women can be peacemakers and leaders working for inclusive democracy and progress in Burma. Along with many other women in her country, she is proof that women won't wait for their issues to be addressed--and when it comes to solving any pressing issue, we don't want them to wait either. Even in the face of so many challenges, women in Burma are doing great things for their country. Imagine what they can do if their voices, perspectives, and leadership are fully included.
Calling all HuffPost superfans!
Sign up for membership to become a founding member and help shape HuffPost's next chapter