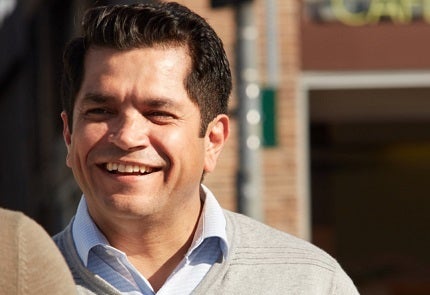 The original 23 contenders on the ballot to fill California's 34th district seat in the House have dwindled to two. And while one has the edge when it comes to funds raised, the other is the clear winner among outside spending groups.
The last candidates standing, Democrats Jimmy Gomez and Robert Lee Ahn, head to a runoff next Tuesday (June 6), after neither of them drew the required 50 percent of the vote for an outright win in the crowded April primary. The winner will replace Xavier Becerra, who vacated the position after being appointed California's attorney general.
Pre-runoff reports the candidates filed with the Federal Election Commission indicate Ahn was the more successful fundraiser in the April 1-May 17 period, bringing in $550,000 to Gomez's $330,000. But included in Ahn's total is a $195,000 loan he gave to himself; the two have actually brought in almost the same amount in contributions. PACs, including many associated with labor unions, gave Gomez nearly half of his total for the pre-runoff, while Ahn received all of his funds from individuals.
In addition to that loan, Ahn, a former Los Angeles city planning commissioner who has also worked as an attorney and in real estate, gave his campaign $8,400 in February before the primary. On top of that, he loaned himself another $295,000 in March, according to his pre-special filing. Gomez, who has been in the state assembly since 2012, hasn't put any of his own money into the race.
Since May 17, 48-hour notices showing donations of $1,000 or more indicate that Ahn has received more than twice as much as Gomez in gifts of that size, $140,000 to $59,000.
But Gomez's support from outside spending groups has far surpassed Ahn's. From mid-May to the start of June, Gomez has benefited from about $300,000 in spending by several super PACs, FEC reports show; most of that — $240,000 — has come from the Latino Victory Fund. Only one such group has spent money to support Ahn in that time period: Citizens for a Better Government, which has spent just under $92,000.
Due in part to Gomez's greater popularity with super PACs, Ahn accused him in the election's only debate of being a "corporate Democrat" — an attack Gomez parried with a reminder that he's backed by Bernie Sander's Our Revolution.
Both candidates tout a multitude of endorsements. Gomez has received most of his from Democrats — including House Minority Leader Nancy Pelosi (D-Calif.) — and Los Angeles labor unions. Becerra, who resigned from the seat in late January, also endorsed Gomez.
As a former Republican (he switched his affiliation in 2012) and more centrist politician, Ahn has collected testimonials from members of both parties. Former L.A. Mayor Richard Riordan, a Republican, announced his support at the end of May, and former California GOP Chairman Shawn Steel has backed Ahn as well.
Together, Gomez and Ahn — both of whom have parents who immigrated to the U.S., Gomez's from Mexico and Ahn's from South Korea — have spent more than $2 million so far on this election since early in the year when they started their campaigns.
The two candidates have been heavily relying on advertising by mail to get their campaign messages out. As of June 2, Gomez had reported spending about $245,000 on mailers, including postage, since the start of his campaign, according to FEC data. He has also spent sizable amounts on billboards, newspaper ads and phone banks.
Ahn has spent almost twice as much as Gomez on mailers and postage for his campaign overall — a whopping $500,000, according to FEC data. Many voters in the district received what they called "misleading" and "manipulative" mail from Ahn leading up to the primary. Some of the mail appeared to have information on new polling places in the area, only to have advertisements for Ahn inside. Ahn also used potholders as campaign advertisements, spending about $148,000 to send them out to voters.
Much of the super PAC activity has centered on mail, too, as well as phone banks and in some cases online ads. One thing that's been almost entirely missing: TV ads. The candidates and groups avoided investing in the costly L.A. TV market in favor of other means of attracting voters.
But it's unclear how many voters will respond: Only about 42,000 people, or 14 percent of registered voters in the district, cast ballots in the primary. 
REAL LIFE. REAL NEWS. REAL VOICES.
Help us tell more of the stories that matter from voices that too often remain unheard.