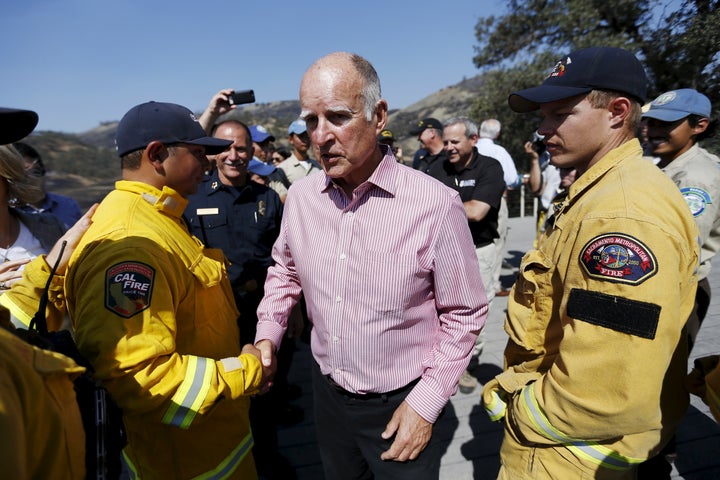 Governor Jerry Brown, in his recent State of the State address, declared that Californians "[m]ust prepare for uncertain times and reaffirm the basic principles that have made California the Great Exception that it is." For those of us who've dedicated our careers to clean energy, Governor Brown's remarks were an inspiration and a call to action.
California's energy and climate leadership can be attributed to the top politicians, down through legendary members of the Assembly and Senate, and the grassroots efforts of the state's environmental, solar, justice, and business groups. This has been evident from the historic passage of the Global Warming Solutions Act under Governor Schwarzenegger ― and later the defense of that law against Proposition 23 ― to the current leadership of Governor Jerry Brown and Senate President Pro Tem Kevin de Leon to pass Senate Bill 350. As Governor Brown said in December: "We've got the scientists, we've got the lawyers, and we're ready to fight."
"California has led the way in developing policies that have built up the clean energy, clean tech, and alternative fuels industries, and driven down harmful greenhouse gas emissions."
In January, California unveiled new and ambitious goals of reducing greenhouse gas emissions by 40 percent below 1990 levels by 2030. And with hundreds of new bills introduced in the Legislature over the past few weeks, we can likely expect new clean energy and alternative fuel policies announced later this year. In November, Senate President Pro Team de Leon led the California delegation to the UN Climate Conference in Morocco. There, he pledged that California would continue "protecting and building upon our global leadership role in the fight against climate change."
And just recently, the California Public Utilities Commission (CPUC) approved the last of three utility pilots to expand electric vehicle (EV) charging infrastructure in the state. Now, all three major utilities are working with regulators and businesses to build a robust EV charging market that supports innovation, competition and customer choice. Last month, the utilities announced another round of pilot proposals, this time totaling $1 billion with a focus on electrifying fleets, and medium and heavy duty transportation.
That said, there are still challenges ahead of us– despite more 20,000 EV charging ports in California, we have a long way before reaching a completely gas-free transportation system. But we also know that California will continue to be the best place for businesses, policymakers and advocacy groups to tackle climate change.
As California Air Resources Board Chairwoman Mary Nichols said when announcing the 2030 goals: "Climate change is impacting California now, and we need to continue to take bold and effective action to address it head on to protect and improve the quality of life in California."
And in the Governor's words, "California is not turning back," he said. "Not now, not ever."
Especially when it comes to protecting our planet.
Popular in the Community