U.S. Secretary of Education Betsy DeVos last week met with "college administrators, rape survivors and students accused of assault" as part of a review of Obama Administration policies that stepped-up enforcement of Title IX civil rights as they relate to sexual violence in college and university campus communities. Much of the media coverage framed this as a choice between supporting either the rights of sexual assault survivors or the rights of the accused. This is a false choice, and the dialogue would be better framed as finding a way to balance the rights of all involved.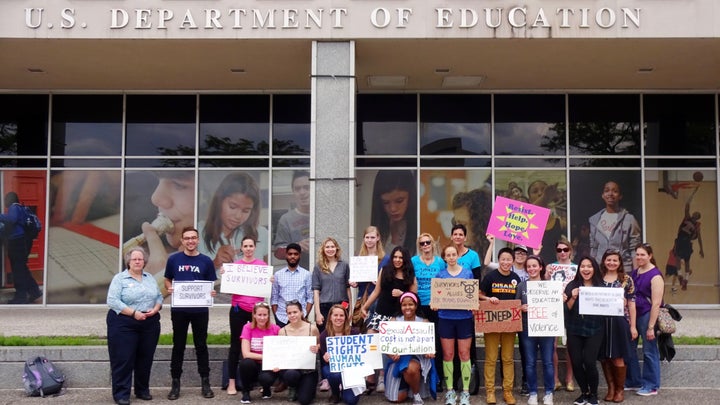 Adding due process protections doesn't have the effect of rolling back victims' rights, Laura L. Dunn, Esq., Executive Director of SurvJustice, which provides legal help to student victims, told the Chronicle of Higher Education. "I'm fine with due process being hand-in-hand with civil rights," Ms. Dunn said. "I think a lot of people are surprised sometimes to hear a group like SurvJustice, who are victims' rights attorneys helping in campus hearings, is so supportive of due process rights," she told The Weekly Standard. But when a respondent's due process rights are violated, a civil court is likely to remand the case—requiring the survivor to repeat the process and delaying the finality complainants seek, Dunn explained.
As someone who has spent my career of nearly thirty years advocating for crime victims' rights, and for the last ten years advising colleges and universities on meeting federal campus safety guidelines I've seen firsthand the consequences when an institution fails to uphold the due process rights of the accused. Not only can justice be delayed, but in some cases any protection a survivor received can be undone, and the institution may face costly civil litigation by both parties. At state institutions, due process rights are guaranteed by the U.S. Constitution, and no law or agency guidance supersedes these protections so upholding them is essential for justice not only for the accused, but the survivor as well.
While due process is guaranteed, it is also important to understand that campus proceedings are not criminal. They find students or employees responsible for violating campus codes of conduct. The strongest sanctions are expulsion for students or termination for employees. As such courts have not applied criminal standards. A federal court, for example, in Dixon v. Alabama State Bd. of Educ., 294 F.2d 150, 159 (1961) held that institutional disciplinary proceedings do not need to be like criminal trials or engage in "full-dress" judicial proceedings. "Nevertheless, the rudiments of an adversary proceeding may be preserved without encroaching upon the interests of the college."
As one of the advocates, then serving as Director of Public Policy for the non-profit Security On Campus, Inc. (now the Clery Center), asking the government for better enforcement of Title IX, it was not our intent to right one injustice with another. That should not happen now either. Hopefully Secretary DeVos will move forward by seeking to balance the rights of all involved in these proceedings, and not go backwards rolling-back important protections for survivors.
Calling all HuffPost superfans!
Sign up for membership to become a founding member and help shape HuffPost's next chapter