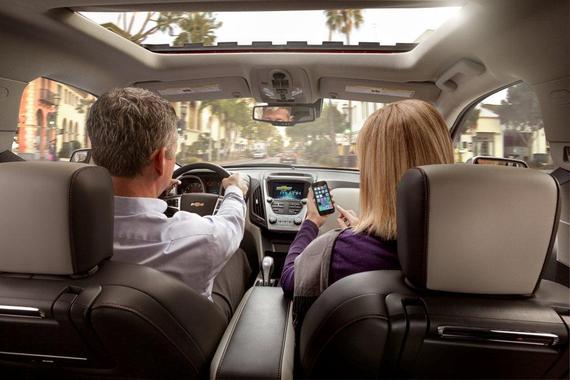 As the International Consumer Electronics Show kicks off this week in Vegas, new automotive tech advancements are making headlines from coast to coast. But when it comes to in-car technology, such as navigation, Bluetooth and in-car apps, there's some healthy debate about whether or not these upgrades are making our lives better. Some say we're trying to do too much from behind the wheel and that in-car systems are actually dangerous. However, this kind of argument assumes that all tech is the same. In fact, nothing could be further from the truth.
That result lines-up with what Ford also found. It states that, "43% of our owners tell us that SYNC was a critical/important part of their vehicle purchase decision."
Obviously, technology in new and used cars is very important to the average shopper. But why would shoppers flock to features that make life more dangerous? Is there a way to make sure the technology features that come in your next car are exactly what you want?
The short answer is: yes. But the burden to find good in-car technology is on you. Once you get the car home, if you find that your vehicle's infotainment system isn't what you expected, you only have yourself to blame. You need to test out the technology the same way you would test drive the car. If you don't do that, you'll find out too late if a certain system or function isn't what you expected.
Start Online
Before you visit a dealership, look up some informational articles or review videos to see which cars have easy-to-understand technology and which ones are highly rated by sites like AutoTrader, Gear Patrol or Wired. Your local dealer can help, too.
Sid Barron with Lexus of South Atlanta says, "We have a delivery specialist who can go into as much or little detail as a customer requires on features like Enform. Some people insist on going into every detail of every technological feature, but it's rare." Barron says they even have an aftercare program in which a specialist helps the purchaser with in-car technology even after they've bought the car. Many automakers and dealerships offer the same assistance.
When it comes to distractions, the Lexus Enform system is not one of the problems. In fact, brands such as Chrysler, Ford, Honda, Lexus, Nissan and Toyota have systems that get it mostly right -- they may not be as robust as the in-car technology from other brands, but the simplicity of Entune or Uconnect really minimizes distraction.
Test Drive the Technology
Either way, you should be familiar with, and understand, each and every connection and technological feature before you decide to buy a car. Here are a few key steps you should take before buying:
Pair your phone. Try to do it without the owner's manual, as it should be pretty obvious how to connect a phone to another Bluetooth device, including a car.
Install and access your favorite apps. If you're a Pandora listener, try using it. Make sure you can create a new station and thumbs up a song. The process should be no more distracting that changing tracks on a CD. If it is, that's a problem.
Use the voice commands. This can be a real stumbling block. Good voice commands won't require you to repeat yourself or use multiple commands. A single phrase such as, "find nearest gas" should do it.
Program a nearby destination into the navigation system and follow the directions. The steps should be straightforward and easy follow. Also, try searching for destinations by name like "Sears" or "Austin Hilton."
Switch between audio sources. Changing between your portable device, satellite radio and Bluetooth audio should be no more difficult than pressing a simple button.
Speed Matters
In-car systems can often be slow to respond and confusing at times. This is a problem with Chevrolet's MyLink and Cadillac CUE. These two systems have many great features such as large icons, easy-to-navigate screens, good maps and a single "favorites" list that can incorporate songs, radio stations, satellite channels, destinations and phone contacts -- it's brilliant, really. But the system is slow, so it's easy to assume you pressed the wrong button.
Again, pressing a button on the dash of a car should take no more time or attention than turning on headlights, using a turn signal or changing a radio station. If it doesn't do what you want right away, your attention will be diverted from driving and focused on solving a problem you shouldn't have in the first place.
Ford knows this, as it recently updated its SYNC system, which is now called SYNC 3. The updates include several improvements that should minimize distraction. Ford says SYNC 3 is, "...faster, more intuitive and easier to use, and offers more conversational voice recognition that minimizes the number of steps needed to complete a command." Ford also notes that the new system has a "quicker response to touch." These points will help with the exact issues that lead many to use in-car technology in an unsafe manner. I haven't used the SYNC 3 in a real car or on the road, but having a "quicker response" and being "more intuitive" will certainly reduce its level of distraction relative to other systems.
With cars becoming more and more technologically sophisticated, it's wrong to assume that all tech features work the same. In the same way you would test drive a new or used car, take the technology that a car offers for a test drive too. It could help reduce distraction and make you happier with your car in the long run.
Related
Popular in the Community