I recently attended the 21st Century Children's Nonfiction Conference where the conversation encompassed all things nonfiction from writing it to publishing it to teaching it. What interested me most was what I knew least. How can gifted teachers use nonfiction in the classroom?
Dr. Myra Zarnowski and Dr. Susan Turkel, who teach at Queens College Division of Education, received a grant from the Raphell Sims Lakowitz Foundation to work with public school teachers using high-quality children's nonfiction for a project entitled "Raphell's Scientists in the Classroom/Scientists in the Field." They brought two teachers to the conference to present the work that they had done.
The school is PS 201 in Queens, a Title 1 school, which means that the school lunch is subsidized and it serves a low socio-economic population. Terri Bard teaches 22 kindergartners with no assistant. She is a 28-year veteran who has always taught in this school and has been there long enough to now have students who are children of former students. A good portion of the children have issues at home--incarcerated relatives, some with substance abuse, etc. But Terri's classroom is a safe haven where children find a structured but comfortable environment.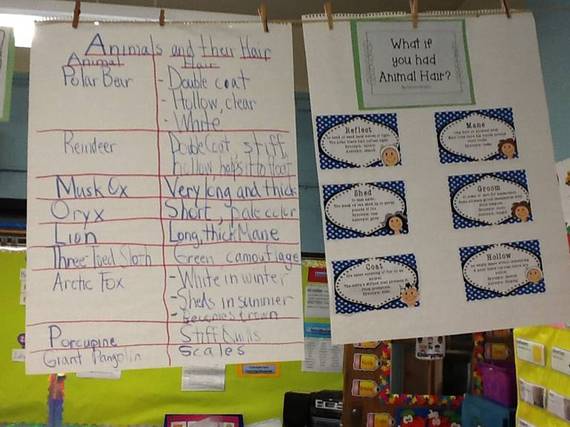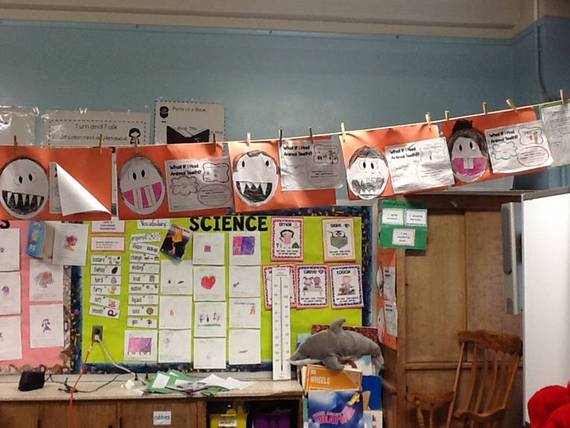 Just look at these photos of her classroom. There's a lot going on and everyone has the opportunity to show what they've learned through individualized self-expression. Terri said that her school was very supportive about the grant, allowing her to change the time of year for teaching this unit. The grant provided classroom sets of a number of trade books and suggestions by Myra and Susan on how to use the books with the children. The subject was animals and the children were encouraged to read and write about what they learned from these wonderful books. The results were displayed for all to see. Terri said that one big difference in student engagement could be attributed to the high quality of the books, which the children loved. Add to that the support for the teachers who created new lessons that explored the capabilities of the children, thus exhibiting authentic engagement with the content. Terri reported that everyone blossomed under these circumstances. Unfortunately, without special funding, the school does not have the resources to purchase these kinds of books in classroom sets.
(Dare I suggest that money spent on standardized testing might be better spent on high-quality books?)

Portia Agati teaches second grade at 201 but her students are visually impaired. She has only been at the school five years because the district moves her so that she is centrally located for most of these special needs students. (Note: There is no place in charter schools for students who have such special needs.) She has 12 students in her class, two of whom are completely blind and the others have some sight but they all read Braille. Portia, of course, also reads and writes Braille and attaches a label to all the displays in the room so that her students can feel their work. She found that science is particularly meaningful to her students because it is hands on. Jonathan, a completely blind student, became so engrossed in measuring the progressive growth of his plant from a seed that he now wants to be a scientist when he grows up.
Portia is required to meet the Common Core Standards and walks around with a little blue book in which they are published. For the most part, she ignores the Standards when planning her lessons. Then, after she's done, she checks off all the ones she's met, like most top teachers. Yes, the Standards are easy to meet if you've internalized tried and true best teaching practices like Terri and Portia. Veteran teachers are not thrown by the Standards.

Fortunately, Portia and Terri have the kind of support that teachers need to become masters of their art. Make no mistake, great teaching is an art that cannot be replicated by scripted lessons. Great teachers know how to bond with their students; they thrive in a supportive, collaborative environment. Give them quality materials to teach from and there is an explosion of learning that changes lives forever.
As I listened to Terri and Portia talk, clearly showing their love for their students and their pride in their achievements, tears came to my eyes. These are the kind of teachers who are being judged by the test scores of students. They are being blamed for the sorry state of education in America by people who have not been in a classroom since they, themselves, graduated. The NYC public schools are full of such teachers. Yes, there are always some who chose the wrong profession. But for the most part, the people who opt to become teachers do it for the intrinsic rewards that come from making a difference in the lives of others. They deserve a living wage and a supportive working environment. They deserve high-quality child-engaging materials to teach from. They deserve respect. And they deserve our gratitude, not our condemnation.
Calling all HuffPost superfans!
Sign up for membership to become a founding member and help shape HuffPost's next chapter