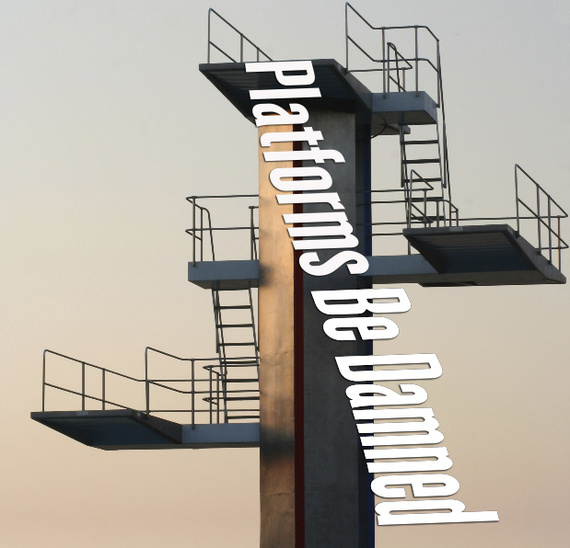 Two writers meeting at a café, both having won a literary award this year for unpublished work, one of us for her stories, the other for her memoir. We got together because each recognized the other as a writer to reckon with. Two women, we discovered, who spend time writing and rewriting books that take years to ripen. We are, as my new friend said over lunch, "at the ragged edges of the publishing world." In other words, nowhere.
The next day, both of us wrote up our conversation:
Vicki DeArmon: Platforms Be Damned
A friend and I, both on the ragged edges of the publishing world when it comes to our writing where small successes and awards accumulate to no greater end, both former publishers of small presses, commiserated over lunch.

We weren't published in the way we wanted to be published, both novels still gathering moss at an agent's or in a drawer waiting for time and energy to complete. What were those obstacles that kept us from our success? We debated. Was it modesty or rather, a tendency towards arrogance? Was it lack of contacts, or the inability to use the contacts we have? Was it the erratic nature of our work, which over a lifetime hadn't been thematically focused, but spread instead like the delta approaching the ocean, scattered, wide, and erratic? Was it simply our baby boomer age? It was hard to know.

But then we were not the relentless doggers of agents or opportunities we needed to be. We eschewed writing conferences or receptions where important people congregated. When elbows should have been thrown, we retreated, preferring instead to write, even without any audience in sight. We had not erected a multilevel social media platform from which to spring, our identities glittering in the sun as we spiraled into the world. No one was 'following' us certainly. Our trajectory was not that of the Olympic diver but more like that of a hermit hiding in a back cave.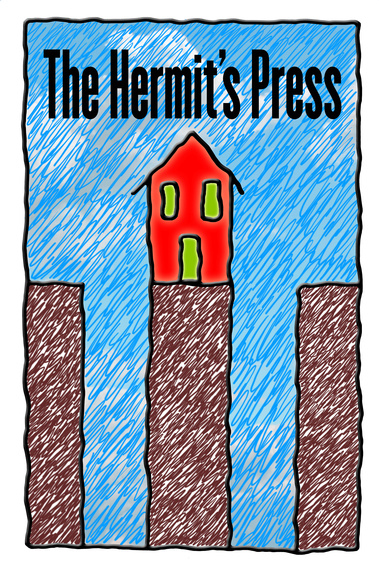 Ironically, marketing and promotion are areas of expertise I have employed for other people as well as book publishing companies and bookstores to great success over the last 30 years. Doing it for myself seems brazen and horrible--ridiculous, I know, that I can't extend myself the same courtesy. So much easier to open the drawer to that waiting manuscript and write, platforms be damned.
Where do all the hermit writers go in today's world? I'm dreaming the perfect publishing house for my friend and me, The Hermit's Press, home for all those reclusive writers who can't find a hold in the publishing world. The publisher would seek us out, flashlights lighting up dark caves. Once discovered, all we'd do is write, never promote or tour. In fact, it would be a strictly non-touring publisher this Hermit's Press. Just by publishing a book under the Hermit's Press name, people might know that it was worthy. Reputation rather than promotion would guide our success.

A writer can dream can't she?
Why would I get published now? I asked my new friend. What have I recently done to deserve it?
Yes, I have five published books, four in the old publishing world, one in the new circus of DIY publishing with Amazon/Kindle. But I've not done what the expert strategists tell you to do: repeat and repeat and then repeat again what you've already written. "Einmal ist keinmal" -- once is as good as never. Pick a topic and/or style and stick with it so it will be the snowball growing into the famous avalanche. Beat your drum in every way you can (but keep your age out of sight). Drop your daily crumbs of FB to the birds. Make friends with zillions of strange birds just in case. Invite everyone to like you, then do it again. Thank everyone who stops by to like you by liking them just in case. Share the cat videos, baby videos, the wise-cracks of the day with your zillions. Beat the treacherous algorithms of FB by boosting your posts, your droppings. Be hip and do Instagram, like your kids do. Tweet and twitter your brains out and count, count, count. Count the Likes, count the Friends, count the Fans, count the Followers, even if you can't for the best of you make out who's who just in case.

Claim your real estate in the cybersphere. Be a blogger, feed the frenzy, opine several times a month, a week, a day. Take writing classes, go workshop at workshops, show up at literary conferences and attend salons, be a presence at the ABA, an enthusiast at Litquake, go to readings and chat up your local bookstore once a month. Make contact, gather contacts, count your contacts. Read the how-to columns of authors who've made it, read the mistake columns of authors who once upon a time failed, but not any more. Read five new bestsellers on book marketing, take a marketing workshop, take it again as you won't get far. Prepare to write a 6-page marketing plan in your book proposal. Research 600 agents, send your query to 60, then another 60 just in case. Count 60 weeks for a reply, then thank everyone who rejected you, just in case. Just in case what?

In case someone finds you note-worthy in case someone wants to read you in case someone likes what you wrote in case someone wants to publish you maybe you never know. No, I've not done anything to qualify, nothing to stand out among the millions of writers doing just that, all of that just in case. All following the same marketing advice, all doing the same 12 steps to publishing, the same social media. All those millions sharing the same hope of getting there... and perhaps forgetting there that their troubles, in case they succeed in getting published, have only begun.
REAL LIFE. REAL NEWS. REAL VOICES.
Help us tell more of the stories that matter from voices that too often remain unheard.